---
I know I might be late to review this and this might be sold out at all the places but I am not the only one to be blamed (if blame is the right word). The Estee Lauder Victoria Beckham Collection has been everywhere on social media and everyone wants to own at least a piece of it. Whether it is the quality or the luxe packaging, everything in the collection is so exquisite and a collectible. Being occupied with my day time job and kids, I sometimes tend to miss some important launches and this is when this collection happened.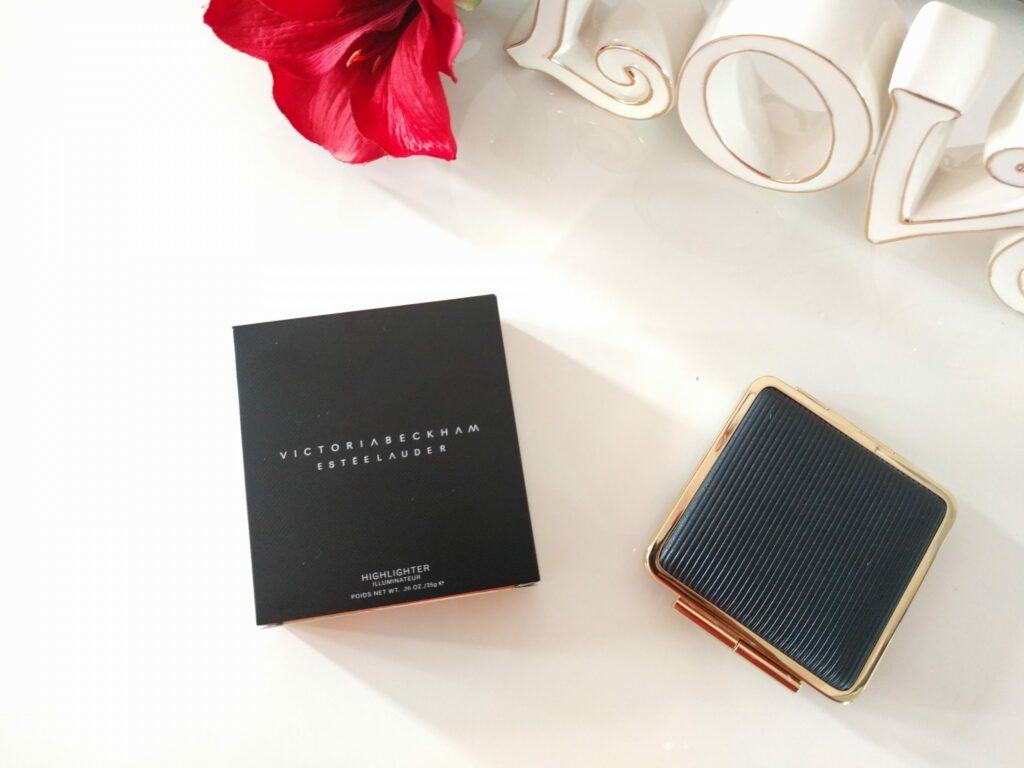 The Modern Mercury highlighter was sold out on the Hudson's Bay when I came to know that it arrived in Canada and is already gone. So after a month or so, I got the promotional email (the one we sign up for ) from Estee Lauder Canada that it has arrived on the official Estee Lauder website and that is when I ordered it without missing a moment. The shipping, as usual, is very fast from Estee Lauder website and the packaging, as always is gift-packed with beautiful Estee Lauder box and golden wrapping. Every time I order something from Estee Lauder, I am always so prepared to see the packaging and I have the same excitement every time to open the package. They do know how to present and make someone feel like they bought something beautiful.
From the Victoria Beckham website, this highlighter can be worn as a strobing accent on the cheekbones, with or without bronzer to create a fresh, dewy look. Finely milled for a light and silky texture, this illuminating powder is packed with pearl pigments – perfect for achieving a warm glow.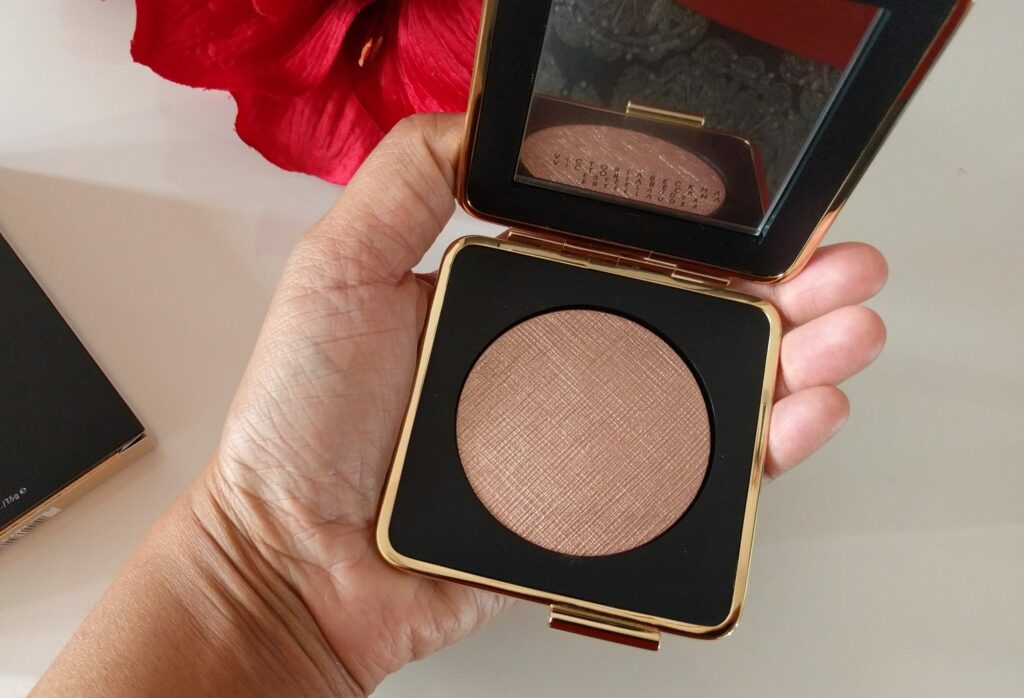 First, I will talk about the packaging of this highlighter. The product is housed in a sturdy compact which has black leather on the outer side with golden metallic sides. The leather has a soft texture to it and looks very fine. The black and golden both make the case look very classic yet modern.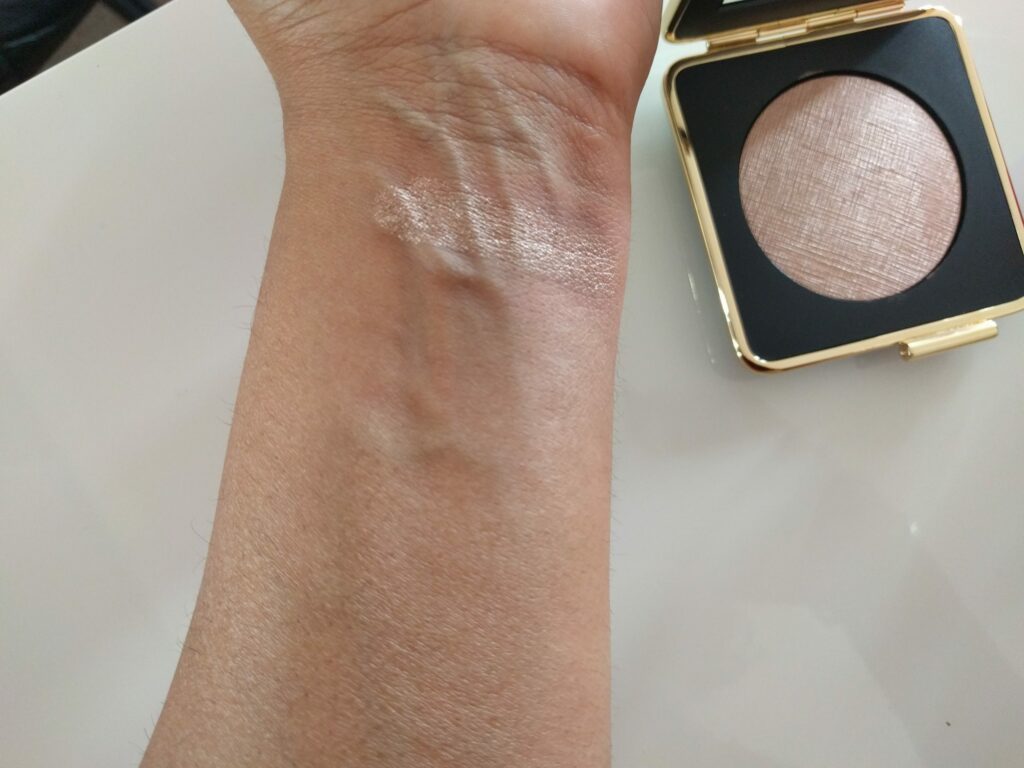 Then comes the product, I have such good experience while testing this that I am regretting now to not have bought the backup. The product inside is a medium rosy brown color with soft pink and golden shimmer which is very subtle on the skin. The powder formula is so beautiful, it feels so delicate and soft. This product uses the brand's gelee formula which was released many years back and was very popular and cult, that is why it is loved and talked about till today.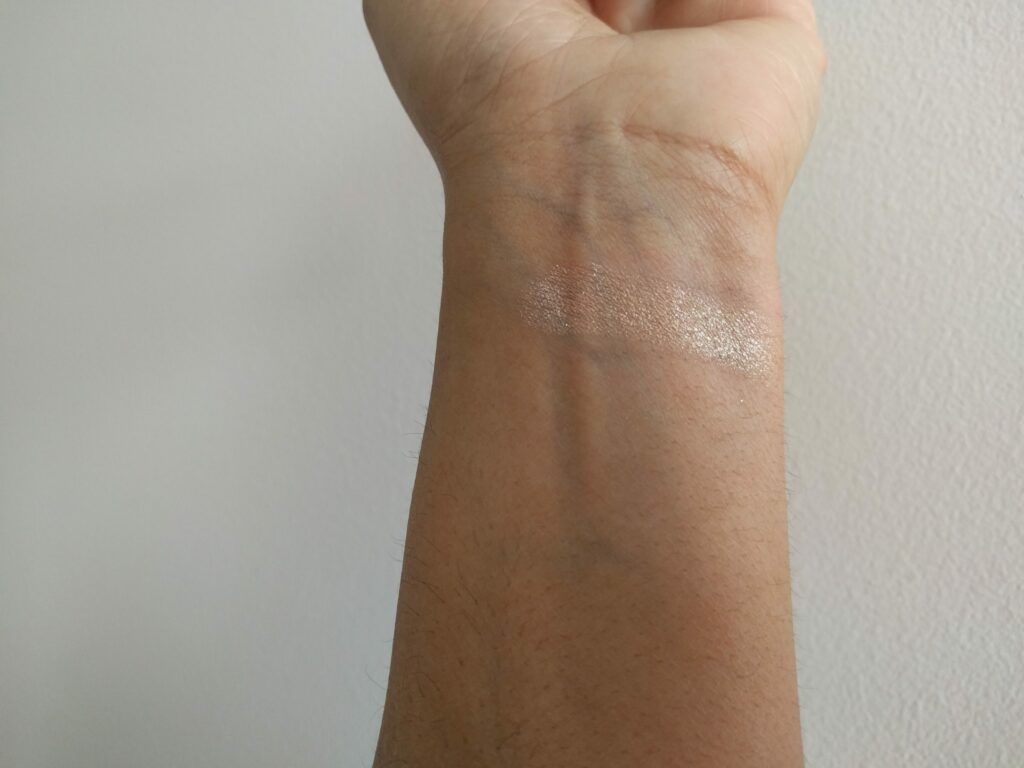 The pigmentation is incredible and it is very blendable. Based on the occasion and skin tone, it can be build up or can be worn as a soft highlighter for a normal day. It has been very forgiving if applied in excess. I have worn it to office few times and it looked very natural, the true glow from within. On lighter skin tones, this may need a light hand. This highlighter is such a classic formula that any brush I use with this, I find it perfect to apply this highlighter. I do not think I have felt the same thing for any other product. Overall, I am proud to say that this is the best in class and is one of the most beautiful highlighters I own. This retails for CAD $78 excluding taxes.
And my recommendation is that if you can still get hold of this one, GO RUN and Order it now!
Do you like the glowy look? What is your favorite highlighter for a dewy look?
---
Givenchy Very Irresistible L'Eau en Rose was launched in spring of 2014 and was dedicated to the queen of flowers – Rose. As in the name of this perfume, the main ingredient of this fragrance is the Rose and this was developed with minimalist composition. This has been called as a universal fragrance for women and suitable for all occasions year around. The nose behind this fragrance is Carlos Benaim.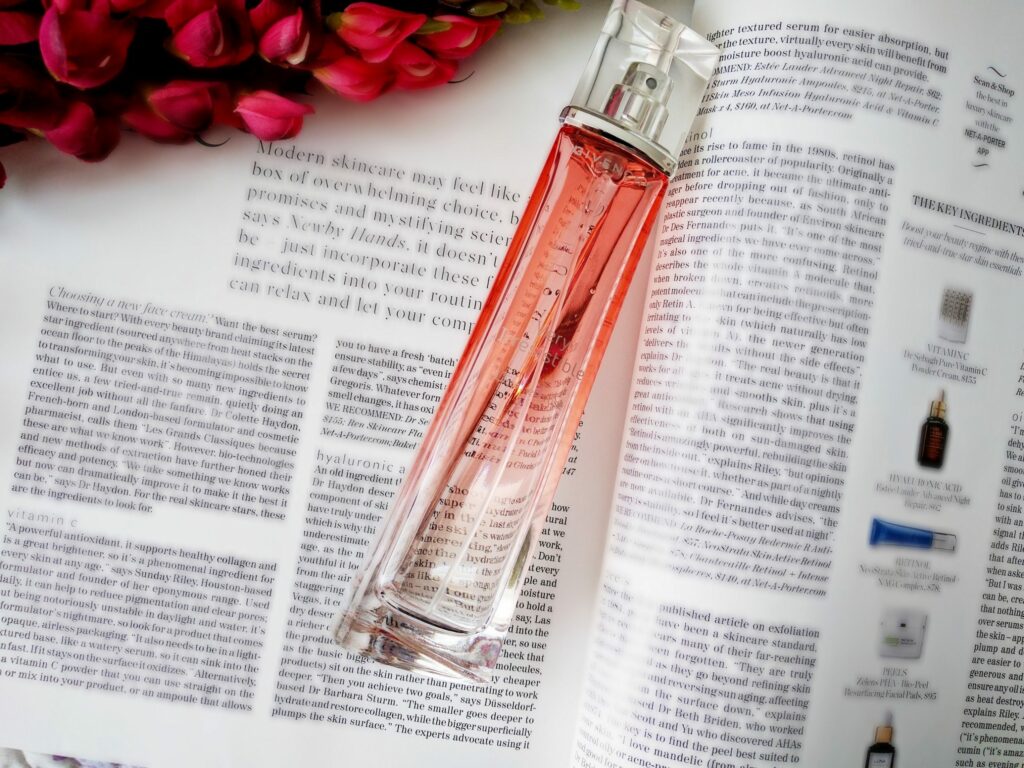 I bought this fragrance last year and as you can see from the pictures, I have used it a lot. I really like using this more in the spring and summer as opposed to year-round. The top note of this fragrance is BlackBerry, the Middle note is Rose and the base note is Musk. It is very feminine, striking, and comfortable to wear.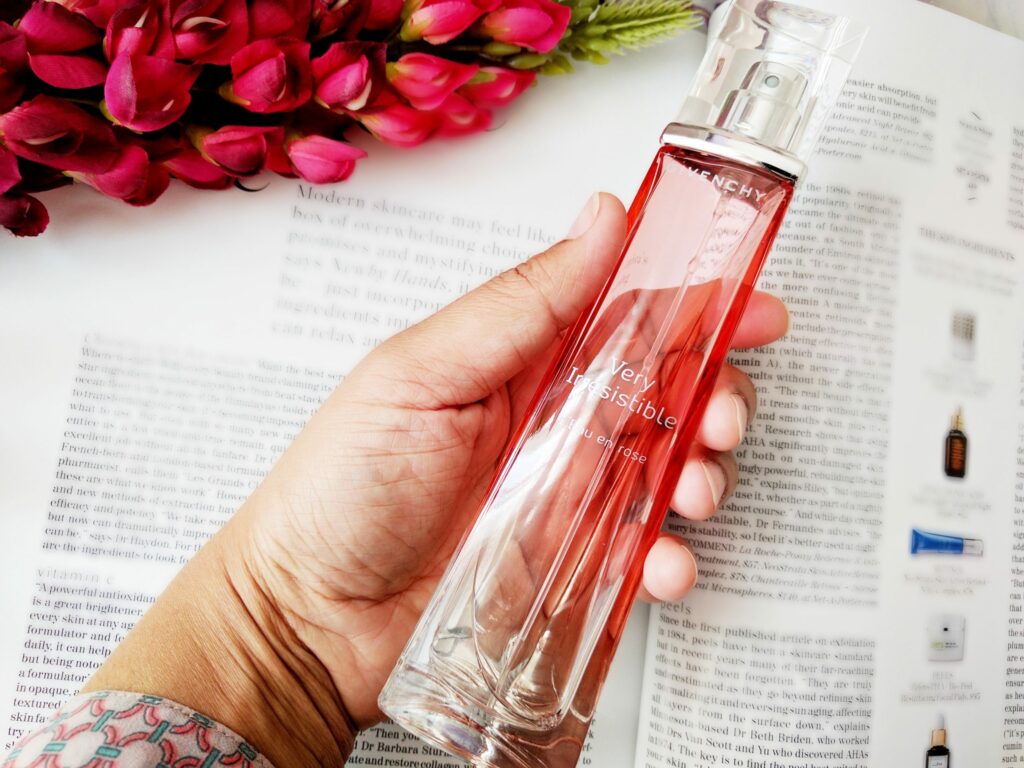 This perfume is both classic and modern all at once. It has a sweet warm rosy scent without smelling like pure roses, it has more of a fresh and innocent feel to it. Choosing a perfect rose scent can be difficult sometimes, based on the composition and how the fragrance radiates back once applied to our skin, it can smell different on different people. This fragrance has a simple composition but how it manages to reflect the scent from your skin can be different.
As described in fragrantica, "The composition is bold and bright with pronounced notes of roses in the background of musk. Juicy and fruity blackberries surround the heart of rose, giving it liveliness and sparkle, while a gentle cloud of cotton-like musk gives tenderness and sensuality in the base."
I have loved this fragrance since I first sniffed in store and bought it. This fragrance lasts on me for around 5-6 hours and that is fine for me. This is a good option for you if you like flowers, especially roses and do not want to smell like a bouquet of rose by very classic, fresh and airy feel of roses.
Do you like flowery fragrances? What is your favorite rose scent fragrance?
---
I was naive about double cleansing until I felt my skin is not getting cleaned properly and is breaking out due to that, that is when I did the part I can best do, that is GOOGLE about it ( seriously). I came to the conclusion that what I have been doing since I came into senses or the more appropriate way to say is that I have not been doing my part of the proper cleansing of my face since I started using sunscreen or any makeup. This made me search for the options for cleansers best used for first cleanse. The product which was referred and praised on most of the online resources including blogs or any reviews on shopping sites, it was Emma Hardie Moringa Cleansing Balm. Even now, when I see someone mention this balm cleanser as one of the best, I know they are saying the truth about it. That makes it a Cult product that every skin care lover or every beauty lover should know about.
Based on my skin which is a combination and is prone to acne and breakouts, I am very choosy when it comes to buying something that has oil in it. Based on the recommendations and the reviews from the skincare guru's, I ordered this balm cleanser online. Just want to mention it here that it is not available locally in Canada, there are few online vendors in the UK who provide worldwide shipping on this.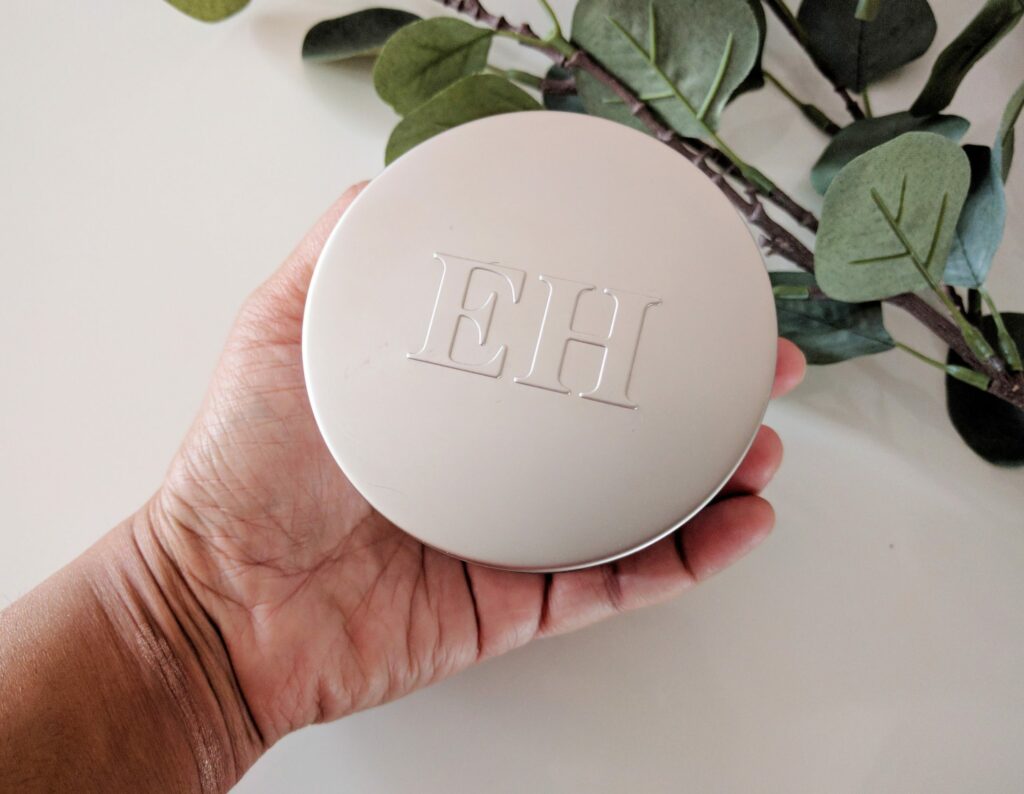 Emma Hardie Website describes the following benefits of this balm
Award winning Moringa Cleansing Balm is a balanced daily cleanser that thoroughly cleanse deep in the pores, moisturises and calms all skin types
Grape Seed Oil and Sweet Almond Oil rich in essential fatty acids help to plump and soften
Moringa seed extract, Wild Sea Fennel and Vitamin E balance, purify and help to minimise the appearance of open pores
Essential oils of Orange, Neroli and Mandarin rejuvenate and revitalise the skin whilst calming the senses
Jasmine and Rose help to recondition dull, dry, dehydrated and mature skins
Removes all traces of face and eye make-up and is so pure it doubles as a soothing and hydrating mask if left on the skin for ten minutes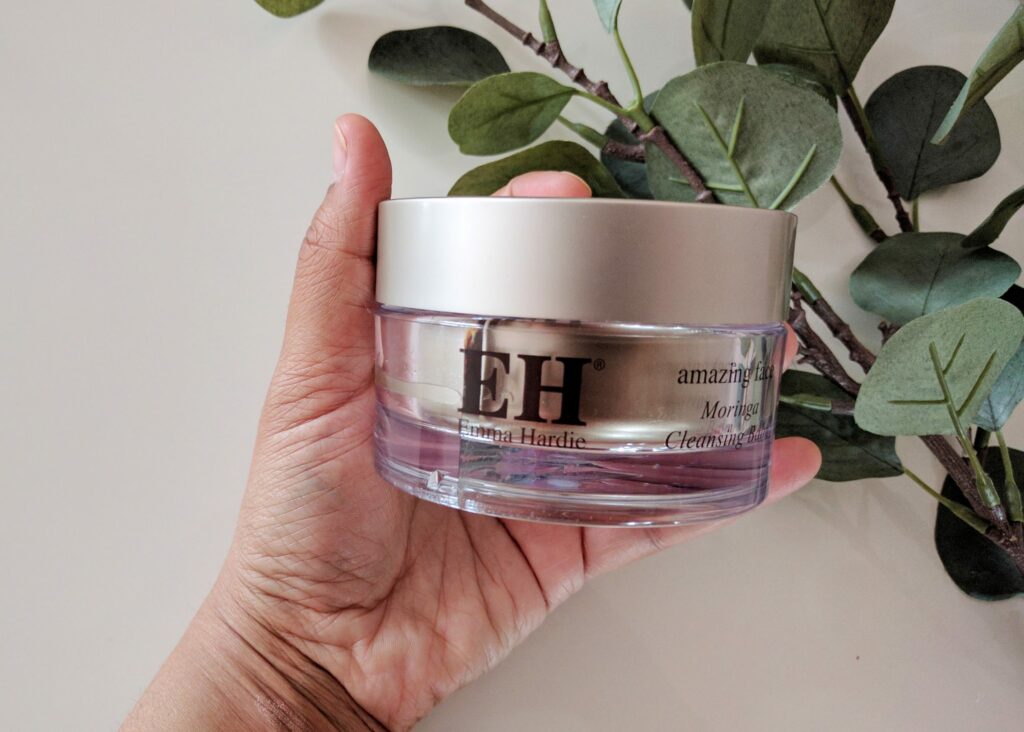 I have used this balm cleanser for over 2 months regularly as a first cleanse. It works perfectly to remove the makeup as well as cleaning the skin. My skin feels very calm and clean, never gave me any oily feeling afterward, just clean skin. I massage this balm onto my face and neck including my eyes for a good minute or so, then wet my hands with warm water to emulsify the balm on my hands and then the face. Once emulsified, I wash my face with warm water and follow with my second cleanse. I have noticed this balm to be very gentle for my skin even when I have breakouts. I have not pictured the inside of the big jar of this balm (i have just few uses left inside and the backup is on its way already) but this is normally light yellowish and solid at normal temperature, I take an almond size of this balm to do my first cleanse. For me, it is actually and truly a cult product and I would repurchase this and always try to have this in stock. It retails for £39.00/CAD $66 for 100ml/3.4oz.
Do you double cleanse your skin? What is your favorite texture of product for your first cleanse?
Buy here:
---
I am reviewing this very beautiful Healthy Glow Powder from Givenchy in a special floral edition which I bought last week to start off my birthday month. Nicolas Degennes, the creative director of Givenchy, was inspired for the spring collection this year by the delicate flowers called gypsophila, or baby's breath. These are one of the most beautiful, sweet and delicate flowers which look very beautiful in the interiors as well as exteriors.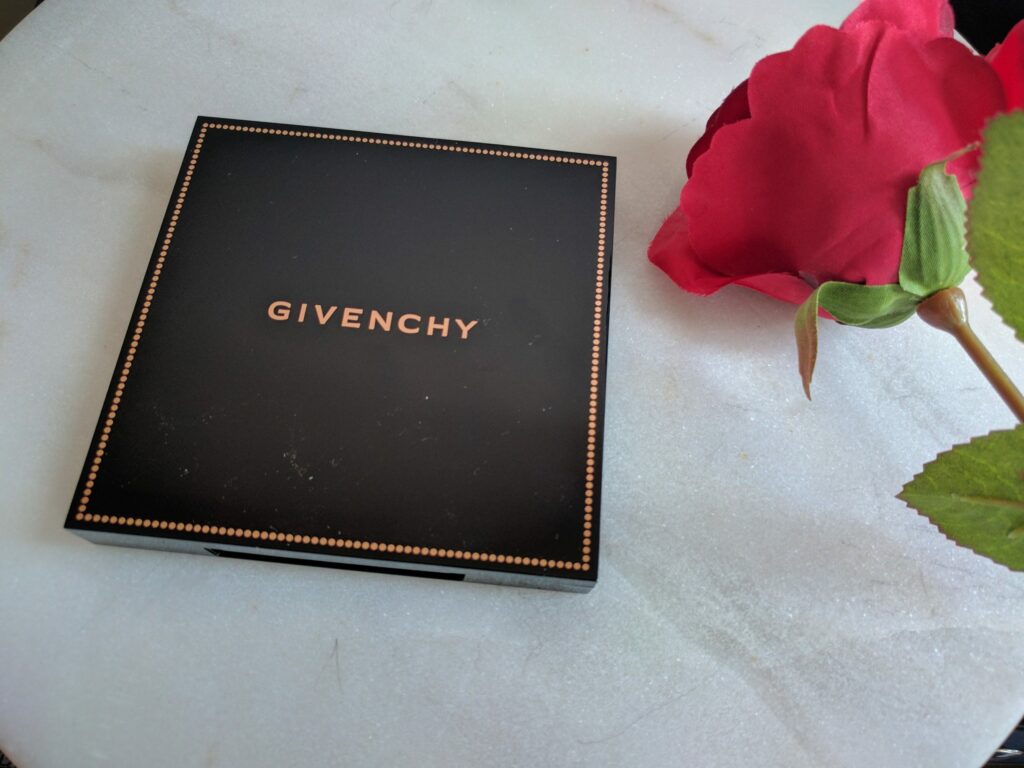 Givenchy spring collection 2017 is called Gypsophila Les Saisons and as with every luxury makeup collection, there is one absolute must-have product. The showpiece of this year's Healthy Glow Powder in the special limited edition Healthy Glow & Body Bronzing Powder floral. Givenchy describes this powder as a weightless bronzer that creates a powdery veil on your skin, which gives you the feeling of an infinite kiss of the sun. The packaging has, therefore, the terms "long lasting radiance 'and' totally weightless".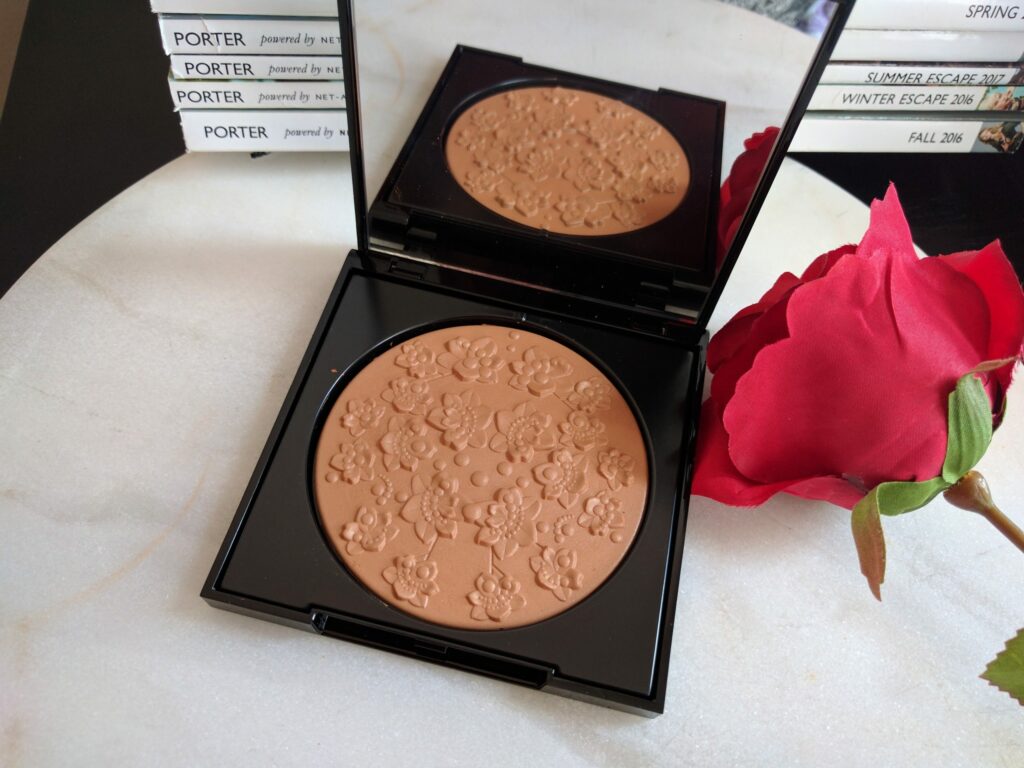 Sephora describes this powder to impart a sun-kissed complexion with Healthy Glow & Body Bronzing Powder. Encased in an oversized compact with a mirror, this talc-free powder lets your skin show off in its best light year round—while always looking fresh and radiant. Formulated with innovative technology, Givenchy reinvents the nude makeup look and healthy-looking glow, thanks to a formula that provides color without texture.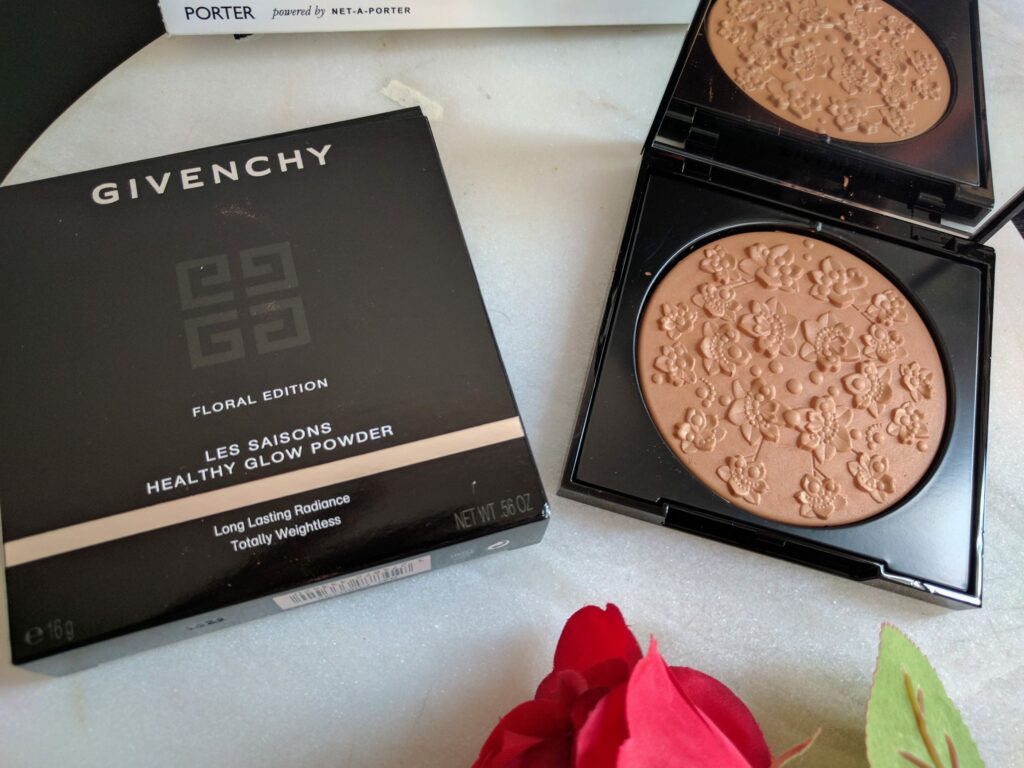 I will talk about the packaging first, which is really drool worthy. This has a black, shiny, big square box made of quality heavy plastic. The top of the box contains a rose gold dotted edge and the Givenchy logo. I find this box alone worth the price ( maybe that's too much, hehe).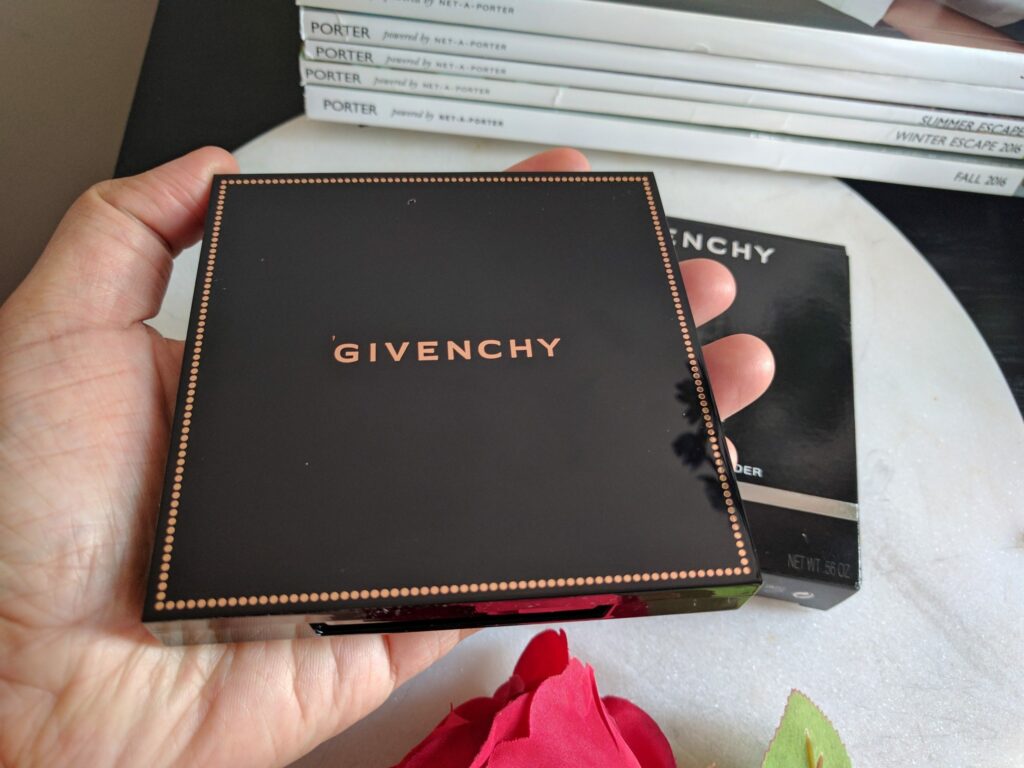 This packaging has a fairly large square mirror where I can see my face. And on the opposite side is the bronzer which is SO BEAUTIFUL! It includes a 3D floral pattern of delicate flowers so that the powder gets a magical aura. I would never want to use it, would you? In sunlight, I see a very fine gloss and tiny golden shimmers on the bronzer. The color is called no 2, Douce Saison and is the only color in this collection. Normally, I prefer bronzers which are a bit darker than my normal shade, but this color is good and buildable into a color that is perfect for my skin tone.
The undertone of this bronzer is a bit peachy-soft brown, giving a very natural, sun-kissed color and a beautiful, subtle sheen to the skin.The texture of this powder is very soft and one can feel how finely ground it is. In facts, it is not even a real powder, because the formula contains a new technology in which the formula is 'baked' gel that transforms into a powder when you apply it on the skin. This technology has been used by various high-end brands these days in most the products like eyeshadows, powders. This composition and technology make this bronzer very easily blendable and buildable providing the skin with the most natural bronze and glow.
I am really very pleased with this Healthy Glow Powder from Givenchy. It does look very luxurious and so does the quality of this bronzer, you should certainly have a look at this.
This limited edition bronzer is available at Sephora and retails for CAD $78 excluding taxes.
Do you use a bronzer? Which is your favorite bronzer?
---
I love products that make my hair feel alive. A good hair product provides nourishment and protection to hair from various external and sometimes internal factors. My hunt for products that work and make me feel good about my hair is always on. I bought this Alterna Caviar CC Cream for Hair 10-in-1 Complete Correction 7-8 months back to control my dry frizzy hair and to add some shine to them. I tried a sample of this product from a friend and loved it, so I bought the full size of this hair cream which is why I still have a bit left in the tube after using it on and off for over 7 months.
From the Sephora website, "Alterna Caviar CC Cream for Hair 10-in-1 Complete Correction is a leave-in hair product that delivers 10 benefits in one simple step, leaving hair perfectly polished. CAVIAR CC Cream or "complete correction" cream is a luxe leave-in product that perfects hair in 10 different ways. It provides moisture, shine, smoothness, softness, anti-breakage, heat protection, light hold, UV protection, manageability, and strength—everything your hair needs to look absolutely beautiful, healthy, and flawless. This 10-in-one hair primer can be used alone or as a base for the layering of other styling products. It does not have Parabens, Sulfates, and Phthalates."
I wash my hair every other day or every two days depending upon my schedule and my kid's schedule as it is not just hair wash but also hair care like the same way we do care for our skin. The key to using this product, as per my experience is the amount of product to use, I tried and failed first few times. I use a little bit more than a pea size on my medium length wavy hair. If I use a bit more than that, it weighs down my hair, which is why I didn't like this product at first. So I would suggest and keep a record of how much works best for your hair, based on the length and texture of your hair.
This is a very nice leave in hair treatment. I find it works well both with air drying my hair and blow drying. I apply a bit more than a pea size product to my damp hair. I did try and applied it on dry ends but I noticed it weigh my hair down making them look limp. It does offer heat protection and has been a good companion for blow drying.
I prefer to use extra an extra heat protection when I am using a curling iron or flat iron. I have noticed my hair are smooth and manageable when I use this cream. The scent of this hair cream is very pleasant which does disappear very fast. The texture of this product is same as any cream, very soft and buttery. I would recommend this leave in hair cream only if you are going to use it in a consistent amount because the quantity you use does change the outcome on your hair.
This product retails for CAD $48.50 for 5.1oz/150ml and based on the amount required per use, it is definitely worth it.
---
---