---
Quo is a cosmetics line with many beautiful products and is exclusively available in Shoppers Drug Mart across Canada. I have heard so many good things about this line from my girlfriends but never got a chance to try them. I received these products, for review purposes, with many of the universal shades which compliment most of the skin tones.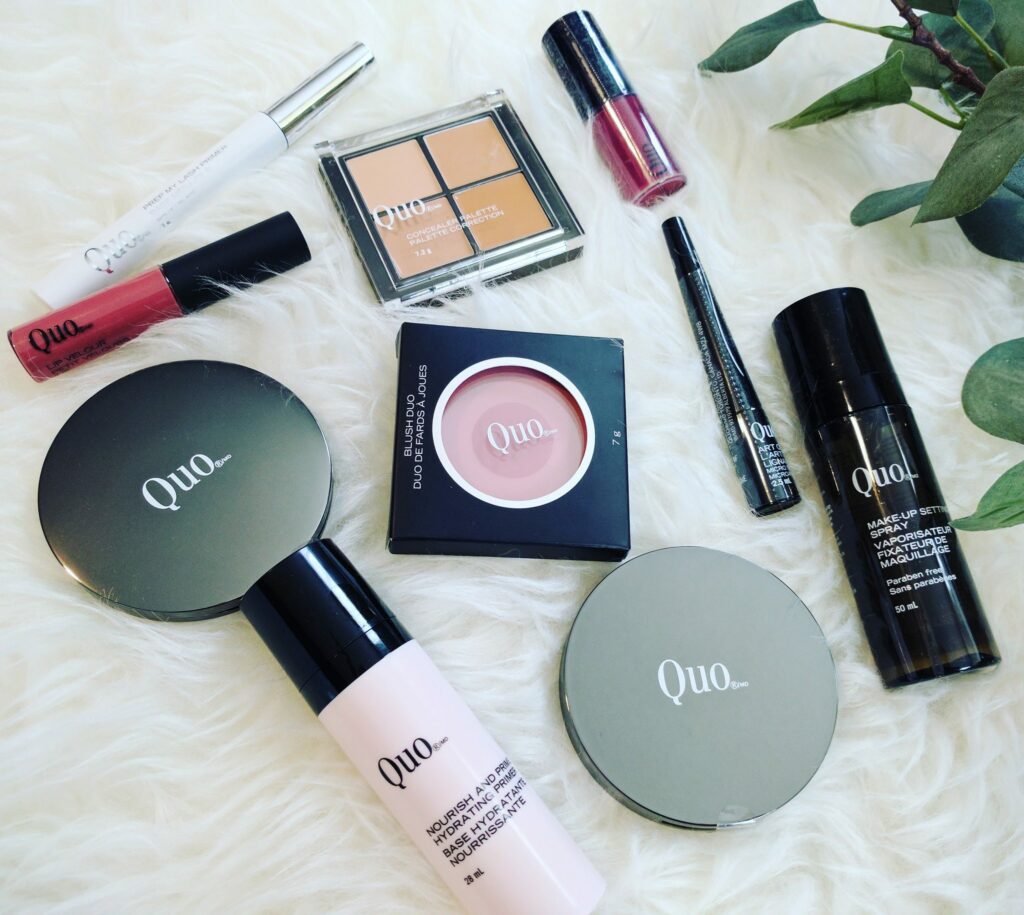 I am going to start with the most loved product for ladies, that is the blush. I received Quo Blush Duo in shade Just Blush which is a perfect everyday shade for most of the skin tones. It is a very light pinkish shade which gives a very natural flush to the cheeks when the brush is swirled over the whole pan. The finish of this blush is HD soft-focus which means when I clicked pictures with this blush on, I noticed there were no special effects or any casting on my face but it looked natural in the shot. The Blush contains Vitamin E which helps to block free radicals from the body which play a major part in the aging process. The Blush is easy to blend to achieve desired intensity of color depending on the skin tone. It lasted on me for over 7 hours and that is very good. Last but not the least, it is Paraben free.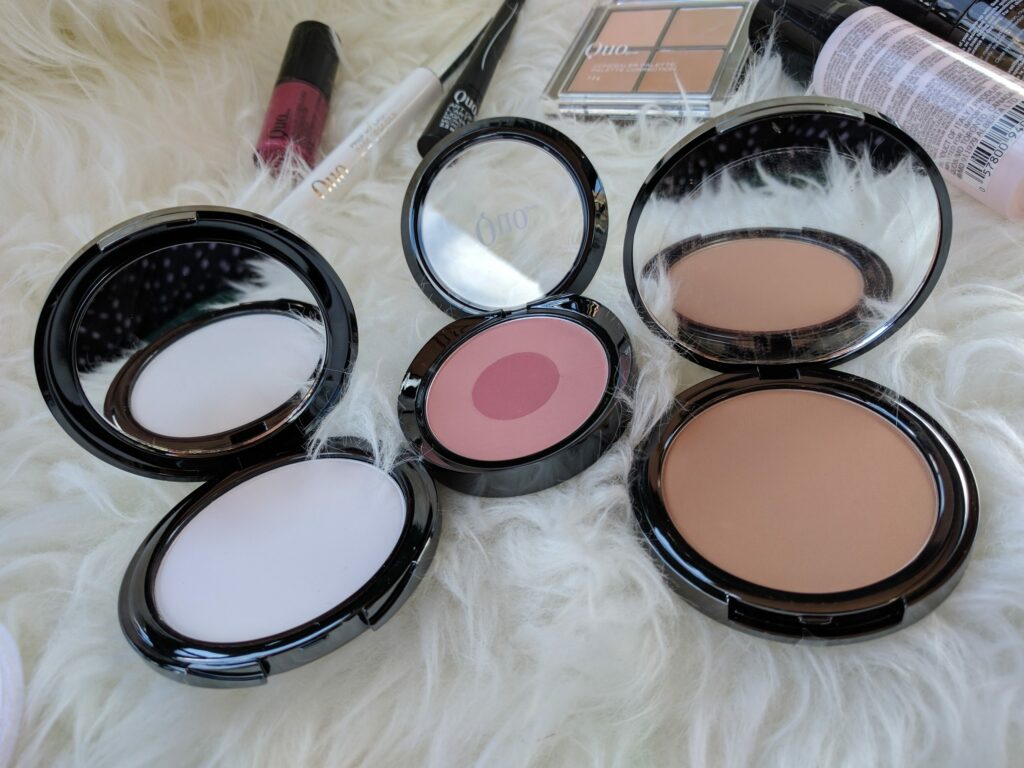 The Quo Matte Bronzer in Medium Tan is a bronzer with Matte finish. I noticed a very natural finish after using this bronzer. It is easily blendable and never gave any harsh effects on the face. I am not a very bronzer girl as I am already Medium tan and do not require tan but I love using a bronzer when going to the beach or some party. This bronzer lasted on me for over 6 hours before I had to retouch.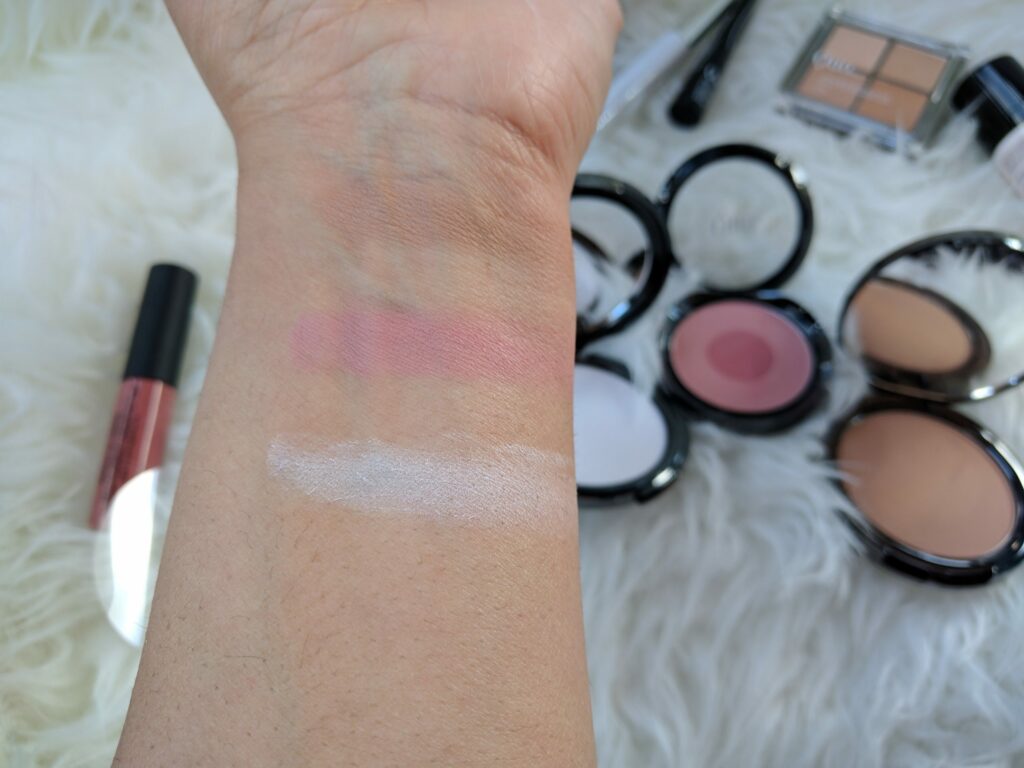 Quo Radial Blur Translucent Powder is a lightweight, ultra-fine and silky powder that captures and softens light reflecting on the skin. The translucent powders sometimes tend to show on my skin but this one did not. It is invisible on the skin and gives a sheer, semi-matte coverage when applied to the whole face. I did see some difference in the visibility of my pores. I have used it to set my foundation and would prefer using it that way and due to the compact packing, it is a perfect travel companion for touch-ups. When used over the bare skin, after moisturizing, it gives a subtle radiance to the face. It helped keep my foundation intact for 7-8 hours with a touch up once.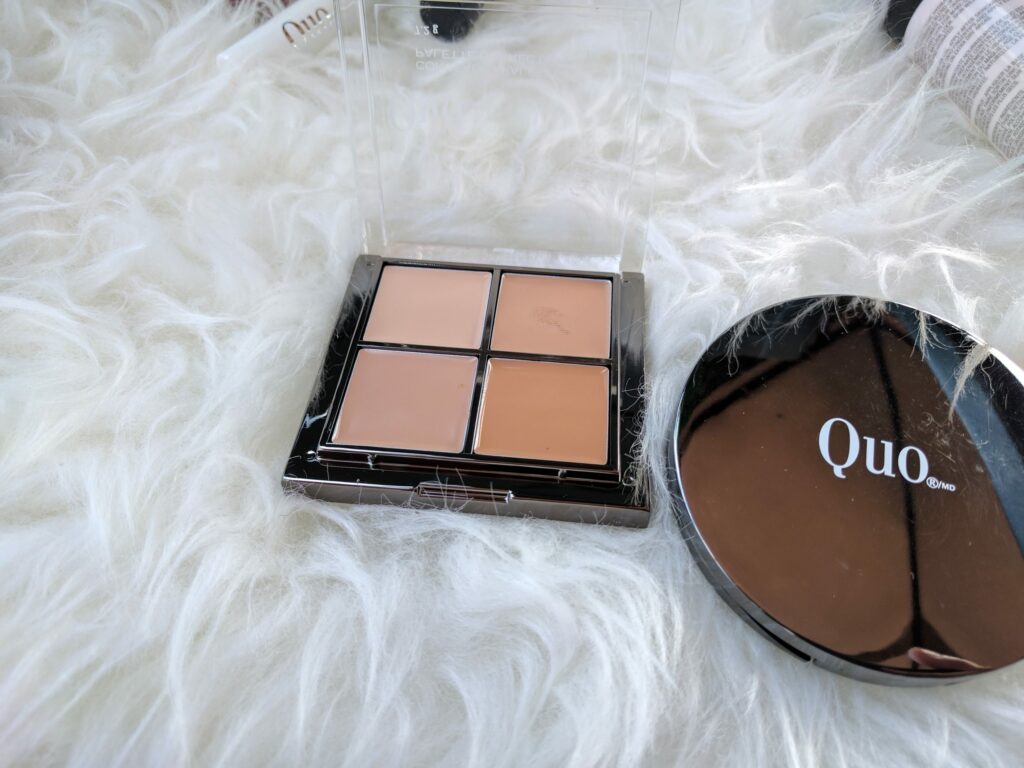 Quo Concealer Palette is a quad palette with four shades ranging from light to dark. This is ideal for concealing dark circles, skin imperfections, and blemishes. I did not notice any dryness after using this on my dark spots. Due to the range of shades from light to dark, this can be used to highlight as well as contour the facial features. It has medium coverage which is buildable to full.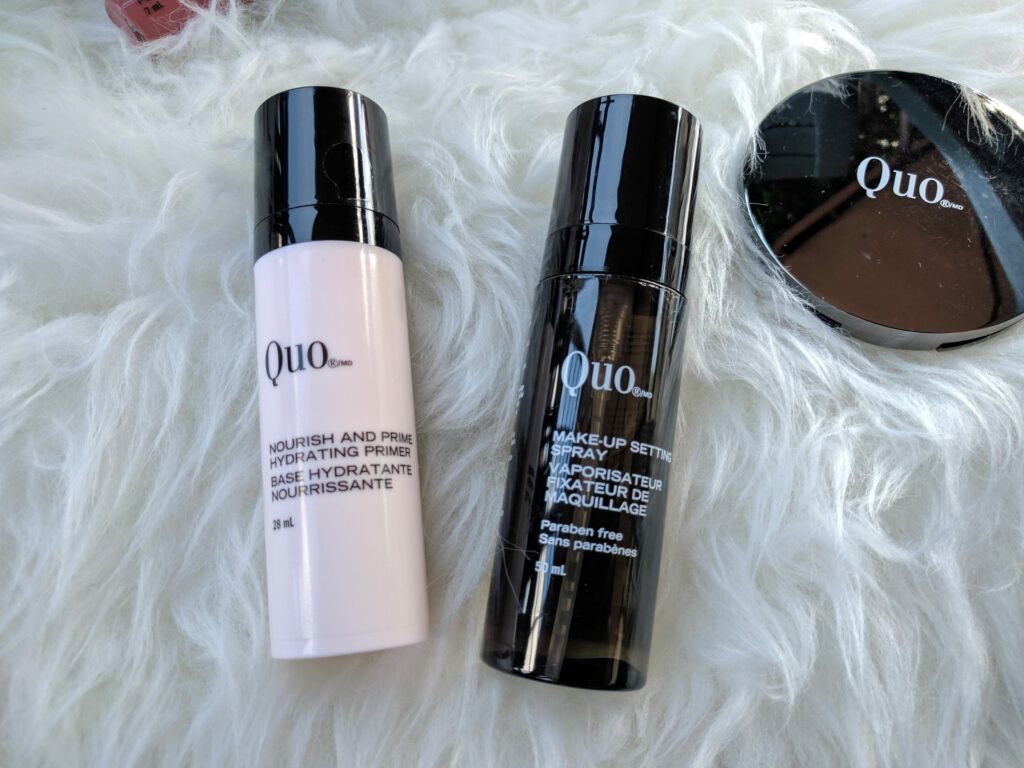 Quo Nourish and Prime Hydrating Primer is a primer that can be used after the moisturizer or sunscreen and will help the makeup last longer. This primer is easy to apply and absorbs quickly into the skin instantly hydrating it. It has a light pink color and applies as a smooth base for the makeup. When applied alone over the skincare, it gives a radiance to the face.
Quo makeup setting spray is a weightless fine mist setting spray. I apply 1-2 spritz to set my makeup and it absorbs fairly quickly giving a semi-matte finish on me. This is ideal for all skin types. I did notice the longevity of my makeup after using this makeup setting spray.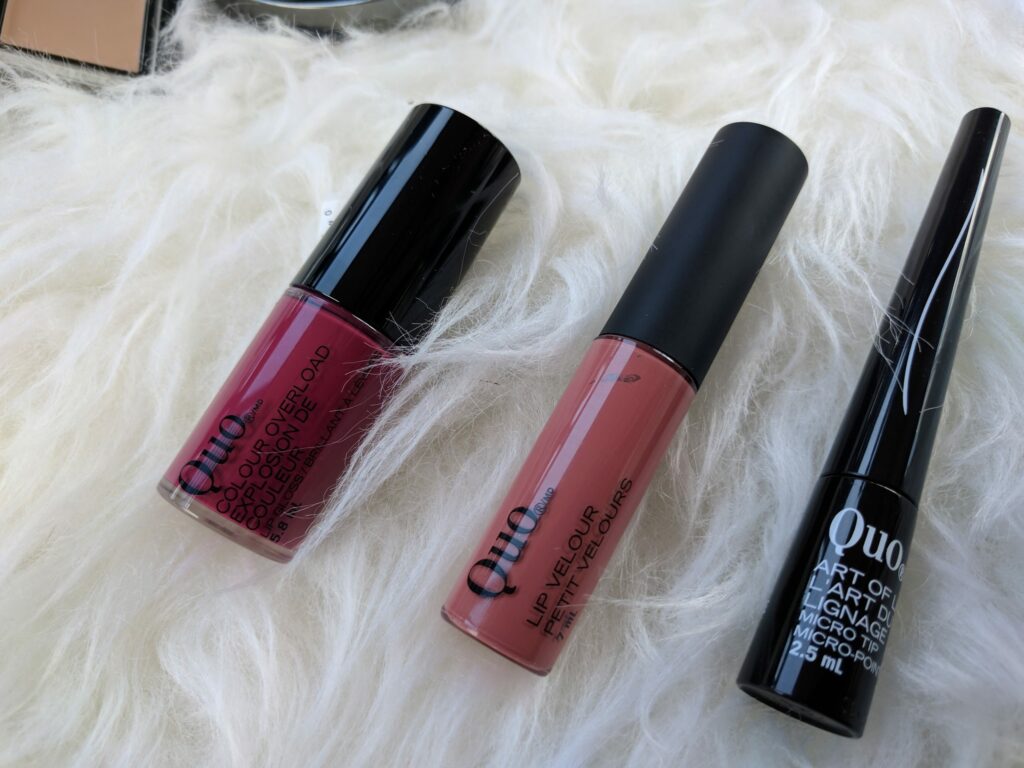 Quo Lip Velour in Diva is a medium dusty rose shade which applies as a liquid and sets to a creamy matte finish. The lip brush in this Lip Velour has a good size to provide a flawless coverage. I used my lip balm before using this lip velour and did not notice any clinginess or dryness on my lips. It lasts for 3-4 hours on my lips. Quo Color Overload lip gloss is a very nice shade with a glossy finish which lasted for over 3 hours on my lips. I did not notice any dryness on my lips.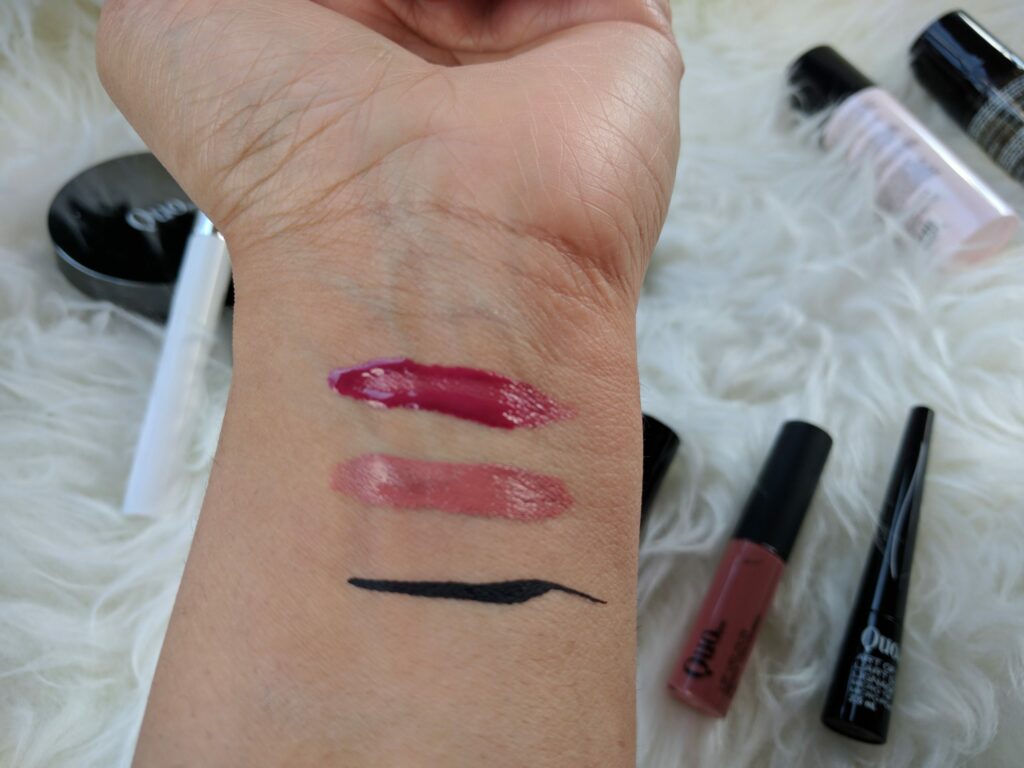 Quo art of Lining is a liquid eyeliner with a micro tip. The applicator is very fine and the micro-tip glides on very smoothly while applying the liner on the eyelid.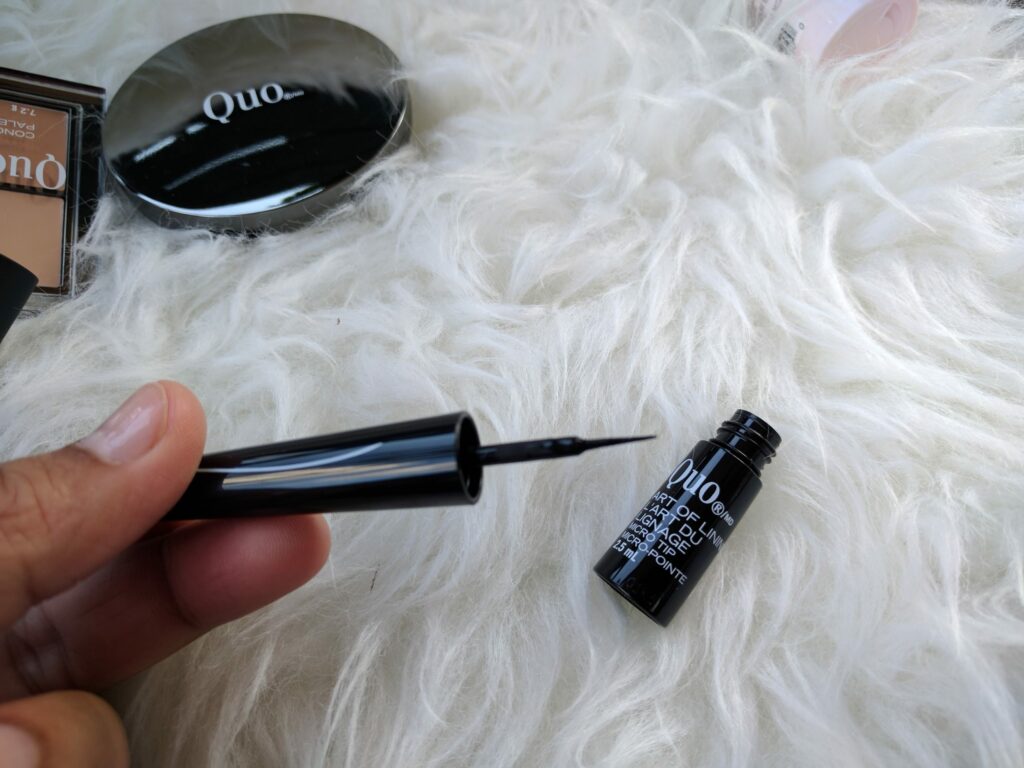 The color is rich black and the staying power is pretty good. It stayed up all day during my 9 to 5 job.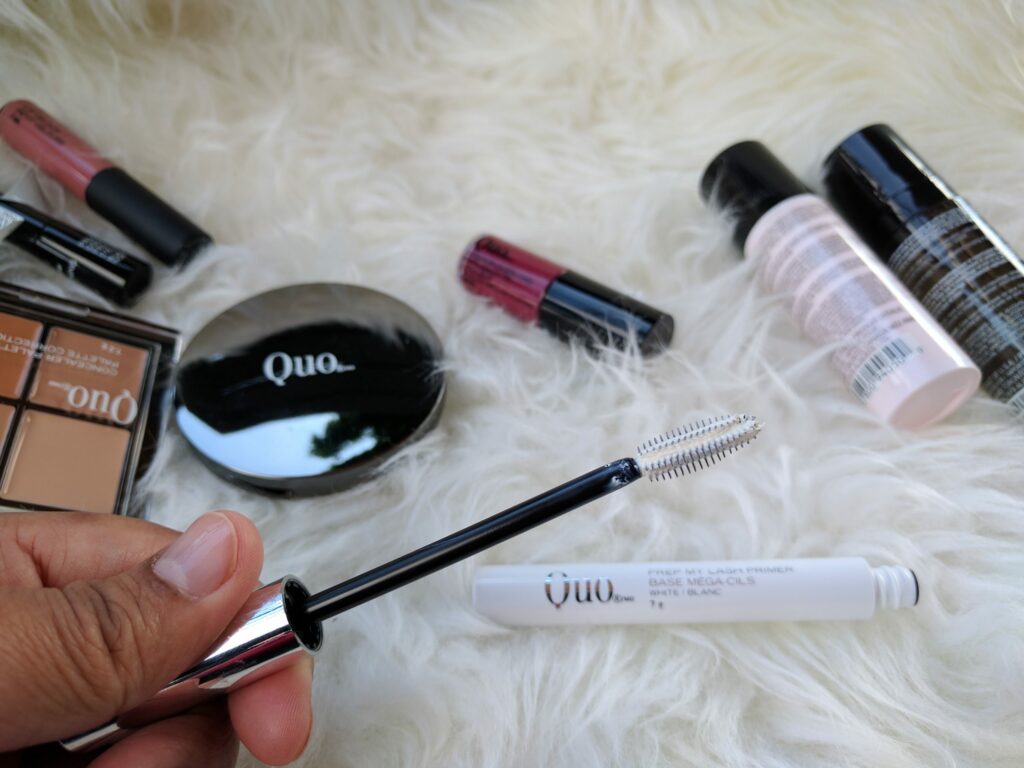 Quo Prep My Lash Primer in White is a primer for the eyelashes before applying the mascara. It nourishes and strengthens the eyelashes. The eyelashes are prepared to have the mascara stay on longer without any clumping. I am really enjoying all the products and the shades suit me so well.
Have you tried anything from Quo, What is your favorite?
---
Charlotte Tilbury is a British make-up artist, founder and creative director of her eponymous beauty and skincare brand. She is such a genius in her field that the outcome of her talent is the love her products are receiving worldwide. Either it is her makeup or her skincare line, both are loved equally. I was so looking forward to trying her products, I bought few products myself before I was sent some to review. I will be reviewing and swatching the lipsticks in this post. There is a very good thing about the Charlotte Tilbury website that i want to mentioned here is the swatches they provide for the skin tones which is very helpful as you can get an idea how that particular shade of the product will look on you.
I bought the Charlotte Tilbury Matte Revolution Pillow Talk and Charlotte Tilbury Matte Revolution The Queen once they were launched as limited edition shades. I was sent Charlotte Tilbury Matte Revolution Bond Girl* and Charlotte Tilbury Hot Lips Hel's Bells* for review purposes. All the shades are beautiful and compliment my skin tone very nicely.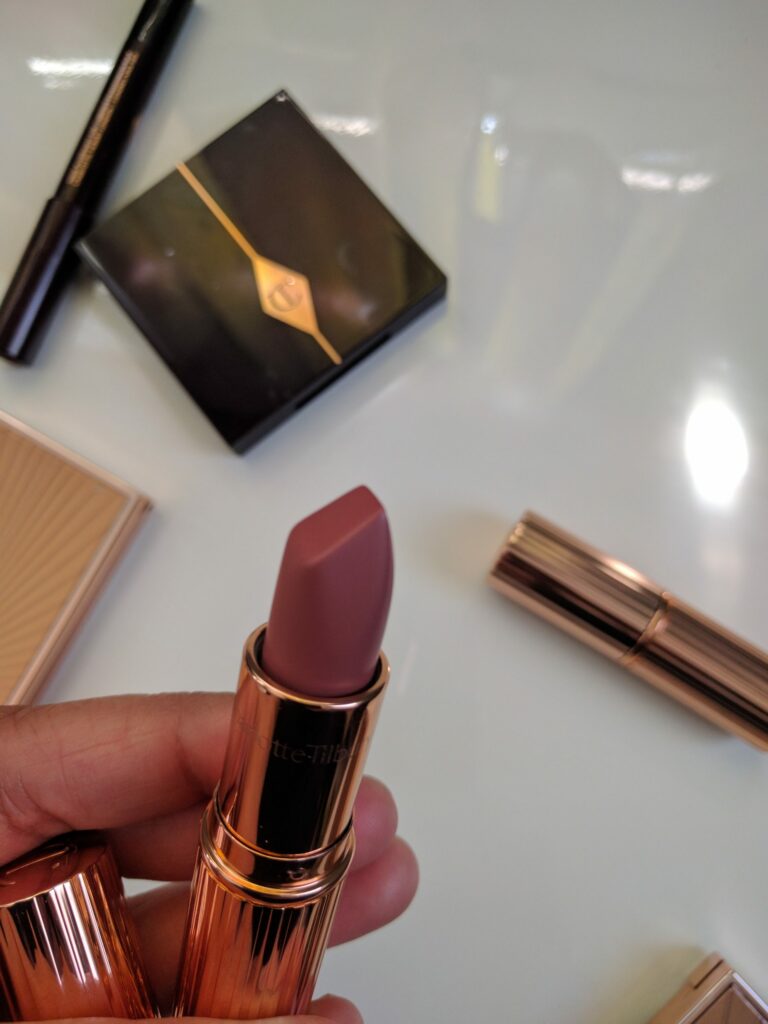 Charlotte Tilbury Matte Revolution Pillow Talk is described as Luminous modern matte lipstick with shade nude pink. On the Charlotte Tilbury website, it is described as "This dreamy nude pink is the ultimate celebrity and supermodel lip color for naturally fuller, wider lips. The color enhances the natural hue of your lips, so you can CHEAT a perfect pillow-y pout in seconds. Enriched with soothing orchid and Lipstick Tree extracts, lips appear fuller and wider, with a softer, more youthful feel." This is a beautiful shade if you want a very natural and matte look for the day, yes it is matte but I did not notice any dryness or clinginess to my lips even after few hours of application. This is more of a creamy formula and frankly more forgiving on the lips. This is launched as a spring shade and it has a very soft romantic vibe to it. This has a medium coverage which is buildable to full coverage. Depending on the light and skin tone, it can look either more coral or warm or neutral nude pink. This lipstick compliments the cult favorite lip liner called Lip Cheat Lip Pencil in shade Pillow talk.
Charlotte Tilbury Matte Revolution The Queen is described as a Luminous modern matte lipstick with shade rosy crown-jewel pink. On the Charlotte Tilbury website, it is described as "Exclusively enriched with Lipstick Tree extract which protects lips and is a natural anti-oxidant, and Orchid Extract which soothes and hydrates for a soft, buildable cashmere finish. The Queen is a NEW, rich and rosy crown-jewel pink lipstick in homage to Her Majesty, Elizabeth II." This shade is the perfect shade of pink that's almost red, but leaning towards like a cherry red but not quite. It's not as warm as a true red, but so unique and so flattering on most skin tones. The texture is very nice and buttery as well, it's not a flat matte, but a silky matte with a lot of depth and dimension to it. It's so beautiful and I am planning to wear it all the seasons.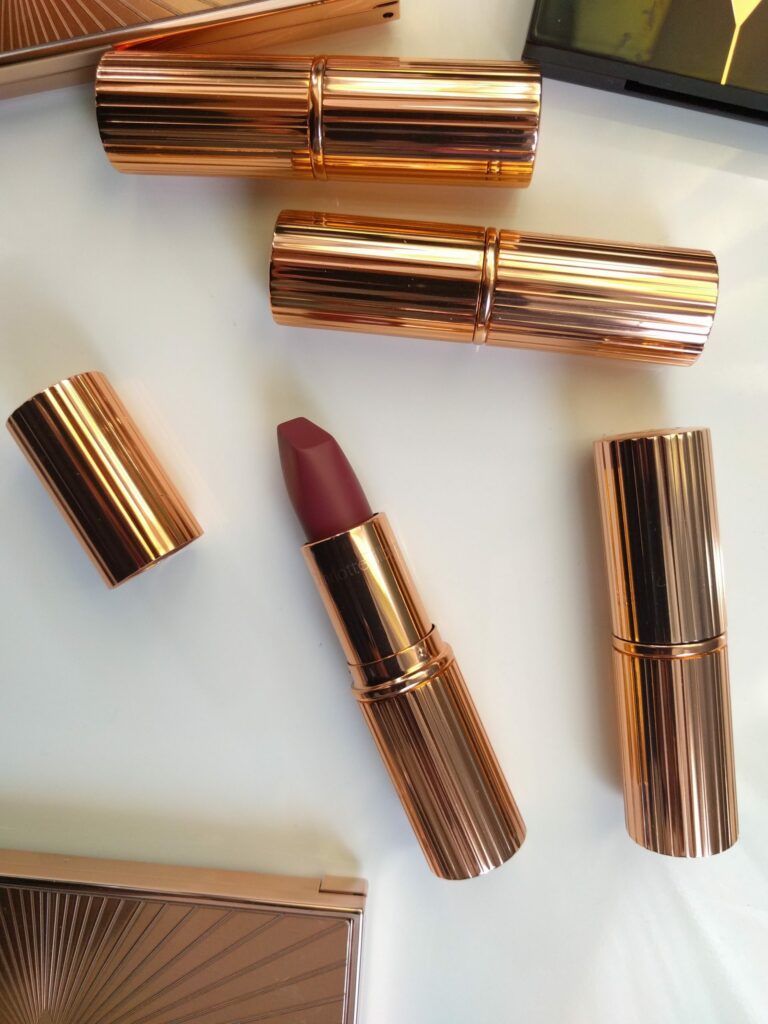 Charlotte Tilbury Matte Revolution Bond Girl* is described as a Natural berry red matte lipstick. On the Charlotte Tilbury website, it is described as "Matte Revolution Lipstick in Bond Girl has all the ingredients for a lit-from-within pout. This gorgeously chic natural berry shade is inspired by the Bond girls from Halle Berry to Barbara Bach to Olga Kurylenko." I have a soft corner for berry shades and I have noticed I have been reaching out for this a lot after I got this. This has a staying power of 5-6 hours on my lips and doesn't dry out my lips as most of the matte lipsticks do.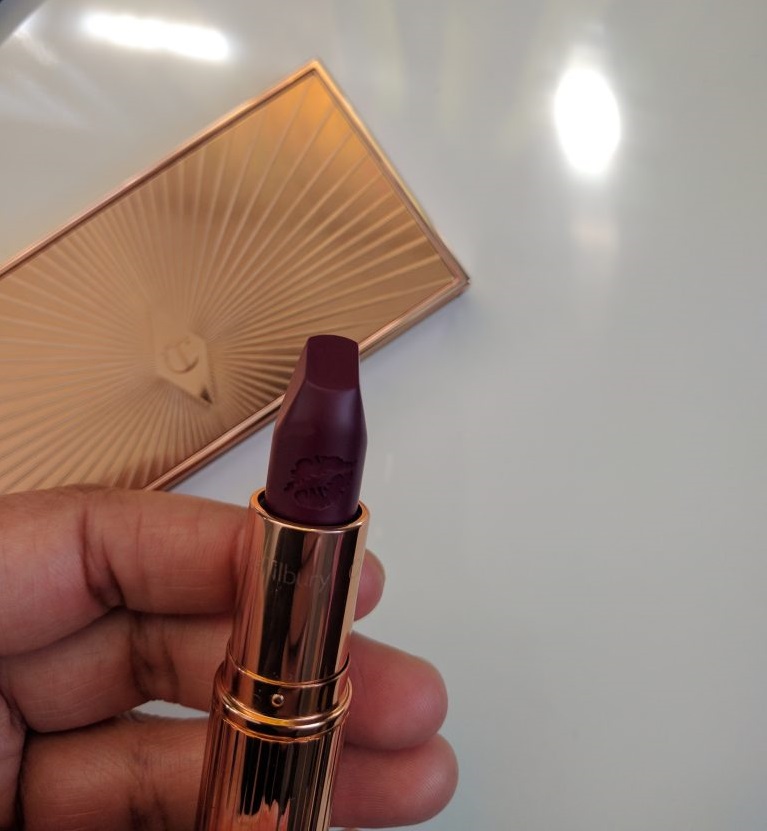 Charlotte Tilbury Hot Lips Hel's Bells* is described as a Luminous modern matte lipstick with rich magenta-mulberry shade. On the Charlotte Tilbury website, it is described as "A rich, magical magenta-mulberry inspired by Helena's quintessentially British style; eccentric and a total one-of-a-kind. Wine-hued lipstick completes her dreamy-gothic, eclectic look." This is a very nice shade for winters and fall. It has medium coverage and is buildable. Like the other lipsticks from this range, it is matte but hydrating.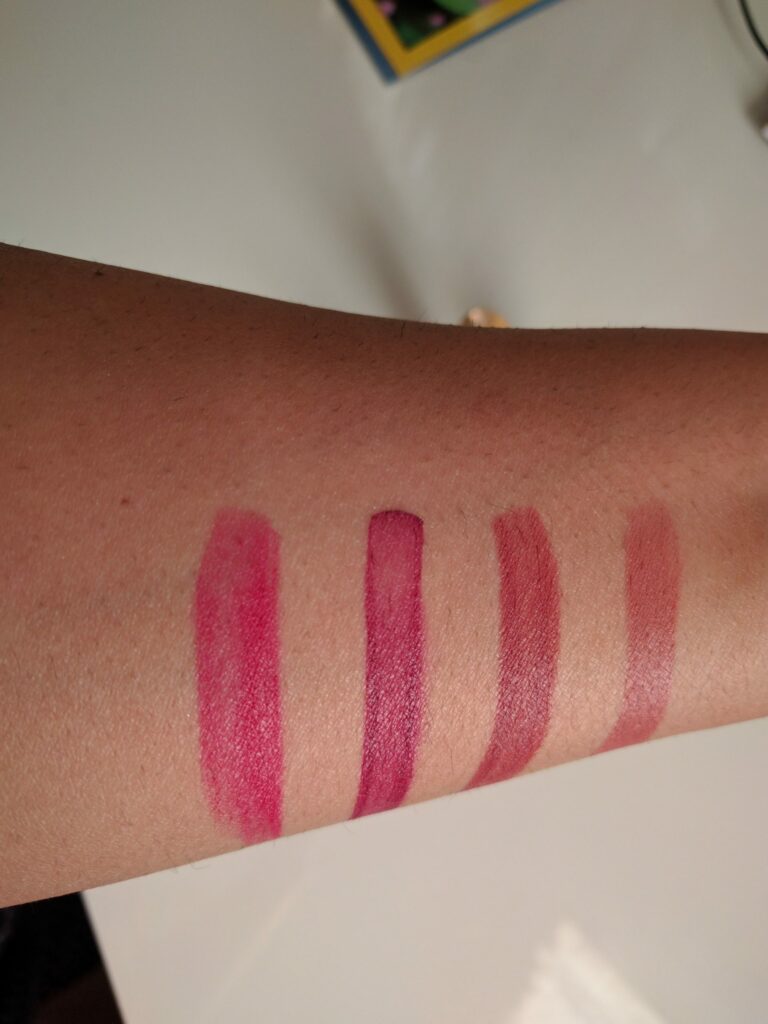 From Left to Right ( in natural light): The Queen, Hel's Bell, Bond Girl, Pillow Talk
As per the website, Charlotte Tilbury lipsticks have the below key points that make them unique in their being:
-3D glowing pigments and the Light-diffusing pigments give lips a brilliant, luminous, multi-dimensional finish – capturing light and reflecting it back out for a full-bodied effect
-The antioxidant Lipstick tree derivative helps protect from UV damage and tackles oxidative stress – the color from its seeds was originally used by Indigenous American people to paint and protect their lips
-Triglycerides mixed with a perfect blend of oils and waxes means this lipstick is a dream to use and glides over the contours of your lips
-Ideal for a soft matte finish or buildable, colour-rich luminous finish that doesn't bleed outside the lip line
Have you tried or own Charlotte Tilbury Lipstick? Which one is your favorite shade which you have or which you want to try next?
Buy Here:
---
I love serums, they are the most important part of the skincare regime. The serum does the actual work on the concern of your skin and they are available for most of the skin concerns, it may be dryness, flakiness, acne, discoloration, wrinkles, aging skin, that means anything concerning with skin. They come as supplement your skin needs depending upon the age, concern, and type of skin. When choosing a serum, I look and feel at my skin what my skin actually needs. At times, my skin may be dry and flaky, so I may choose a serum with hyaluronic acid. Other times, I may be having dullness or acne, then I will choose the serum with brightening effects or something with clearing acne ingredients. At a time, I have multiple serums on my shelf and I choose based on what my skin needs on daily basis. But to write a review, I always use a product for over 5 days in a week and for more than 6 weeks.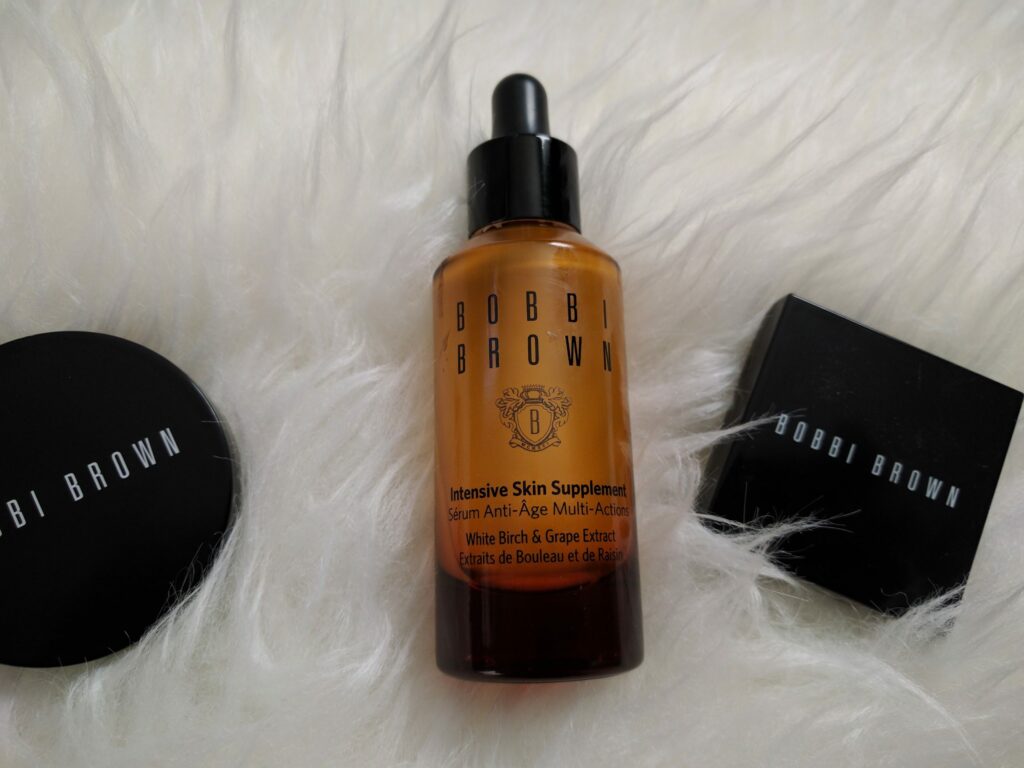 I bought this Bobbi Brown Intensive Skin Supplement during the end of winter as my skin tends to be dry and flaky due to the weather change and the internal heating inside the house and office. Just for your reference, I have combination skin prone to hormonal breakouts/congestion. The packaging is very nice and chic, the glass bottle looks very beautiful even sitting on the vanity or the skincare shelf. The dropper in this serum is also nice with no issues. I have used this serum for more than two months during spring and summer, almost every morning after cleansing my skin and before applying the oil followed by moisturizer. Overall I have really liked this serum.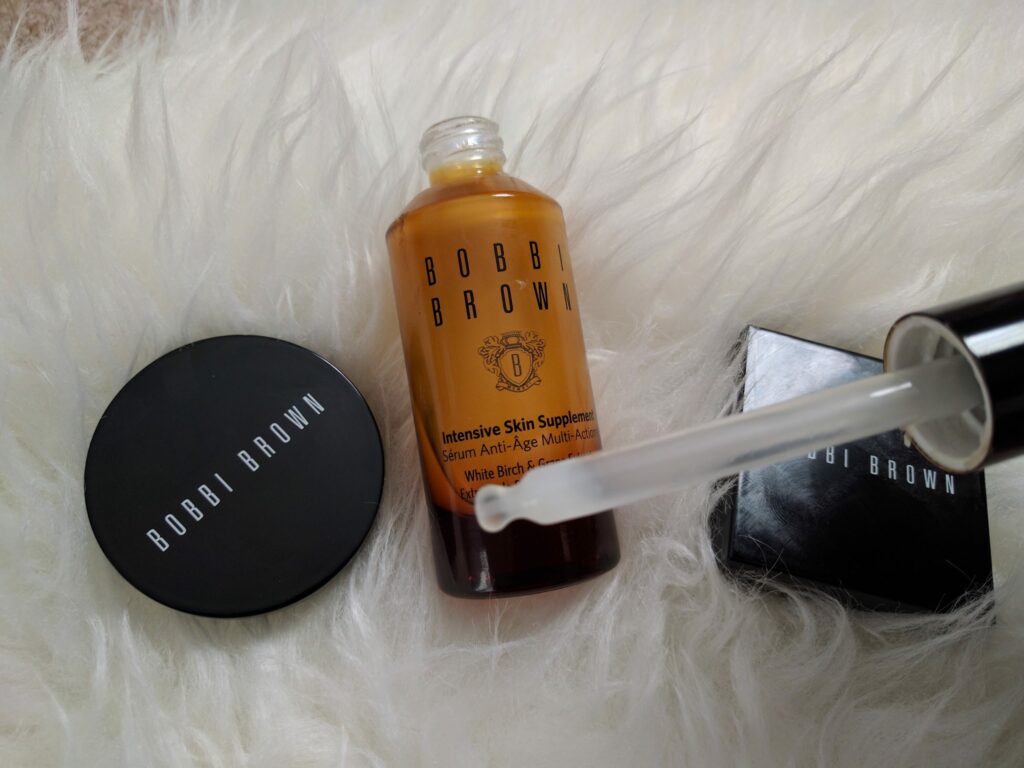 As per the Bobbi Brown Cosmetics website, "Bobbi Brown Intensive Skin Supplement is a quick-absorbing, anti-aging serum that improves the skin's appearance. An advanced, multi-benefit serum that improves skin's appearance as it helps prevent the visible signs of aging including dark spots and fine, dry lines. White Birch Extract reduces the look of fine, dry lines, while Grape Extract helps clarify and brighten the complexion. After just four weeks' use, skin looks firmer, smoother, more even-toned and radiant."
I have definitely noticed my skin is brighter and radiant after using this serum for almost once every day preferably in the morning. It has a faint fruity smell which doesn't bother me. I use half of the dropper which usually has 5-6 drops of this serum and then apply it on my face and neck avoiding the eye area. It dissipates fairly quickly and I am ready to go to my next step in the skincare regime. My skin feels brighter and firmer after using this serum. Makeup application when using this serum has no issues, no rolling off or anything.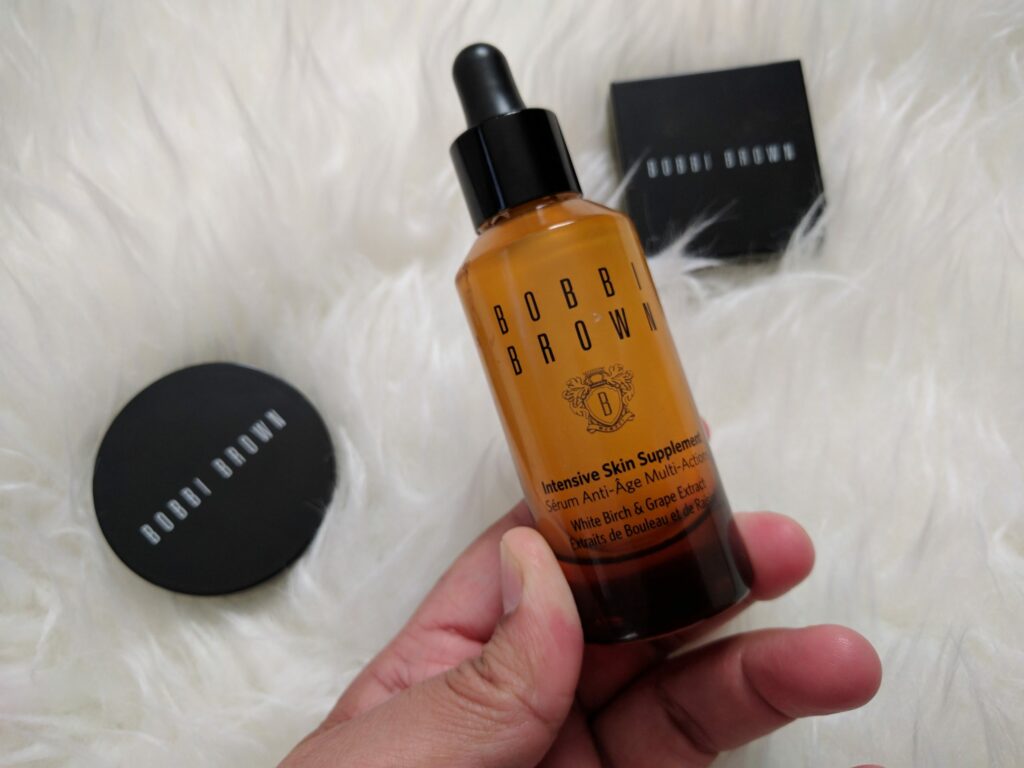 In regards to using this serum only in the morning, I have no specific concerns but I use my night treatment serums and moisturizers during the night due to which I keep this one for the morning. This bottle is almost on the verge of getting empty and I will buy it again in future once I am finished with my hoard of serums. This is definitely a nice serum and I would recommend this for all skin types.
Have you tried this serum, What is your favorite serum?
Buy this here:
---
---