---
I love products that make my hair feel alive. A good hair product provides nourishment and protection to hair from various external and sometimes internal factors. My hunt for products that work and make me feel good about my hair is always on. I bought this Alterna Caviar CC Cream for Hair 10-in-1 Complete Correction 7-8 months back to control my dry frizzy hair and to add some shine to them. I tried a sample of this product from a friend and loved it, so I bought the full size of this hair cream which is why I still have a bit left in the tube after using it on and off for over 7 months.
From the Sephora website, "Alterna Caviar CC Cream for Hair 10-in-1 Complete Correction is a leave-in hair product that delivers 10 benefits in one simple step, leaving hair perfectly polished. CAVIAR CC Cream or "complete correction" cream is a luxe leave-in product that perfects hair in 10 different ways. It provides moisture, shine, smoothness, softness, anti-breakage, heat protection, light hold, UV protection, manageability, and strength—everything your hair needs to look absolutely beautiful, healthy, and flawless. This 10-in-one hair primer can be used alone or as a base for the layering of other styling products. It does not have Parabens, Sulfates, and Phthalates."
I wash my hair every other day or every two days depending upon my schedule and my kid's schedule as it is not just hair wash but also hair care like the same way we do care for our skin. The key to using this product, as per my experience is the amount of product to use, I tried and failed first few times. I use a little bit more than a pea size on my medium length wavy hair. If I use a bit more than that, it weighs down my hair, which is why I didn't like this product at first. So I would suggest and keep a record of how much works best for your hair, based on the length and texture of your hair.
This is a very nice leave in hair treatment. I find it works well both with air drying my hair and blow drying. I apply a bit more than a pea size product to my damp hair. I did try and applied it on dry ends but I noticed it weigh my hair down making them look limp. It does offer heat protection and has been a good companion for blow drying.
I prefer to use extra an extra heat protection when I am using a curling iron or flat iron. I have noticed my hair are smooth and manageable when I use this cream. The scent of this hair cream is very pleasant which does disappear very fast. The texture of this product is same as any cream, very soft and buttery. I would recommend this leave in hair cream only if you are going to use it in a consistent amount because the quantity you use does change the outcome on your hair.
This product retails for CAD $48.50 for 5.1oz/150ml and based on the amount required per use, it is definitely worth it.
---
Guerlain is a brand I trust when it comes to the bronzing powders which are a cult favorite too. I use the bronzing powder to create a shadow to define my jawline, under my chin ( to hide the double chin, ssshhh) and also to shape my nose. My skin tone is medium tan with yellow undertones and due to that, I do not actually like to use a bronzer other than the above uses. And as these are the main parts of my face that define my features and are visible, I have to be very careful while choosing a bronzer so that it does not look unnatural, ashy or more orangey than my yellow undertones.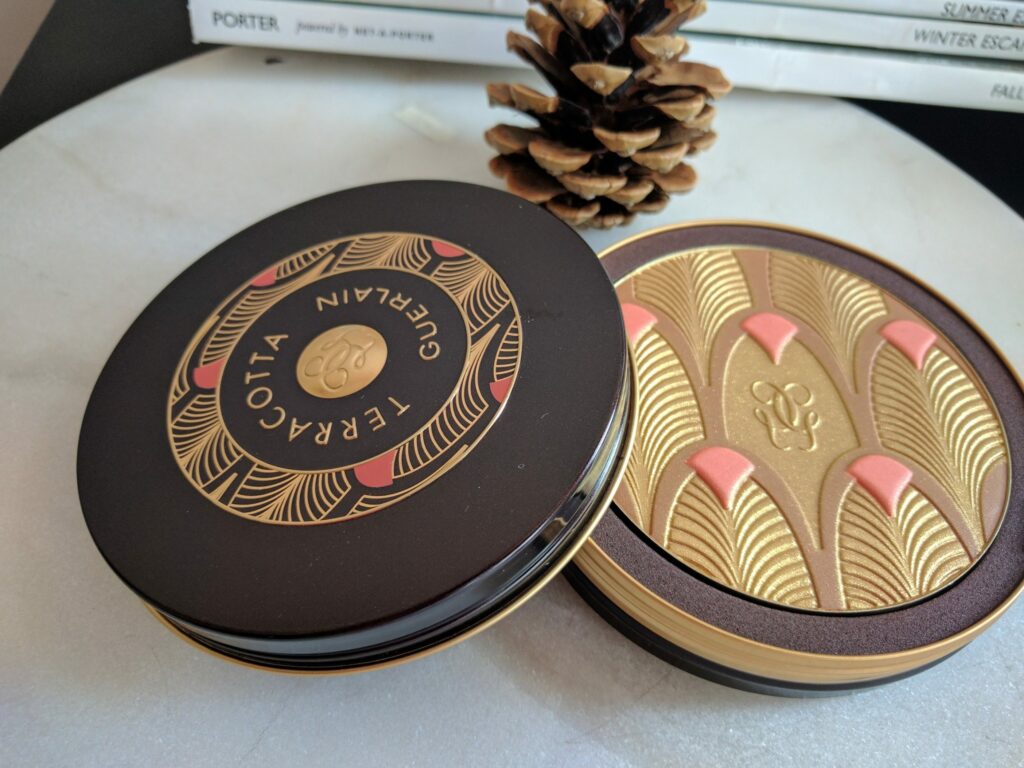 From the Guerlain website, "Guerlain Terracotta powder, the leading bronzing powder, is available in an XXL limited edition this summer, Terracotta Chic Tropic, which blends warmth and color to perfectly enhance your natural sun-kissed glow. Irresistible on the face and décolleté, the Terracotta dual-colour powder is the most desirable collectible this summer: a combination of the best-selling Terracotta shade 03, which naturally warms all complexions, and a hint of coral to highlight your sun-kissed glow. The colors can be blended together in the blink of an eye to even out the tan or warm the complexion. On the skin, the result is impeccable and remains so, all day long.  This collector precious case is reusable when the powder is finished.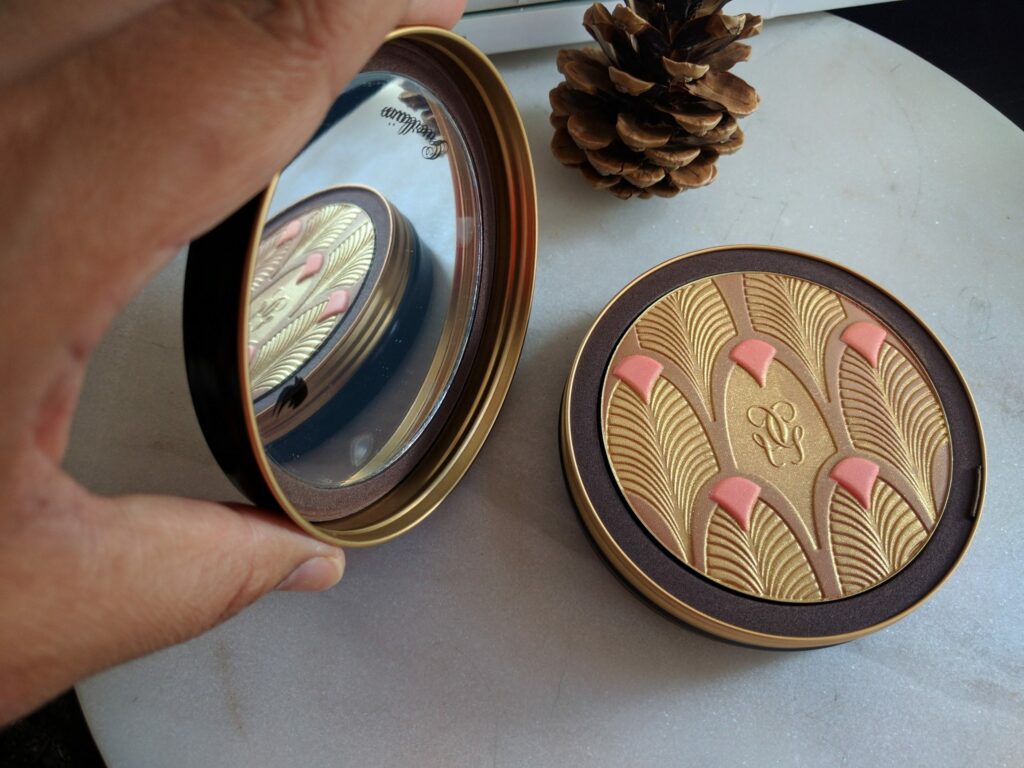 The fragrance of the Terracotta powder takes you on a getaway. The ylang-ylang and orange blossom notes create the sensation of a cocoon. They are blended into tonka bean and vanilla notes with sunny facets that embody the essence of Terracotta. A note of white musk adds a velvet touch to this addictive fragrance.
The senses are awakened, transported to a faraway land."
From my past experience and thoughts, I have trusted Guerlain Bronzers the most. I know you are not going to finish a single bronzer very easily unless you use it every day and use it a lot. For me, my love for beautiful products that work and to use a product so that I can write about it makes me buy these limited edition packaging products with regular and sometimes limited edition product inside. I bought this limited edition Guerlain Bronzer which came at the perfect time when summer is here in Canada. The first thing that caught my eye is the beautiful pattern and the packaging of this bronzer.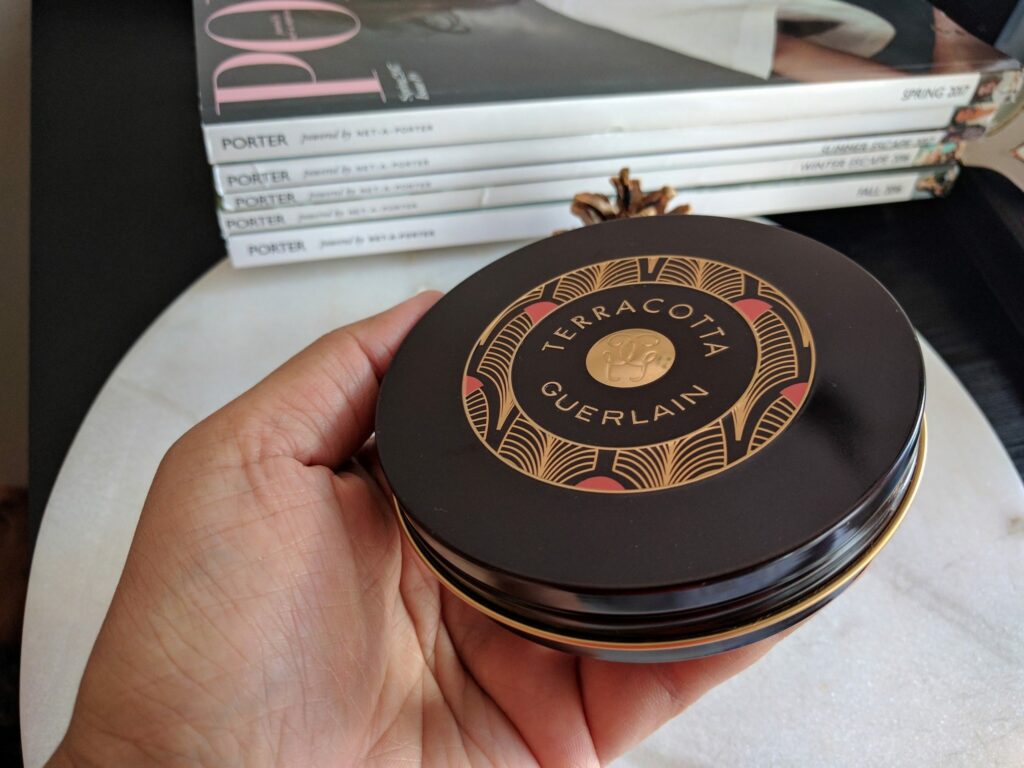 The beautiful pattern on this bronzer has some golden sheen to it which fades away after few uses and then the original bronzer color comes into work. The golden sheen looks nice on the skin and is not overly shiny or glittery but looks natural and would be best to use during a beach visit or for a party. Once that sheen is used up, the regular bronzer product comes into play which I already have and love.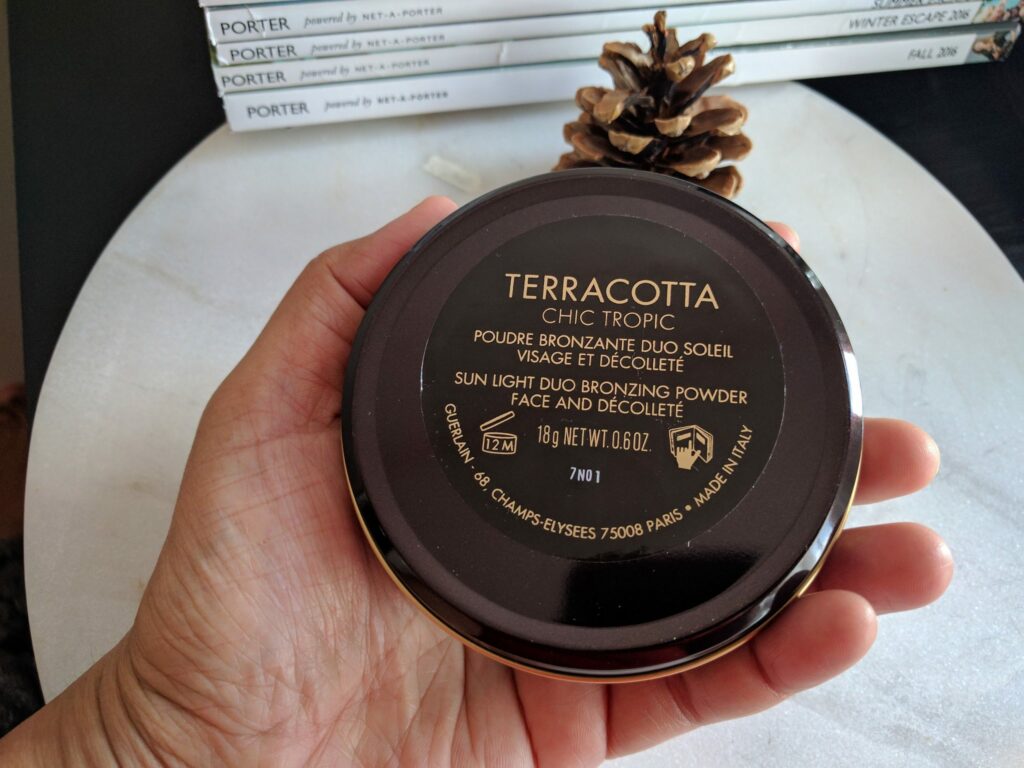 The packaging of this bronzer is so beautiful and luxe. The size of the pan is very nice and has a few cm of filling on the sides. The cover of this bronzer has a nice size of the mirror and is very handy on the go. I have swatched the shades in this bronzer separately. When I combine both brown and peachy orange shades, it gives a nice natural finish on the skin, I do have to use it twice or thrice on the skin to show up nicely. I am okay with doing that as long as I get the most natural results.
I have Shade 3 in regular Guerlain bronzer and this is the same shade in this limited edition product. The powder feels very soft and blends well. The staying power is nice and for me, it stays on well for over 7 hours. As mentioned above, it does have a strong fragrance and I love it, every time I open this bronzer, it makes my mood so happy. I use this bronzer with my highlighter brush, not the fan brush, but something pointy and dense so that I can have a nice natural shadow on my areas that i want to bronze. For shaping my nose, i use a small brush like the MAC 217.
This bronzer in limited edition retails for CAD $80 excluding taxes.
Have you tried anything from Guerlain? What is your favorite bronzer?
Buy here:
---
According to a research, referenced from livescience.com, "The floral smell is a mood manipulator means your mood is better, and given that your mood is better, you are looking for things in your memory bank that match that mood." The researchers believe this effect may have something to do with the co-evolution of plants and people, though this is just speculation; the happy mood cultivated by flower scents may increase our desires to propagate them in large numbers.
"The floral odors can make you happy, floral odors promote social interaction, social approach kinds of behaviors"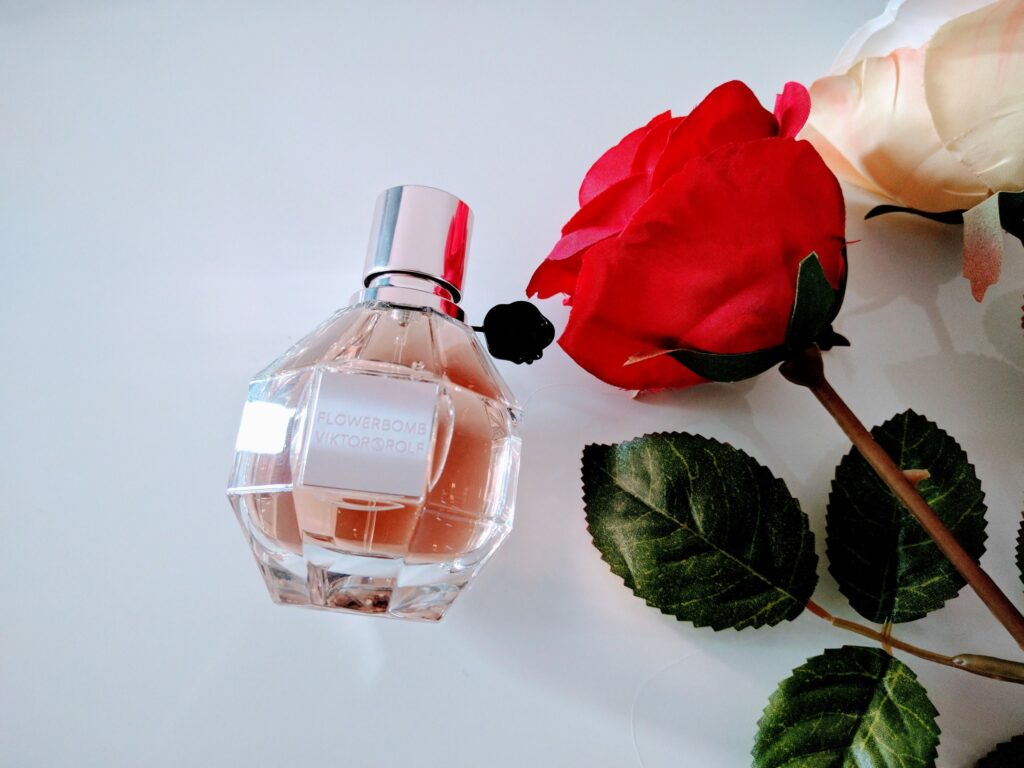 I am a floral fragrance lover and when I got introduced to this fragrance from Viktor and Rolf called "Flowerbomb", it took me to a new height of loving the flower and sweet scents. Details from Sephora website, "This floral explosion releases a profusion of flowers that has the power to make everything seem more positive. Magically evocative notes immediately awaken your deepest senses, giving you the impression of living life in your own secret garden, away from reality. Sambac jasmine, centifolia rose, cattleya orchid, and ballerina freesia bloom on a base of patchouli."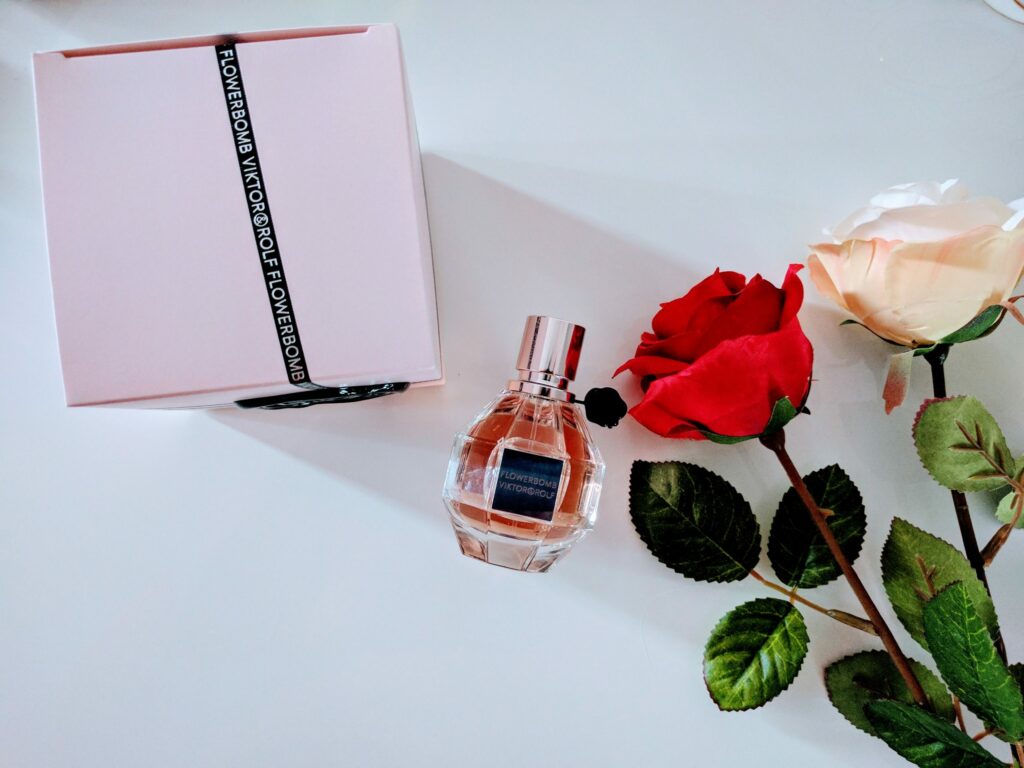 Notes:
Sambac Jasmine, Centifolia Rose, Cattleya Orchid, Ballerina Freesia, Patchouli.
Style:
Oriental. Gourmand. Floral.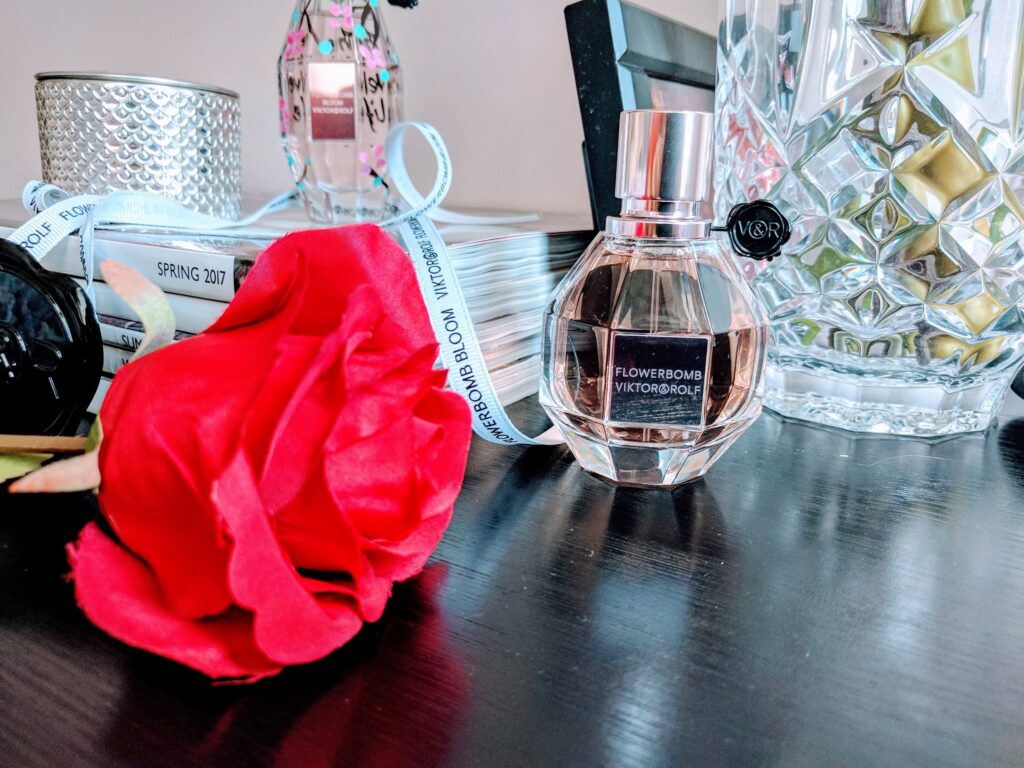 My thoughts
This is a very pretty fragrance with a sweet, lightly creamy white floral scent on my skin. I do get the floral notes though but it smells more to me like a sweet shop which is very good. When I spray this on my body, it is almost exactly like a bomb of sweets has gone off. The scent is quite strong, with the lasting power of all day and a sillage that calls for sparing application. It stays on me for over 7 hours on dry skin and warm weather.
Overall, Viktor & Rolf Flowerbomb is a well-balanced floral with sweetness and creaminess, has enough warmth to be a perfect winter scent, but has a light sweetness for summer, a perfect year round fragrance!
This fragrance is going to be a staple in my perfume's.
Which is your favorite fragrance?
---
---