---
I love trying new products that are effective and gentle to the skin. I have heard good reviews about Korres as a brand and their shower gels were in my to-buy list for a long time.
Korres is a homeopathic pharmacy in Athens, Greece and they are committed to developing natural skincare, color, and body products that provide maximum results. Korres utilizes active natural extracts with antioxidant and skin-transforming benefits for clinically proven results which also makes their product formulations environment friendly and skin compatible.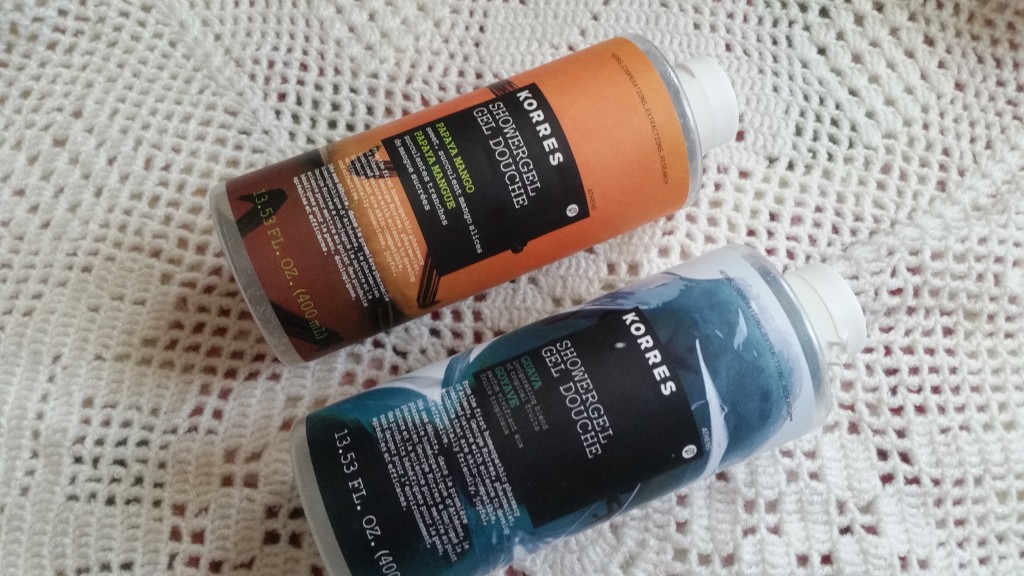 Who is it for?
For all skin types. They are formulated without Parabens, Synthetic Dyes, Petrochemicals, Phthalates, GMOs, Triclosan
What it does and how it worked for me?
As per the Korres website "These beautifully scented, creamy showergels contain emollients and humectants that provide a lasting moisturizing effect and help to maintain the natural moisture level of the skin, as if you have used a leave on product."
I used to think shower gels are not moisturizing but after using these showers gels, they proved to be very close to moisturizing and non drying. These really are very gentle and moisturizing on the body. I have very dry skin on my body and these have been my friends since last winter. The scent of these shower gels is so beautiful and fresh. Since i bought the first shower gel from korres, i have bought them twice again with different scent every time. All the scents are so nice and lingers for some time, pairs very nicely with their body butter.
The Active Aloe in the shower gels makes it rick in  vitamin C, vitamin E, zinc and antioxidant enzymes, enhances the immune system of the skin, improves its ability to stimulate collagen and elastin synthesis helps reduce the visible signs of ageing. 5% organic Distillates Marshmallow & Everlasting makes this shower gel skin smoothing and soothing, anti-inflammatory, with regenerating and antioxidant properties. They contain 91.4% natural ingredients which is nice.
What are the Ingredients?
Water, Sodium Laureth Sulfate, Sodium Cocoyl Isethionate, Cocamidopropyl Betaine, Fragrance, Aloe Barbadensis Leaf Juice, Alpha-Isomethyl Ionone, Arginine, Benzyl Alcohol, Butylphenyl Methylpropional, Castoryl Maleate, Coco Glucoside, Coumarin, Geraniol, Glyceryl Oleate, Guar Hydroxypropyltrimonium Chloride, Hexyl Cinnamal, Hydrolyzed Wheat Gluten, Lactic Acid, Limonene, Phenoxyethanol, Polyquaternium-7, Potassium Sorbate, Sodium Chloride, Sodium Dehydroacetate, Sodium Gluconate, Tocopherol
How i use it?
I use it on the loofah or a wash cloth and sometimes directly on to the skin. After adding some water, it creates a nice creamy lather. Then i rinse with water. I have used the body butter from Korres after bathing and it works well to lock-in the moisture during winters. In summer, i follow with a light body moisturizer as it seems to be moisturizing enough.
Final Words:
These are nice shower gels that i have re-purchased many times. They cost around CAD $22 excluding taxes for 400ml of the product. They last quite a long time.
Buy here:
BeautyBoutique by Shopper Drug Mart
---
Christophe Robin is an A-list colorist for over 20 years, created his hair care line in 1999 selecting powerful natural ingredients for recognized long term results. After hearing and reading impressive reviews of this hair care line, I bought the regenerating mask with rare prickly pear oil to calm my easily irritated scalp and dry frizzy wavy hair. It contains pure prickly pear seed oil which is a natural treasure with antioxidant and repairing properties. There are many products in the market which contain the prickly pear seed oil, which seems like the most hyped hair oil nowadays and after using this mask regularly for the last 7 months, i love it.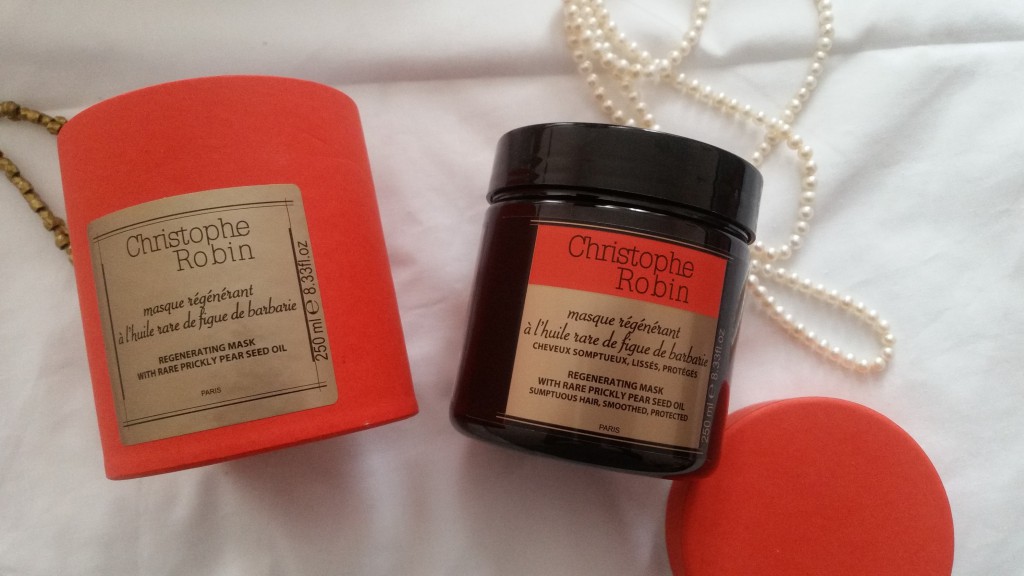 Who is this hair mask for?
Anyone with normal, weak or damaged hair, basically all hair types. Suitable for colored hair. It is formulated without Parabens, Sulfates and Phthalates.
What it does and how it worked for me?
As per Sephora description, "This regenerative mask treatment has creamy formula that penetrates into the hair for a profound and long-lasting effect, from roots to tips. It is enriched with pure prickly pear seed oil—a precious natural remedy with antioxidant and regenerative virtues. Its action is reinforced with a 100 percent natural repairing agent that restructures and strengthens hair from the inside, smoothing and enhancing its shine. These active ingredients are combined with inula flower extract to reinvigorate and protect the pigments of natural or dyed hair. The scalp is stimulated, roots are regenerated, and hair is protected from breakage and split ends for a smooth, soft, radiant finish."
I totally agree with each point in the description above. Along with repairing and protecting the lengths of hair, it also stimulates the scalp and protects hair from split ends and further breakages. I have felt a very nice change in my hair and scalp. My scalp has been quite calm since i started using this mask. My dry frizzy hair have been in control. My scalp and hair are moisturized without being oily.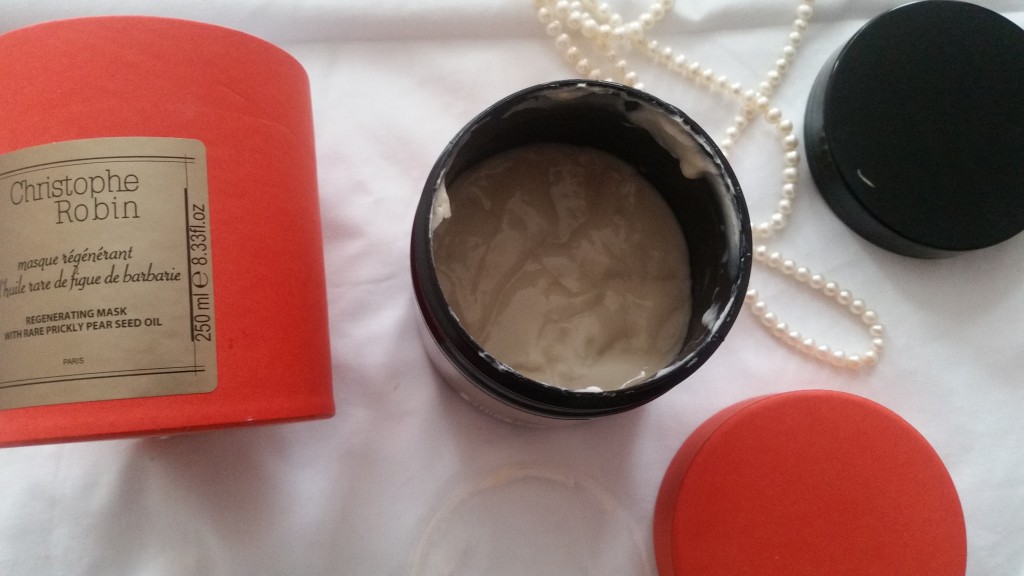 How i use it?
I use it once every week and sometimes twice when my hair are drier than usual. I take a small amount in my fingers and start massaging it into my cleansed scalp. Then, I work towards the hair ends. Little is more in this case. I take the size of hazelnut of this mask twice, one for my scalp and other for hair lengths. This does produce a little leather when water is added while massaging. The massage feels relaxing when you know you are putting something good on your scalp and hair. I do a quick bun with a hair clip and continue with my bath. I keep this mask on hair for 5 to 15 minutes.
The important thing i want to mention here is to rinse the hair thoroughly, i have had an experience when i was in hurry and later felt like the product was still in my hair. As this is a treatment mask, and there is a time limit to keep this in hair, so always rinse it out thoroughly. I skip conditioner when i am using this mask. I like the smell of this mask too, not very strong but nice. I have used this mask before air drying, blow drying and heat styling, and my hair looks healthy and shiny in all ways. Even when i am travelling, I refill and take my travel jar with me.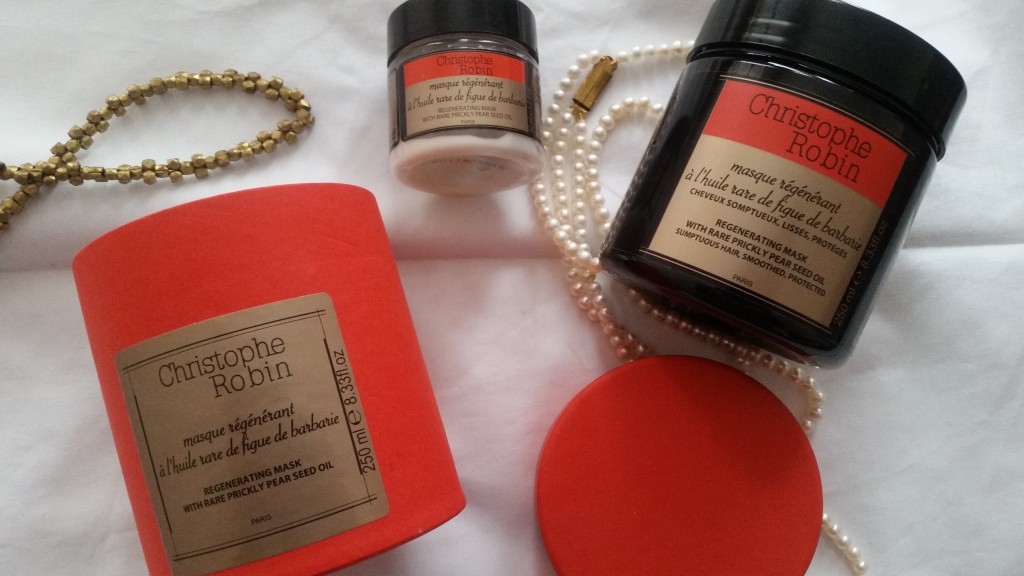 Final Words
I feel my scalp and hair are stronger and healthier since i started using this mask. Hair have been smoother and shiny. This is one of those cult things that will always be my go-to when my scalp and hair needs help.
Have you used this mask or planning to buy it?
Buy here:
---
As per the Lancome website, it is a skin correcting serum which "Corrects the appearance of wrinkles*, pores* and uneven skin texture. Day after day, skin looks as if transformed. It seems softer and smoother. Skin texture appears refined. "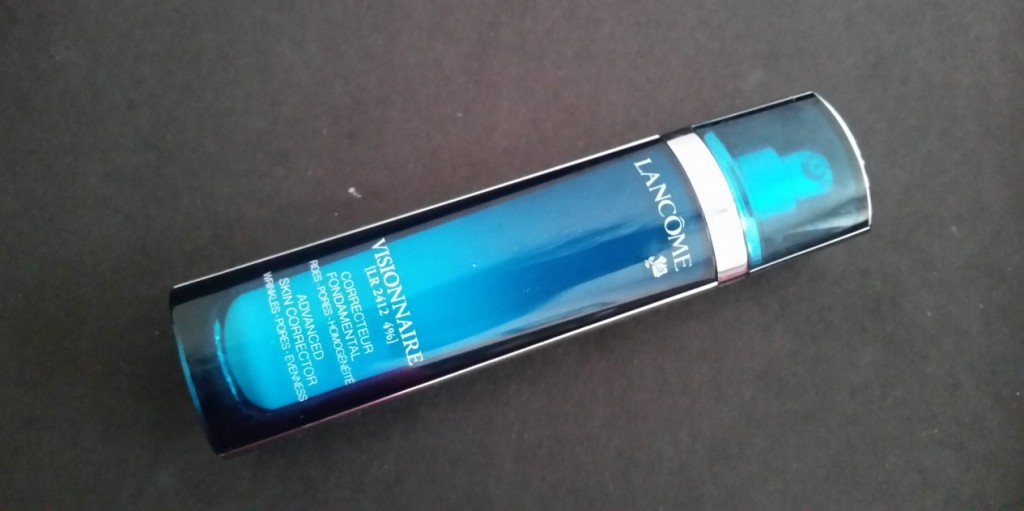 I bought this serum during pregnancy to fade my acne scars and after a lot of research, found this safe to use during pregnancy. I have used this serum during my pregnancy and after it too. This is a nice serum and suited well with my combination acne prone skin. The texture of the serum is light and silky. This serum can be used during day and night. I used this serum for about 3 months on and off during day time. The results were quick and my skin started looking more even and radiant within the first week of using this.  I also think that it has helped my skin to fade acne scars to some extent.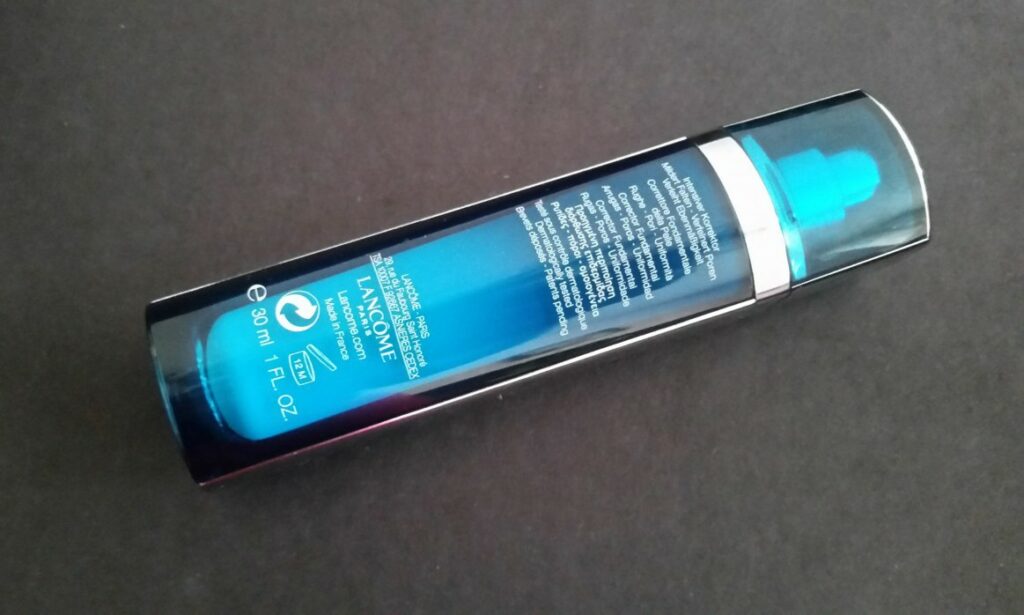 The scent of this serum is heavy but i liked it. I have used this serum with and without makeup and the results in both cases were good. The skin was nice, even and looked bright. This acted as a good primer on the makeup days. I noticed improvement in the texture of my skin and the size of the pores with this serum. The serum blends very well and it absorbed into my skin fairly quickly. So, I did not have to wait to apply my moisturizer. I used 1-1/2 pump of the product after toning and before moisturizing my skin.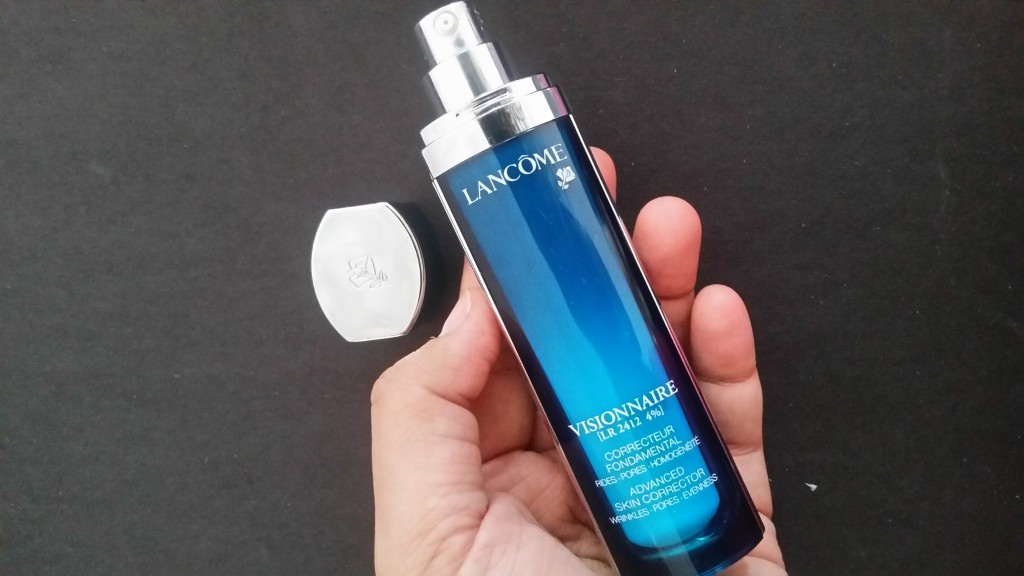 Overall, this is a nice serum for my type of skin. I am not planning to repurchase this soon as i have lot of other serums i love and few that i want to try.
Have you tried this serum or planning to try this?
Buy Here
Beauty Boutique by Shoppers Drug Mart
---
---