---
About the Charlotte Tilbury Luxury Palette from the Charlotte Tilbury website, "The power to mesmerize is in your eyes, with this make-up hypnotize… I have decoded the secrets to iconic, mesmerizing eyes with my Colour-Coded Eyeshadow Palettes. Each one contains four harmonious color ways that offer a complete 'desk to disco' eye color wardrobe and an easy to use application ritual that is fail-safe to follow. It's my artistry made effortless!" There are various shades of this luxury palette which are based on your choice and the color of your eyes. All the colors in the palette are selected so carefully that they blend so well with each other making the whole experience a luxury.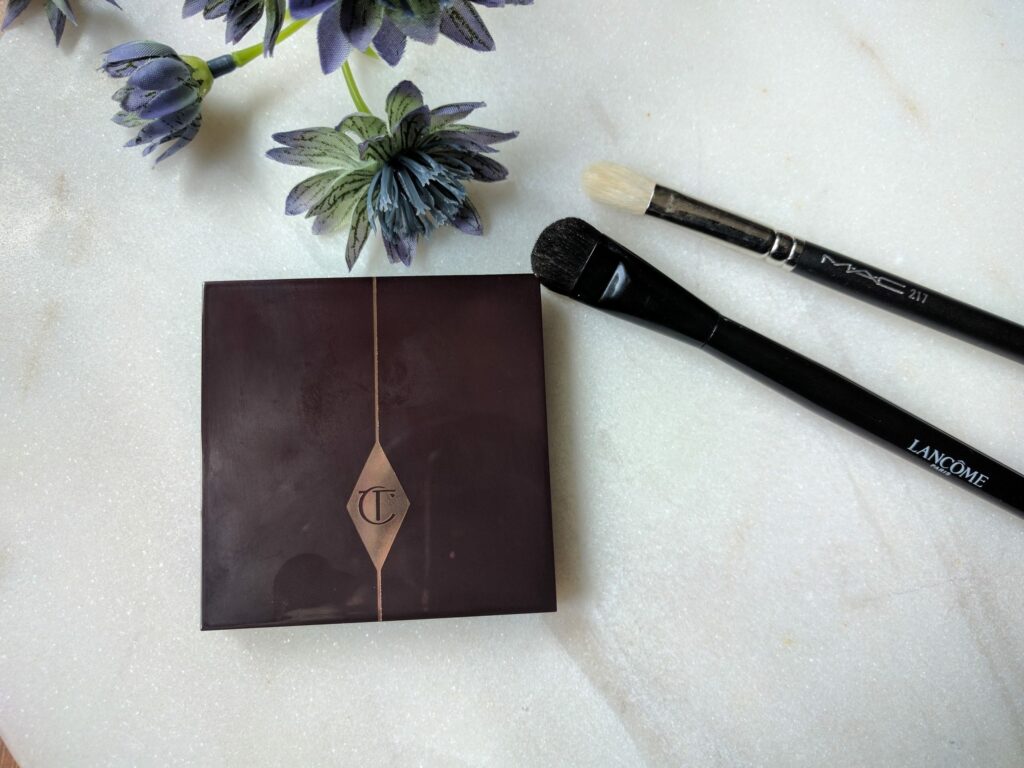 In this palette, the 'prime' shade appears as a standard base and a highlight shade on my medium tan skin tone. The 'enhance' shade (top right) is a beautiful gray which does not makes my eyes look dull. It is on the earthy taupe side without leaning brown. The 'smoke' shade is a deeper gray but it melts beautifully with the other light gray shade. I like the gradient quality of this palette and the shades do compliment each other very well.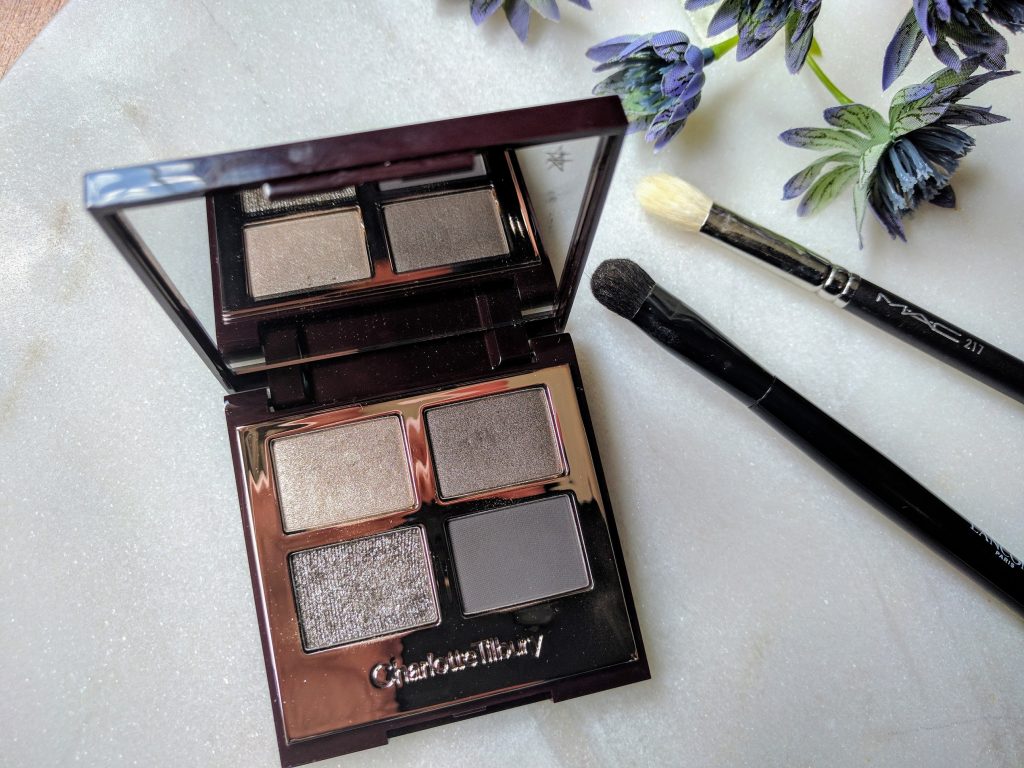 The 'pop' shade is Charlotte Tilbury's silver glitter pan. I usually do not use glitter eyeshadows but prefer more shimmery and wet kind of shades on my eyelids but I am liking this one, although I use it occasionally during weekends or evenings due to a conservative office environment during my office hours in the day. It does not sparkle on me when it is dry but it does give a beautiful intense sparkle finish when wet or under the bright lighting.  This 'pop' pan is meant for evenings.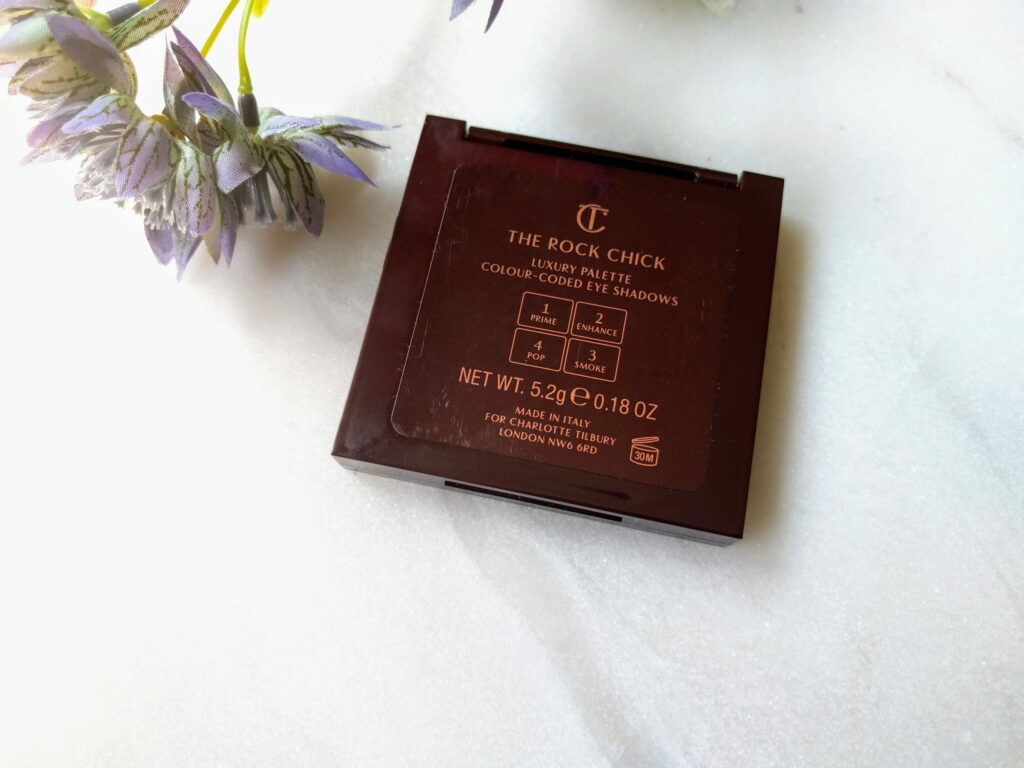 I am really happy with this palette as it allows me to create a very classic look for the office and it doesn't have to be the party look every time. I always start at what Charlotte Tilbury calls the 'Desk' look and rarely make it to 'Disco'. My eyelids are oily and I prefer using a base primer before applying any eyeshadow. This holds up quite well all day for 7 hours When I am not using the pop pan as the glitter in pop pan tends to come down to my cheeks after 3-4 hours of wear.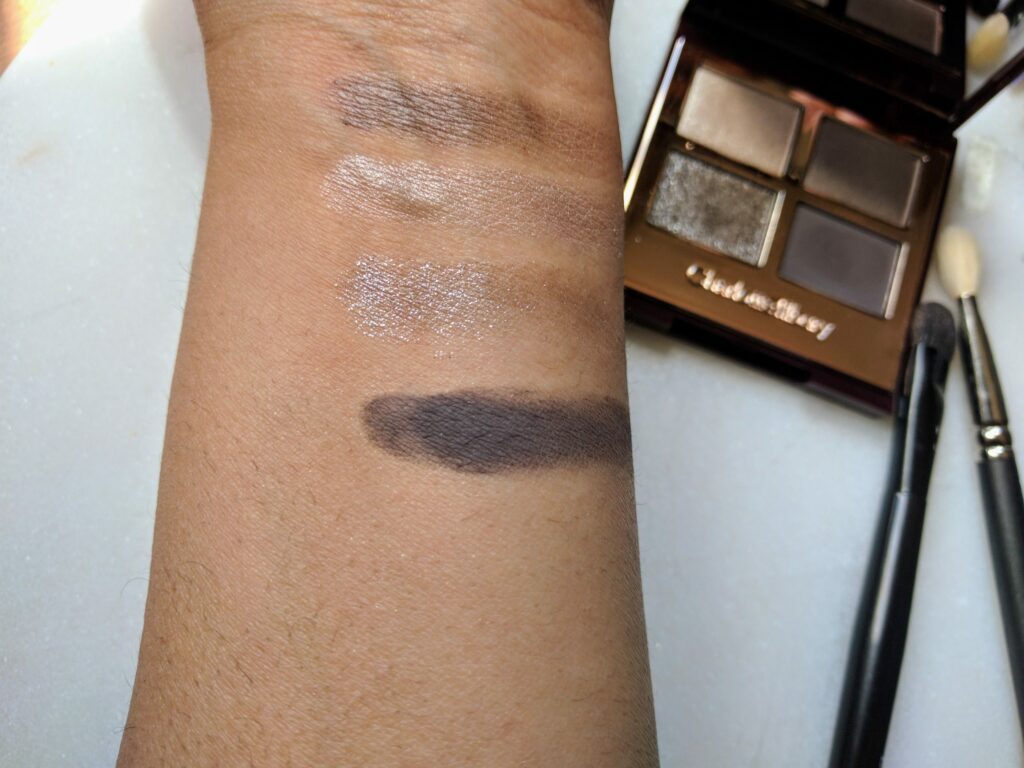 About the packaging of this palette, it is a beautiful oxblood plastic compact with a shiny rose gold interior. It has a mirror and it's lightweight, convenient and travels friendly. The product in the palette has given no irritation to my eyes or whatsoever and they blend very well. The fallout is very minimal except for the glitter pan.
Overall, this palette, as other Charlotte Tilbury palette's is quite versatile and a good option for a very classic as well as trendy smokey eye look. The palette retails for $66 CAD means $16.5 CAD for each shade, which makes sense. This can be bought online from Charlotte Tilbury website. Next on my wishlist is the Dolce Vita palette from Charlotte Tilbury which has been loved by fans around the world.
Which is your favorite eyeshadow palette?
Buy here:
---
Dior Glowing Nude Diorskin Nude Air Illuminating Powder is an illuminating powder which can be used both as a highlighter and as an overall powder with a light hand. I know I am reviewing this one very late, I bought this limited edition product a year back and it was lost into my ever growing makeup chest. I have been using this regularly since last few months and just can not get enough of this one. This may not be available to purchase as this was limited edition but I will list few dupes which are very close to this one.
The shade a light-medium gold with peachy undertones and a sheen finish. The packaging is very beautiful, it is housed in a sleek silver compact which gives a very sturdy and luxurious feeling. The magnetic compact has a mirror inside along with a small kabuki brush which is a nice option during traveling.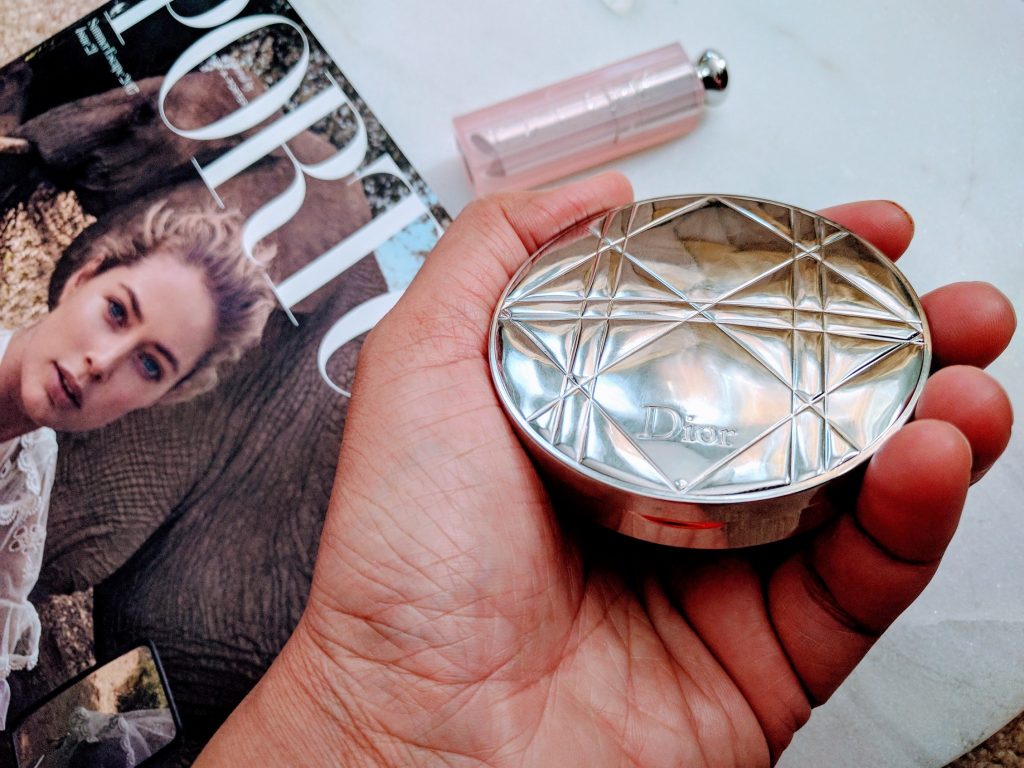 The powder has a smooth, blendable consistency that isn't too firm or too soft. The powder has a kind of dryness to it that I feel but doesn't show on the skin. When applied, it's not powdery or cakey on the skin. The amount and size of shimmer is just the perfect which does look very natural.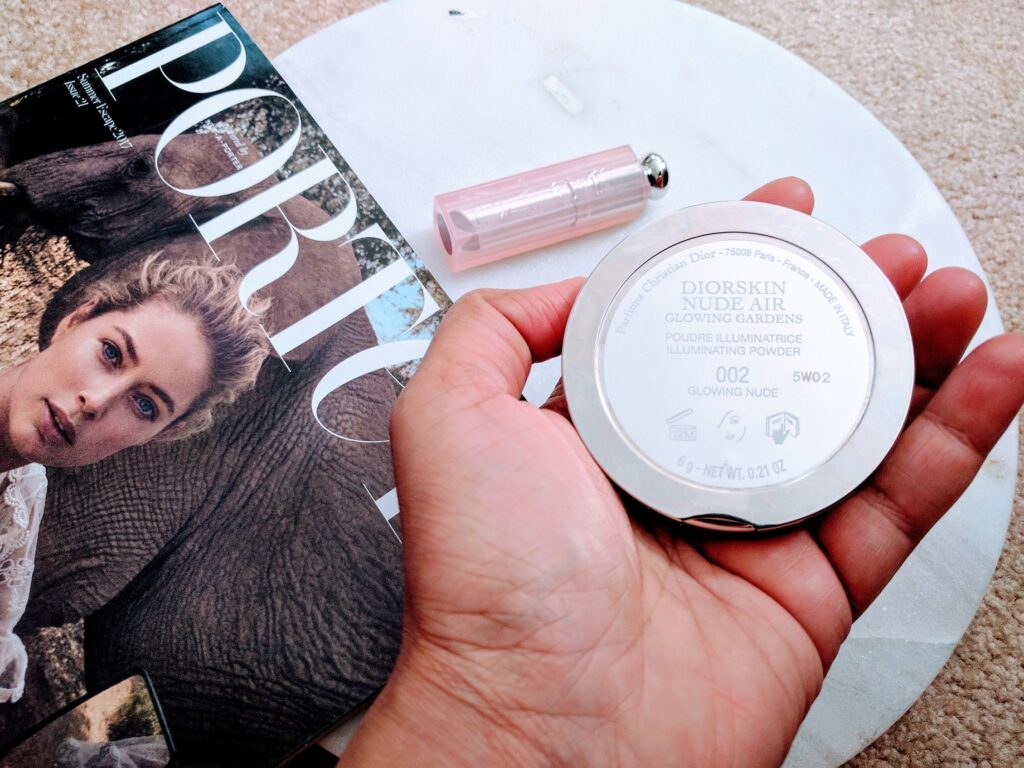 It can always be applied with a fan brush for less impact. The color lasted for the whole day for over 7 hours on me. I prefer to use this as a highlighter as it gives me a very beautiful natural glow, I know there are many other highlighter's which give natural glow but as a highlighter junkie, this is something really beautiful and can be felt only when used. This powder has not caused any irritation or emphasizing of my pores on my combination acne prone skin.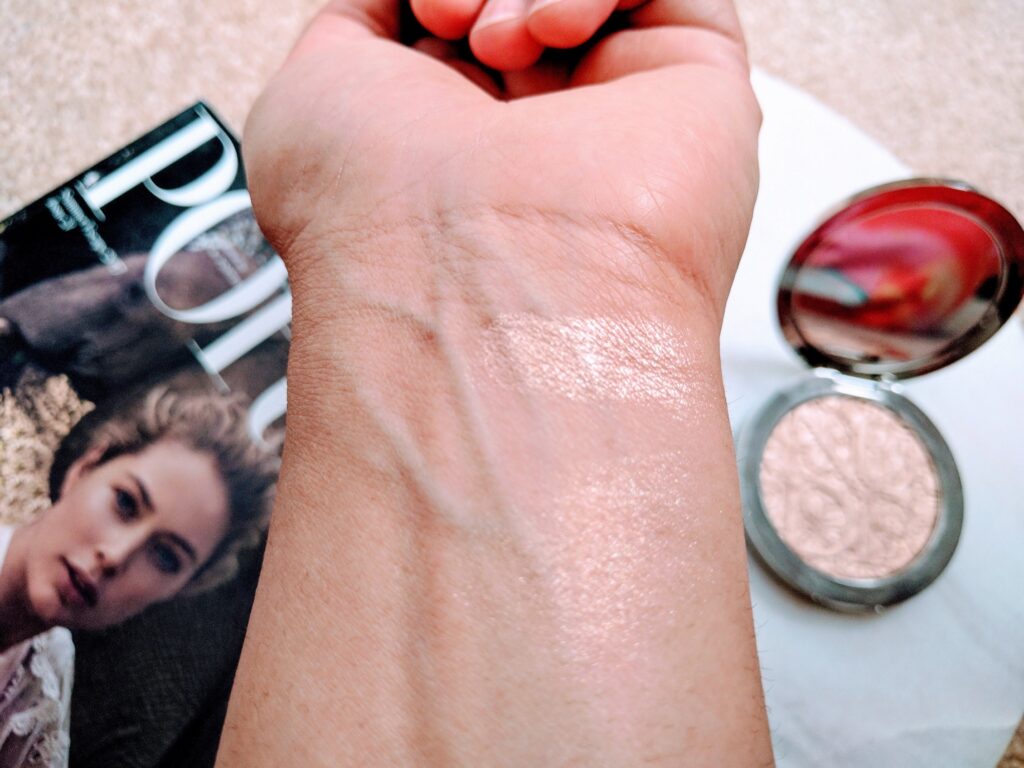 Overall, this is a very classy highlighter. As this was limited edition, the closest dupes which have are the Balm Mary-Lou Manizer which is lighter and Becca Opal which is a little lighter. I have yet to compare this with Dior Diorskin Nude Air Luminizer Powder.
What is your favorite highlighter?
---
Decleor has been around for over 40 years and been known for drawing its effectiveness from nature and developing its scientific expertise in essences to take the front row in the field of aromatherapy. Decleor came into being when two visionary women with two areas of expertise Solange Dessimoulie, Beauty Therapist, and Caroline Colliard, Aromatherapist, united their talents. This was when the science of aromatherapy was introduced into the universe of cosmetics. Starting from the quality of its sourcing to the art of blending them together, Decleor has been the champion in handling these powerful molecules to result in a natural yet powerful outcome that is so near to nature and perfection.
At Decleor, aromatherapy is called Aromessence which means a concentrate of essential oils in a base of precious plant oils which help cleanse and purify the skin which in turn increases the effectiveness of its treatments. There are different beauty prescriptions in Aromessence based on the type of the skin.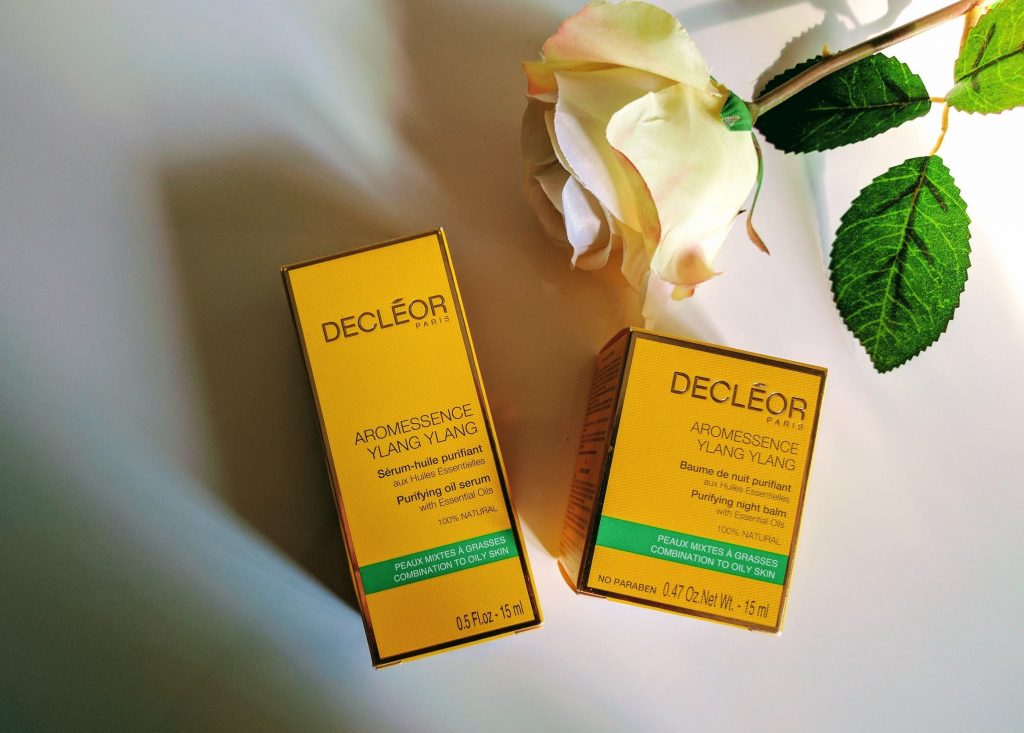 I was sent the Decleor Aromessence Ylang Ylang Purifying Serum and Decleor Aromessence Ylang Ylang Purifying Night Balm for review purposes. The products were sent to me based on my skin type which is a combination and prone to hormonal acne/congestion, mostly on my jawline. I have used these products for over six weeks and my reviews are based on my experience with them.
From the Decleor product reference, "A purifying serum oil and balm that brings a real improvement to the skin's complexion. The selected essential oils help to purify the epidermis, reduce excess sebum, tighten the pores and revive a healthy glow. This duo is meant to properly balance oil production by ensuring proper hydration while slowing down excessive oil production. Skin is matte with no feelings of greasy residue."
Ylang Ylang Purifying Serum is 100% natural and non-greasy dry serum-oil which is enriched with essential oils of Ylang Ylang, Sage, and Lemon. It helps to tighten the pores and create a matte finish on the skin. The good thing about this oil in serum is that it is free from mineral oils and artificial colorings. It is known to improve the quality of skin, making it soft and clear. I was skeptical first as it is mentioned to be suitable for oily skin but my skin has loved this serum. I noticed to extra breakouts except the one's that were already there. I felt that this serum helped heal the breakouts o already had. I incorporated this serum into my daily routine for 5 days every week for over 6 weeks and still going strong. As this is oil in serum, I used it either straight after cleansing my face and followed by the moisturizer and sunscreen or I used my (almost finished) Bobbi Brown Intensive Skin Supplement before this oil in serum followed by moisturizer and sunscreen. I made it a point to first enjoy the delicate smell of the essential oils and then warm 3-4 drops of this serum into the palm of my hands and then press it on my face. I noticed no issues while applying makeup and my skin stayed well without any irritation.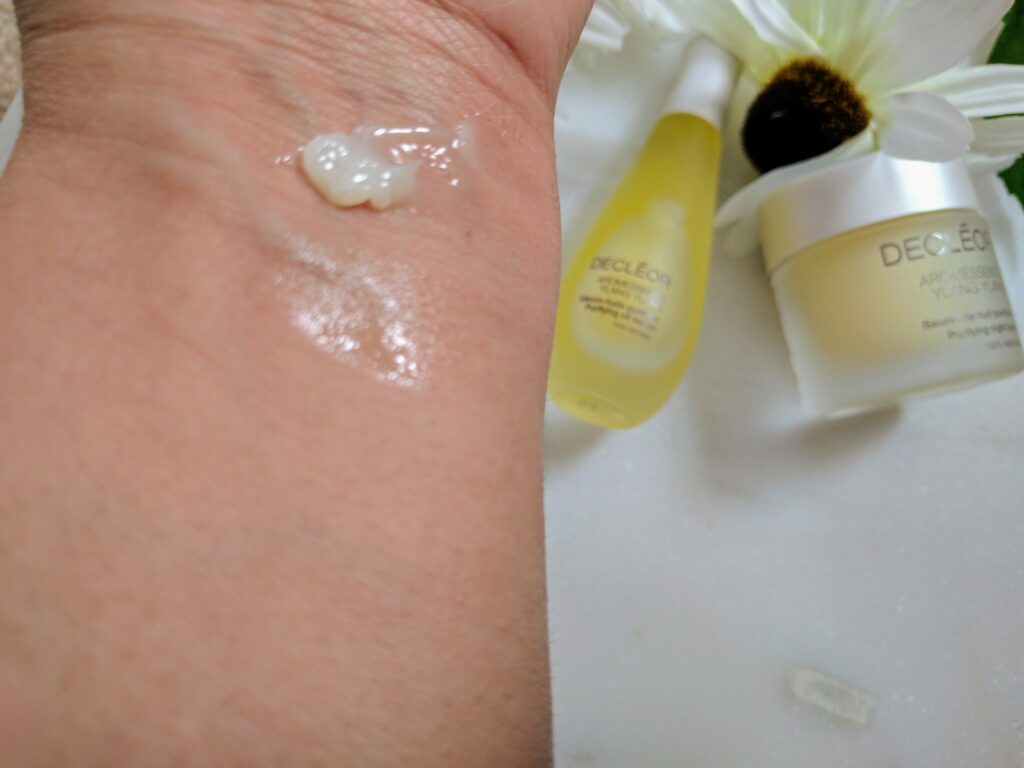 Ylang Ylang Purifying Night Balm is 100% natural dry balm which is also enriched with essential oils of Ylang Ylang, Sage, and Rosemary. It helps to purify combination to oily skin. It is paraben free, preservative free and non-comedogenic. As the Purifying Serum, this is also free from mineral oils and artificial colorings. Thinking of a balm on combination skin which already has breakouts, it does scare me first. I have been using this balm in my night skincare routine, I warm an around a pea size of balm between the palms of your hands, inhale the delicate fragrances of the essential oils and then apply to my cleansed face and neck using light smoothing strokes and finish by covering your face with both hands. I use this balm after double cleansing my face( if I have had makeup on during the day, otherwise after single cleanse).
My final thoughts about this duo are – yes I loved using them and considering they are so near to nature and well being, I have enjoyed inhaling the scent of these both products as well as applying them on my skin, making it as a ritual to use them. I would totally recommend these to combination and oily skin types.
Have you tried any products from Decleor, what is your favorite? If not, have you tried any products based on Aromatherapy?
Buy here:
---
---