---
Dior Glowing Nude Diorskin Nude Air Illuminating Powder is an illuminating powder which can be used both as a highlighter and as an overall powder with a light hand. I know I am reviewing this one very late, I bought this limited edition product a year back and it was lost into my ever growing makeup chest. I have been using this regularly since last few months and just can not get enough of this one. This may not be available to purchase as this was limited edition but I will list few dupes which are very close to this one.
The shade a light-medium gold with peachy undertones and a sheen finish. The packaging is very beautiful, it is housed in a sleek silver compact which gives a very sturdy and luxurious feeling. The magnetic compact has a mirror inside along with a small kabuki brush which is a nice option during traveling.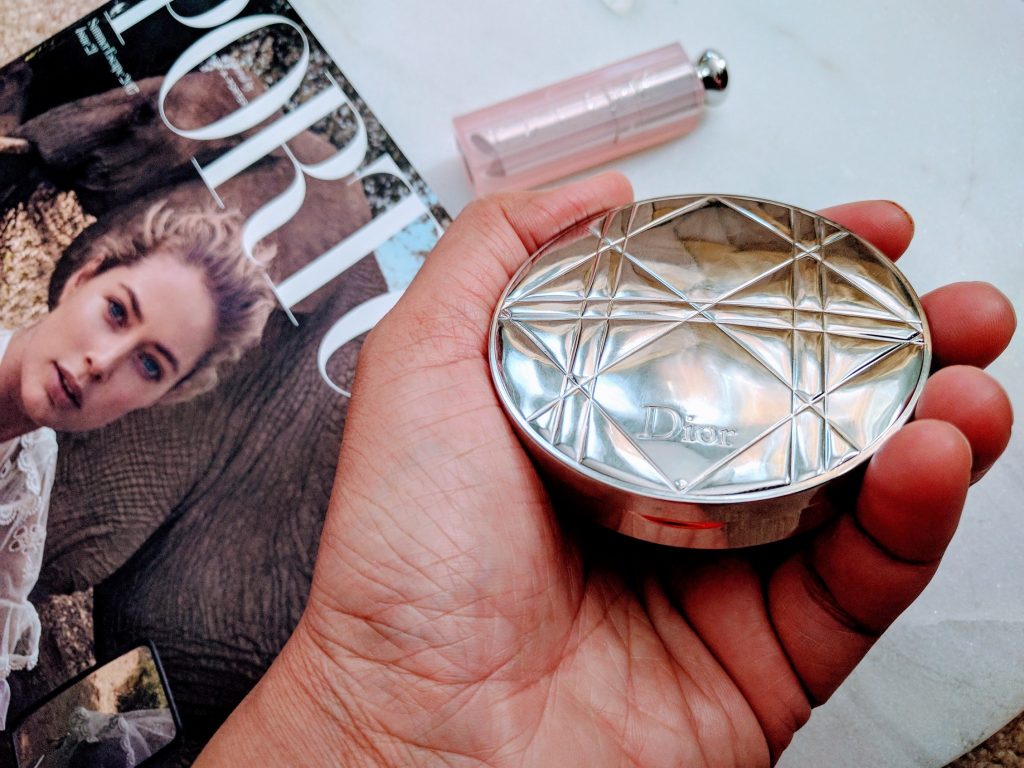 The powder has a smooth, blendable consistency that isn't too firm or too soft. The powder has a kind of dryness to it that I feel but doesn't show on the skin. When applied, it's not powdery or cakey on the skin. The amount and size of shimmer is just the perfect which does look very natural.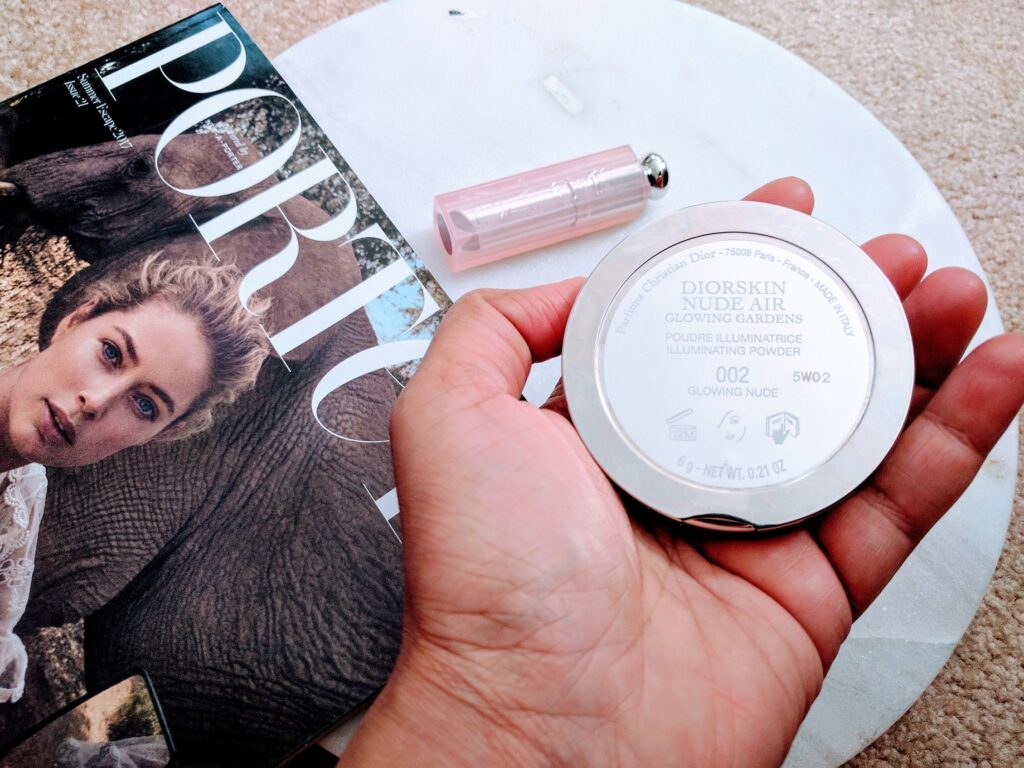 It can always be applied with a fan brush for less impact. The color lasted for the whole day for over 7 hours on me. I prefer to use this as a highlighter as it gives me a very beautiful natural glow, I know there are many other highlighter's which give natural glow but as a highlighter junkie, this is something really beautiful and can be felt only when used. This powder has not caused any irritation or emphasizing of my pores on my combination acne prone skin.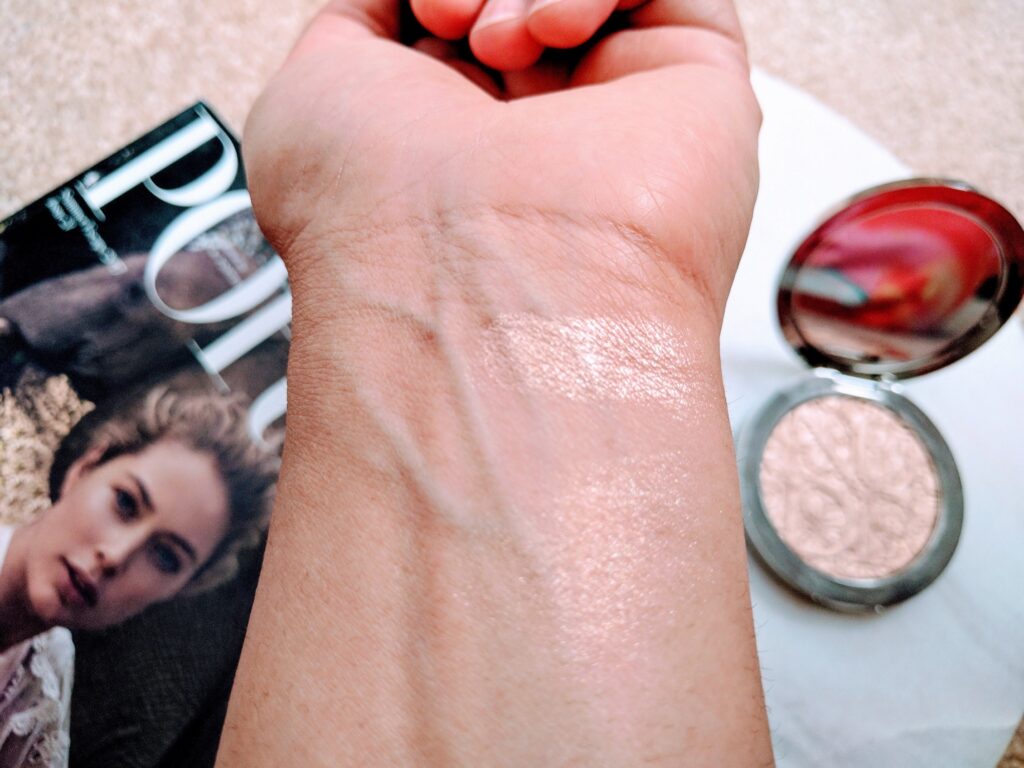 Overall, this is a very classy highlighter. As this was limited edition, the closest dupes which have are the Balm Mary-Lou Manizer which is lighter and Becca Opal which is a little lighter. I have yet to compare this with Dior Diorskin Nude Air Luminizer Powder.
What is your favorite highlighter?
---
Decleor has been around for over 40 years and been known for drawing its effectiveness from nature and developing its scientific expertise in essences to take the front row in the field of aromatherapy. Decleor came into being when two visionary women with two areas of expertise Solange Dessimoulie, Beauty Therapist, and Caroline Colliard, Aromatherapist, united their talents. This was when the science of aromatherapy was introduced into the universe of cosmetics. Starting from the quality of its sourcing to the art of blending them together, Decleor has been the champion in handling these powerful molecules to result in a natural yet powerful outcome that is so near to nature and perfection.
At Decleor, aromatherapy is called Aromessence which means a concentrate of essential oils in a base of precious plant oils which help cleanse and purify the skin which in turn increases the effectiveness of its treatments. There are different beauty prescriptions in Aromessence based on the type of the skin.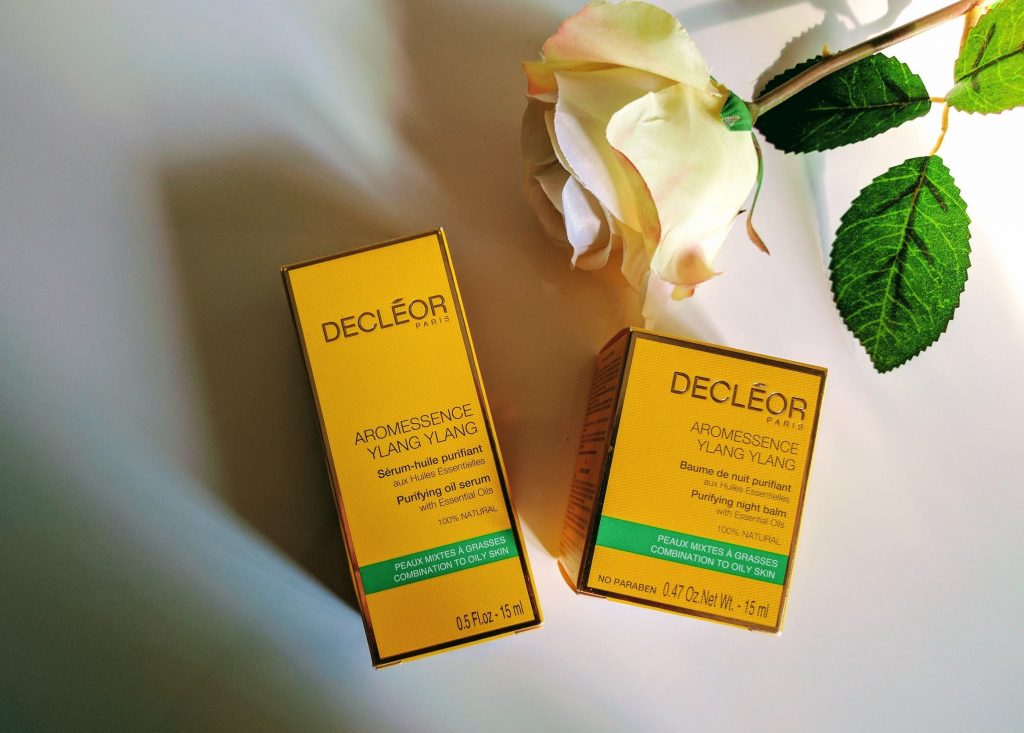 I was sent the Decleor Aromessence Ylang Ylang Purifying Serum and Decleor Aromessence Ylang Ylang Purifying Night Balm for review purposes. The products were sent to me based on my skin type which is a combination and prone to hormonal acne/congestion, mostly on my jawline. I have used these products for over six weeks and my reviews are based on my experience with them.
From the Decleor product reference, "A purifying serum oil and balm that brings a real improvement to the skin's complexion. The selected essential oils help to purify the epidermis, reduce excess sebum, tighten the pores and revive a healthy glow. This duo is meant to properly balance oil production by ensuring proper hydration while slowing down excessive oil production. Skin is matte with no feelings of greasy residue."
Ylang Ylang Purifying Serum is 100% natural and non-greasy dry serum-oil which is enriched with essential oils of Ylang Ylang, Sage, and Lemon. It helps to tighten the pores and create a matte finish on the skin. The good thing about this oil in serum is that it is free from mineral oils and artificial colorings. It is known to improve the quality of skin, making it soft and clear. I was skeptical first as it is mentioned to be suitable for oily skin but my skin has loved this serum. I noticed to extra breakouts except the one's that were already there. I felt that this serum helped heal the breakouts o already had. I incorporated this serum into my daily routine for 5 days every week for over 6 weeks and still going strong. As this is oil in serum, I used it either straight after cleansing my face and followed by the moisturizer and sunscreen or I used my (almost finished) Bobbi Brown Intensive Skin Supplement before this oil in serum followed by moisturizer and sunscreen. I made it a point to first enjoy the delicate smell of the essential oils and then warm 3-4 drops of this serum into the palm of my hands and then press it on my face. I noticed no issues while applying makeup and my skin stayed well without any irritation.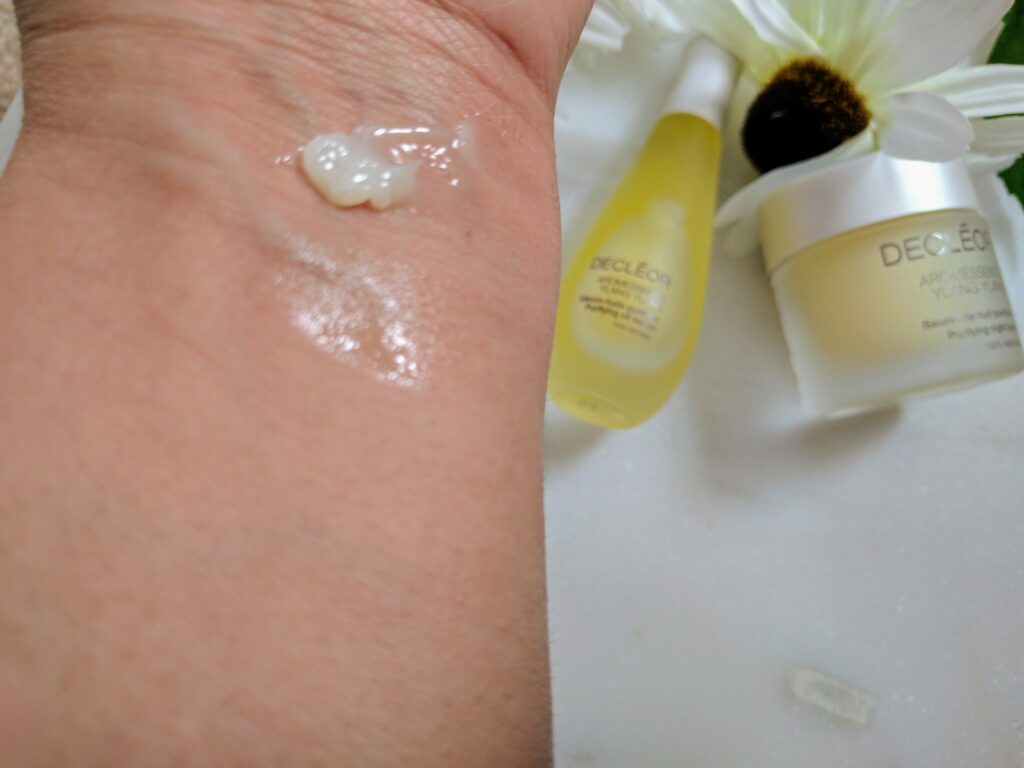 Ylang Ylang Purifying Night Balm is 100% natural dry balm which is also enriched with essential oils of Ylang Ylang, Sage, and Rosemary. It helps to purify combination to oily skin. It is paraben free, preservative free and non-comedogenic. As the Purifying Serum, this is also free from mineral oils and artificial colorings. Thinking of a balm on combination skin which already has breakouts, it does scare me first. I have been using this balm in my night skincare routine, I warm an around a pea size of balm between the palms of your hands, inhale the delicate fragrances of the essential oils and then apply to my cleansed face and neck using light smoothing strokes and finish by covering your face with both hands. I use this balm after double cleansing my face( if I have had makeup on during the day, otherwise after single cleanse).
My final thoughts about this duo are – yes I loved using them and considering they are so near to nature and well being, I have enjoyed inhaling the scent of these both products as well as applying them on my skin, making it as a ritual to use them. I would totally recommend these to combination and oily skin types.
Have you tried any products from Decleor, what is your favorite? If not, have you tried any products based on Aromatherapy?
Buy here:
---
Who does not love a palette which has some beautiful product and is multi-tasking? This is one of those palette's which I have been reaching out to pretty regularly since the spring arrived. From everything I have tried or used from Charlotte Tilbury, I have loved each and every product. This palette, name Filmstars on the Go in shade Eve has become my favorite this season. This is a limited edition palette and I would suggest not to miss this one.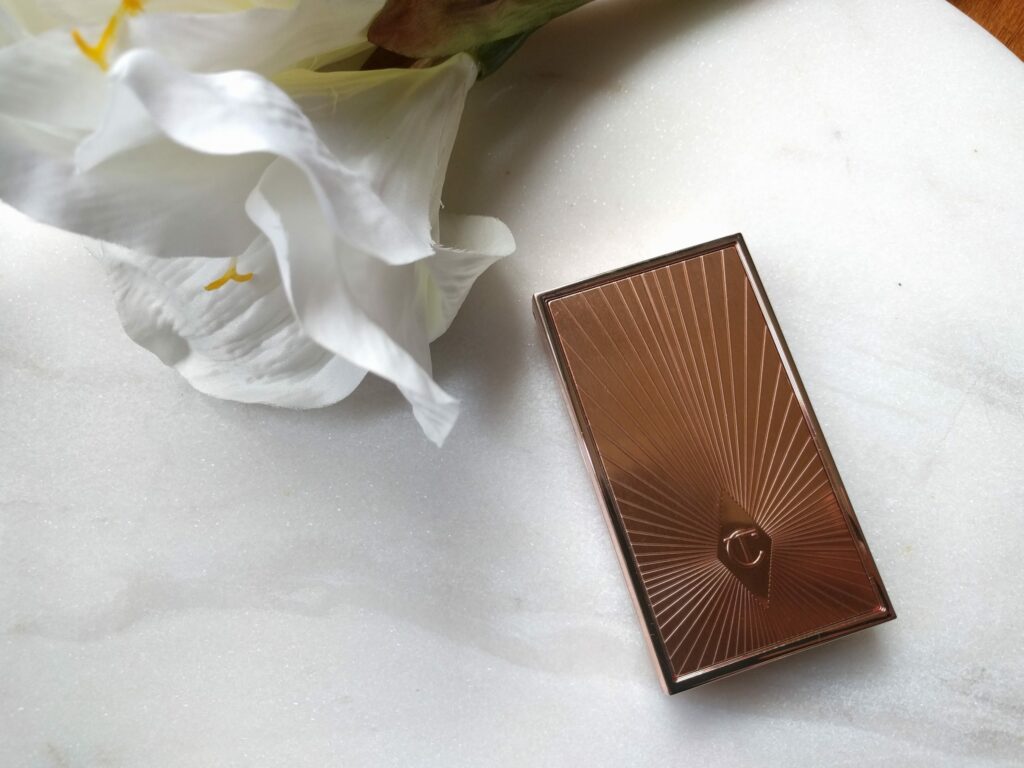 My skin tone is medium tan and I have to be very careful while choosing the shades that would show on me and to suit me. This one looks so natural and perfect on me for that glowy, springy and dewy look, which is my preferred look for all seasons, especially spring and summer.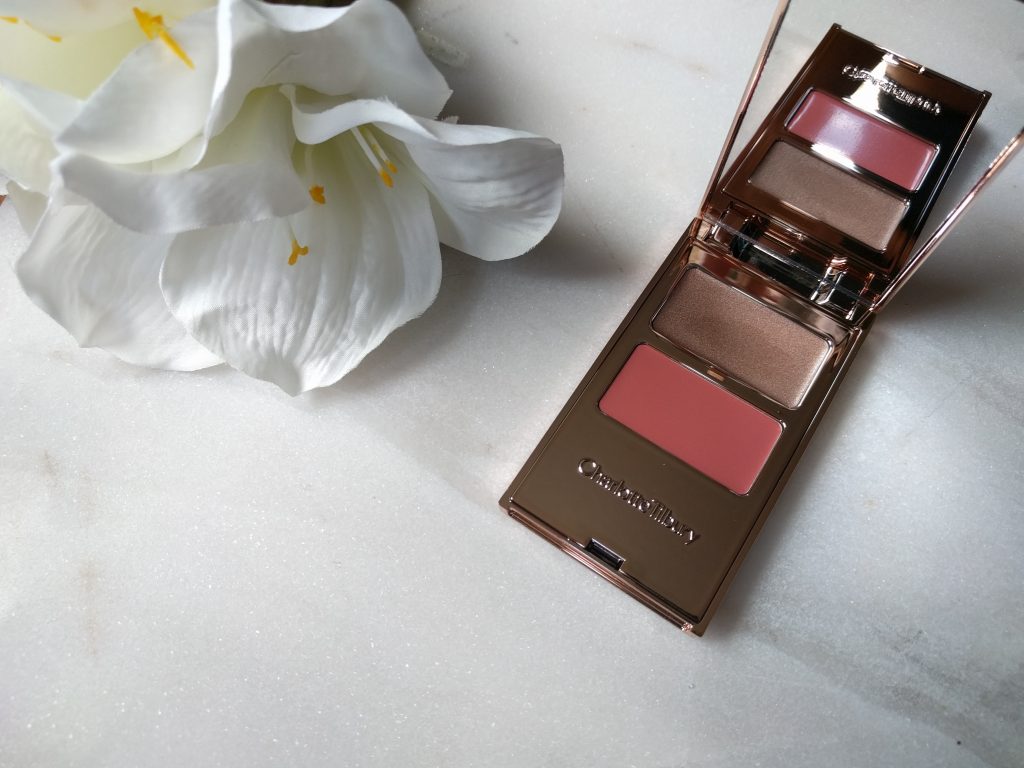 From the Charlotte Tilbury website, "Filmstar On The Go is an Easy Look in a Palette for Filmstar glamour in a flash. The two gorgeous, fresh, youthful creams are sheer, buildable and easy-to-handle in a dash. Eve is a silvery mink eye shadow and a dusky, cool pink lip-cheek stain. The lustrous Lip-to-Cheek Cream Polish contains magic ingredient BerryFlux Vita that increases the dermal and epidermal Hyaluronic Acid that drenches the skin with moisture, and a special Microfine pigment technology makes sure your lips color stays gorgeous all day. The mesmerizing metallic eye shadow glides on beautifully, as it's the perfect balance of waxes and oils, including anti-aging Apricot Seed Oil." The description explains it perfectly what I have experienced with this palette.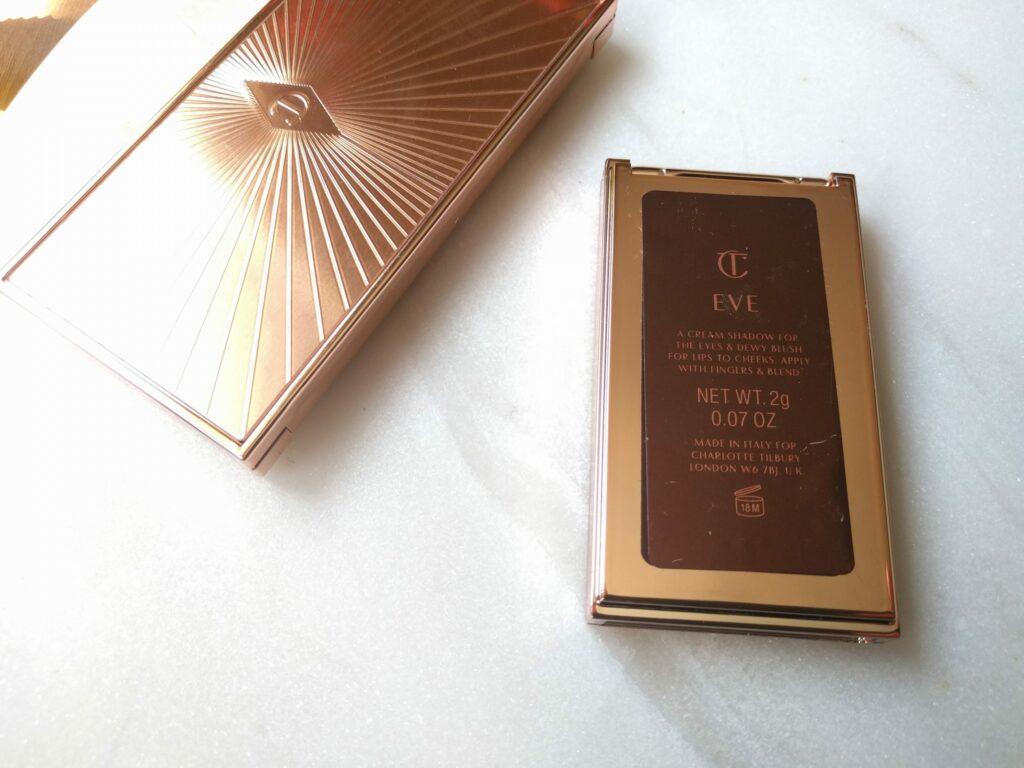 I do not prefer to use a brush while using this palette, I dab the eye color back and forth on the eyelids. The eye color is very blendable and buildable. I have been using it quite a lot both for day and night. In the evenings I prefer to apply more and it gives such a metallic pretty finish. For the days, I prefer a light hand. It stays on all day and never smudged or settled in the eye crease, which for me is so important asI have oily lids. The lip and cheek color looks so natural on me, even if I have applied a dab extra on my cheek, it doesn't look like overdone. The cheek color stayed well all day for over 6 hours. It is hydrating enough that it has not dried out my lips.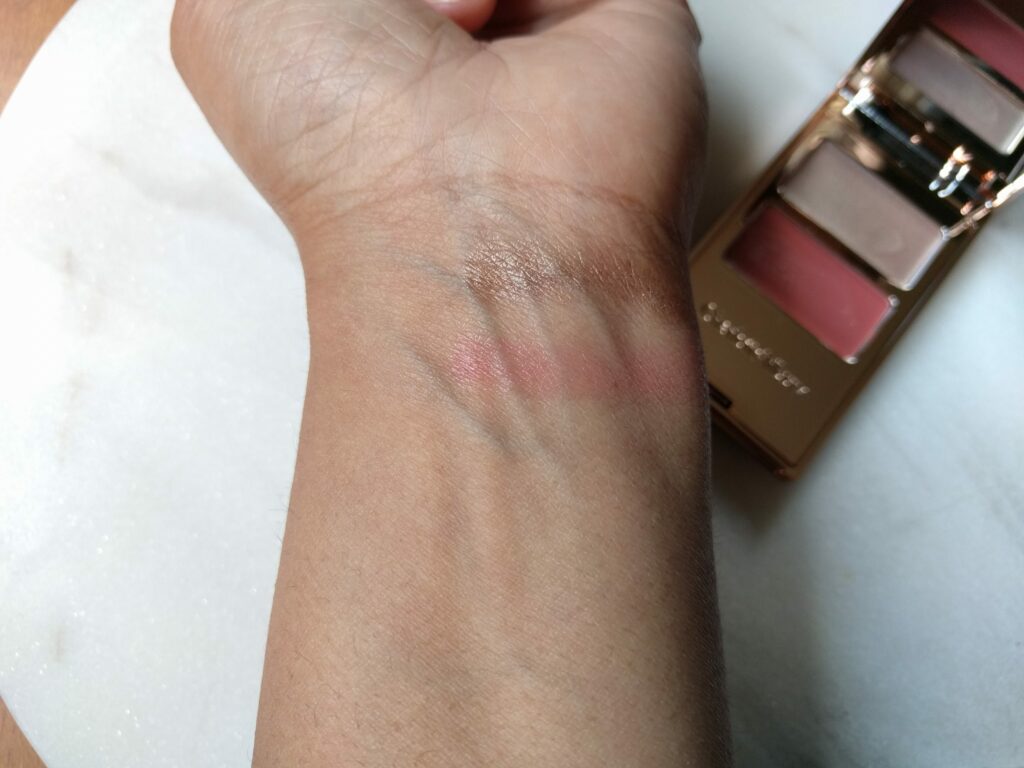 You must be thinking I am just praising about this palette, that is true, I am so happy to have this one. Also, I have not noticed any irritation or sensitivity in my cheeks with the cream blush. This palette is also perfect for travel when you want to take along something that is beautiful and which also works and doesn't occupy a lot of space. It is totally worth buying and trying.
Have you tried this palette? Which is your favorite multi-tasking palette?
Buy here:
---
---