---
There is a beauty box trend everywhere and why not Beauty Box's straight from the cult brands. I was really disappointed last week when i saw that the Sisley Paris Subscription box shipped only to US and not Canada. Anyways, lets move on. This is the first time i have purchased the Summer Box from Clarins, not sure if they have it every year but i was very happy when i saw it online while browsing their website. I placed an order at the same time as it was mentioned to be a limited edition and i did not want to miss it. I received the box today and i am writing this post with the contents and first impressions of the Summer Box.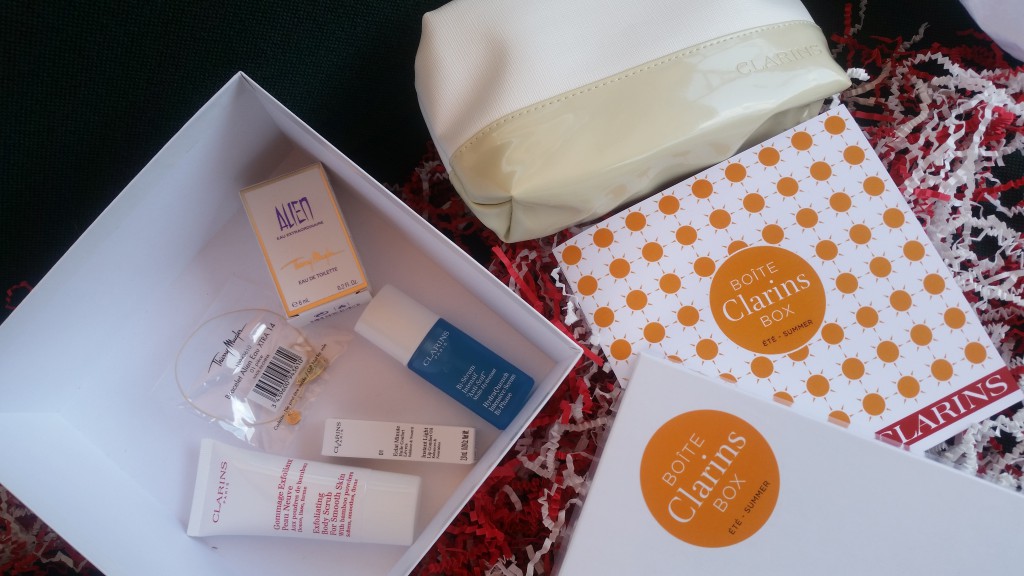 It is a very nicely packaged gift box and comprises of six items in total. The products included are HydraQuench Intensive Serum Bi-Phase, Exfoliating Body Scrub, Instant Light Lip comfort oil, Thierry Mugler Alien Eau De Toilette, Thierry Mugler Bracelet, Makeup Pouch.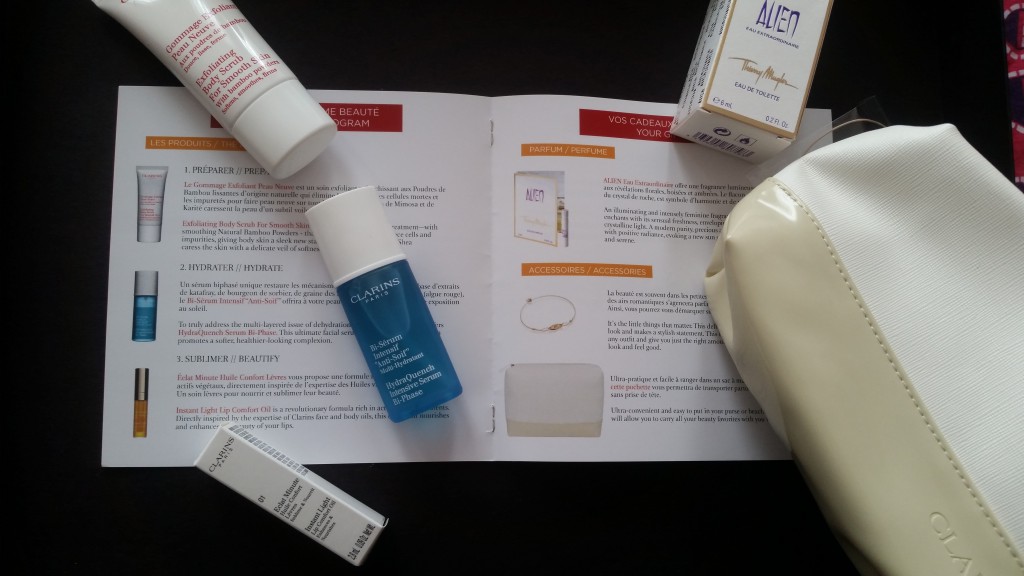 I was not expecting a lot from the box keeping in mind the price of the box, but i really liked the contents. The box also contains a list and description of the products in a nice little book. The products are deluxe size and i will be using them all.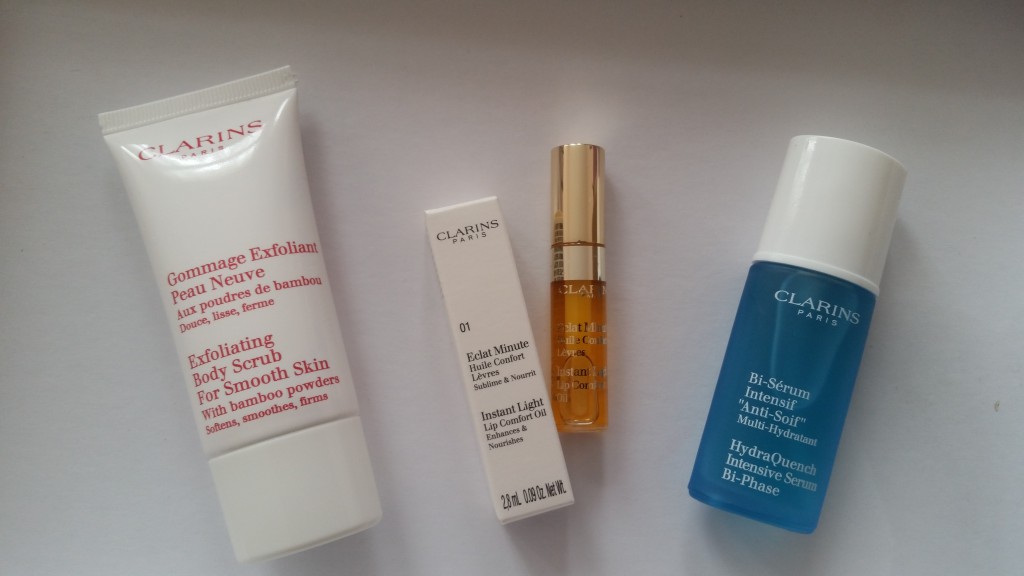 The HydraQuench Intensive Serum Bi-Phase included in the box is a 15ml size and the full size of this serum on the website is 30ml for CAD $59, so it is really a nice size to try and use. I am thinking of incorporating a retinol in my routine, so it will be a nice hydrating serum to incorporate into my skin care routine along with other hydrating serums i have.
The instant light lip comfort oil in shade honey is size 2.8ml and the full size of this on the website is 6.5ml for CAD $25. This is also a nice product for me as i have not tried it earlier.  The exfoliating body scrub is size 15ml and can be used once or twice which will give a nice experience with the product before purchasing a full size.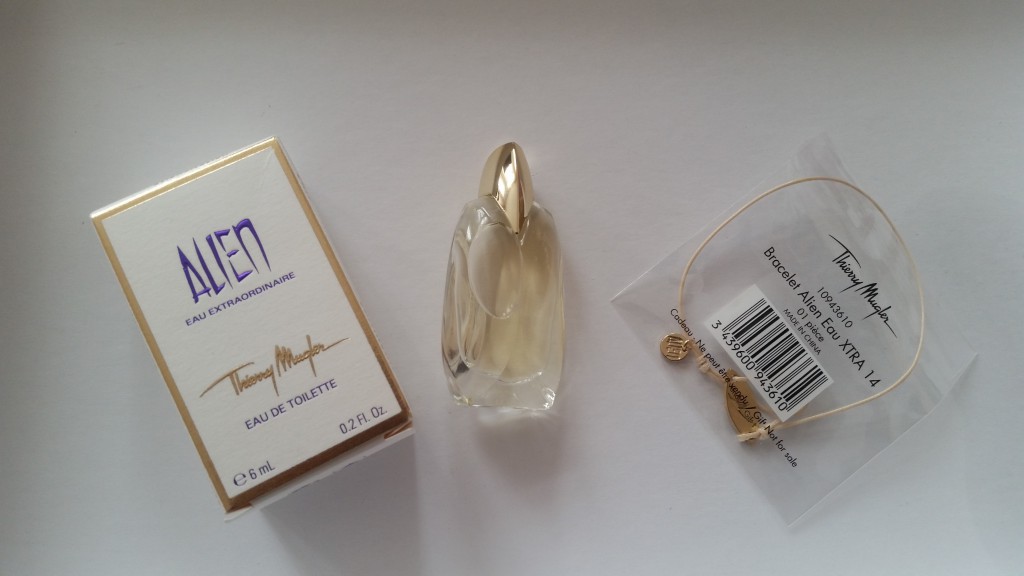 The bracelet from Thierry Mugler is very cute and the Eau De Toilette from the same brand is size 6ml.
Overall i really liked the skincare products in this box as i have not used them before, so it is a nice box with some nice products to try. The price of this box is CAD $30.
Buy Here:
---
What is it?
Cleanser is the first and the most important step in the skincare regime and you would want to start it with something that works.As per the Oskia Website, "it is an ILLUMINATING VITAMIN MELTING CLEANSER With Vitamins A, C & E, Omega 6, Starflower Oil, Pumpkin Enzymes, Chamomile & Rose
A new generation non-foaming cleansing gel-to-oil that melts into skin to quickly and gently remove impurities and makeup while actively illuminating and nourishing to reveal balanced, clean, fresh, radiant skin that feels soft and smooth. Wonderfully rich in vitamins and enzymes."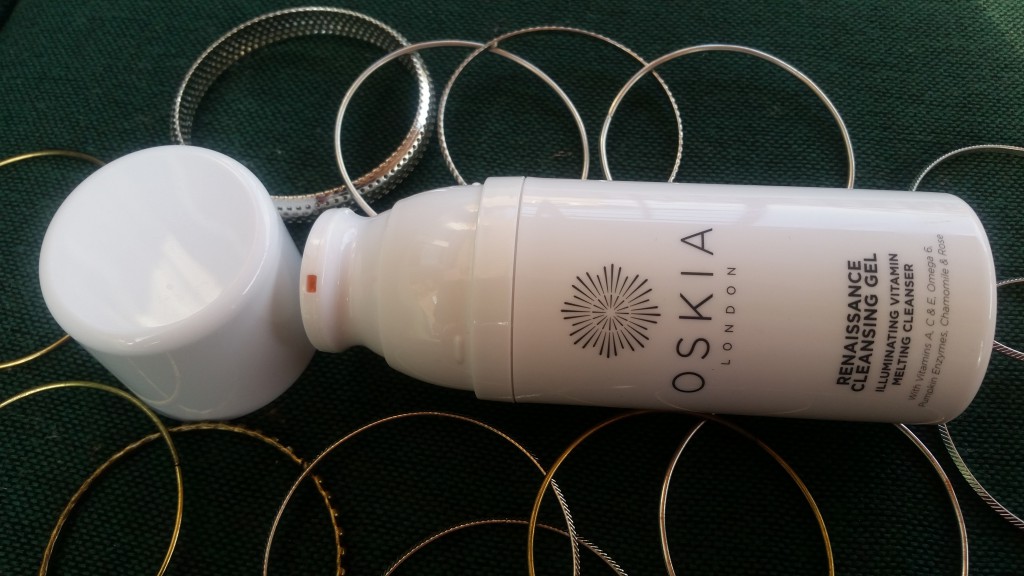 What are the Ingredients?
Caprylic/Capric Triglyceride, Glycerin, Aqua, Cetearyl Olivate, Sucrose Laurate, Benzyl Alcohol, Sorbitan Olivate, Sucrose Palmitate, Parfum (Natural), Geraniol, Dimethyl Sulfone (MSM), Citronellol, Dehydroacetic Acid, Lactobacillus/Cucurbita Pepo Fruit Ferment Extract, Borago Officinalis Seed Oil, Sucrose Stearate, Linalool, Retinyl Palmitate, CI77491 (natural iron oxide), Jojoba Esters, Tocopherol, Ascorbyl Palmitate.
All Natural Ingredients.
This cleanser has some very nice active ingredients, Vitamin A Palmitate improves the appearance of sun damaged, dry and mature skin to reveal soft, supple texture, Vitamins C & E, known for their restorative properties, help fortify and protect the skin against free radical & environmental damage, Lactobacillus/Cucurbita Pepo Ferment Extract (Fermented Pumpkin Enzymes) deeply cleanses pores and thoroughly removes dull skin cells without irritation for a balanced complexion, MSM, the most bio-available form of the mineral sulphur, known for its detoxifying, collagen boosting and anti-inflammatory properties, helps soothe and calm, Starflower Oil, a powerful source of gamma-linolenic-acid (Omega 6), Vitamin B² & Magnesium lift out impurities and help improve elasticity & firmness while restoring and enhancing the lipid barrier to soften and nourish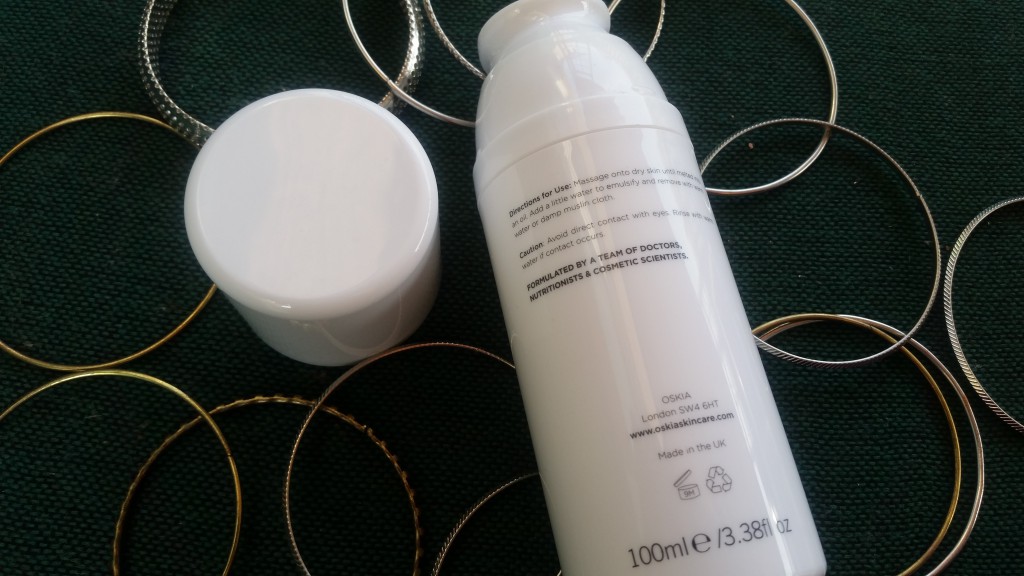 Who is it for?
For all skin types, particularly combination, normal, dull or dry. I have combination skin prone to congestion and dehydration, it suits me very well.
When i use it?
I use this cleanser as a morning cleanser or as a second cleanser in the evening. I usually pick this cleanser when my skin feels dull and dehydrated.
How i use it?
I take a pump and half of this cleanser and massage onto dry skin until melted. Then, i add a little water to emulsify into a white milk and remove with warm water or damp muslin cloth. I have tried removing it just by splashing my face with water and i never had any issues but i have noticed that when i use the warm flannel or washcloth, it feels more refreshing.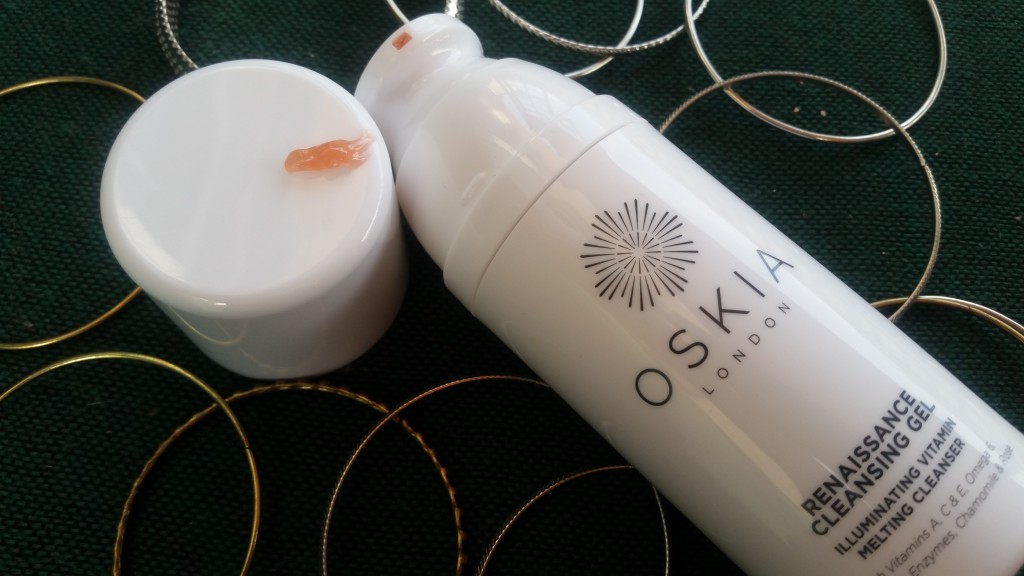 What are my thoughts about this cleanser?
I like the way it feels on the skin, it cleanses without stripping the skin or making it oily. It leaves the skin nourished, plumped and calmed. It works best if used on dry skin and removed with a flannel. I like the smell of this cleanser, it is not very strong or overpowering. It is pricey at CAD $50 for 100ml, but worth the price. It is packed with pumpkin enzymes which helps in clearing up the impurities. My skin feels baby soft and brighter whenever i use this cleanser. Totally recommend this!
Buy Here:
Lookfantastic.com USA & Canada
---
I love face masks and this is one of my go-to face masks when i am experiencing some congestion on my skin. As per the Origins website description "Glow big with our innovative 2-in-1 mask! Made with Mediterranean Rose Clay, Canadian Willow Herb and exfoliating Jojoba beads, it helps gently deep clean while refining skin's texture. Pores appear to vanish. Clarity is restored. Glow is instant." The description is right as per my experience, this is a nice clay mask which deep cleanses without causing dryness on my combination skin.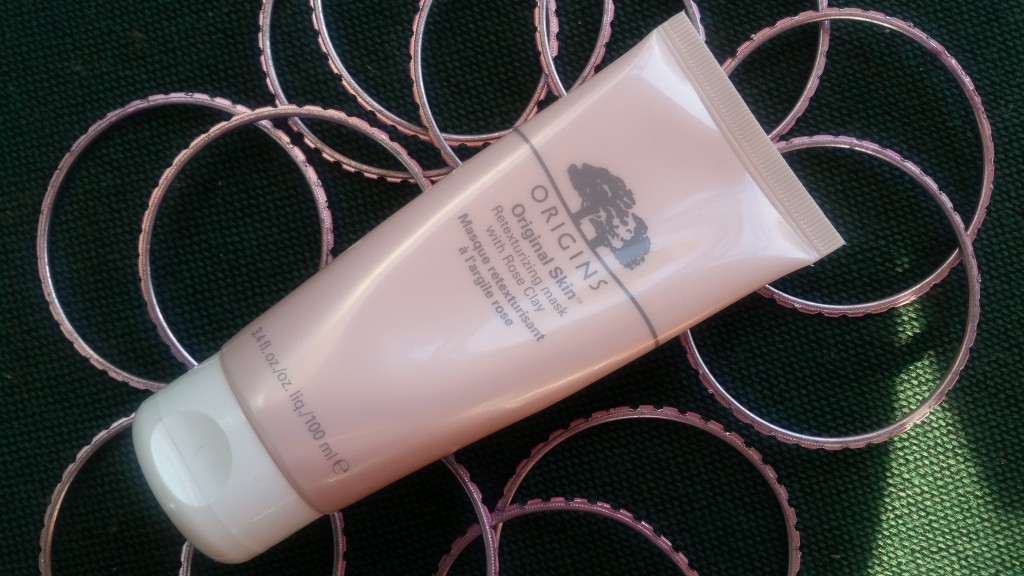 Who is this for?
All skin types, mainly normal, dry and oily. I have combination skin and suits me very well.
What it does and how it worked for me?
This is a light pink clay mask with tiny jojoba beads mixed throughout which claims to deep cleanse the skin gently and also refine skin's texture. It also claims to restore the clarity and radiance to the skin. For me, it worked very nicely and stood to its description.  It has a strong, spa-like, botanical scent so if you are sensitive to fragrance, stay away. The jojoba beads are not too harsh on the skin and never caused any irritation.  As mentioned above, the mask has jojoba beads rather than plastic micro beads which is a nice thing.
When i use this mask?
I use this mask when i feel congestion on the skin which is after every few weeks. Apart from those congestion weeks, whenever i feel my skin needs some deep cleansing, i go for this mask. I have been using this mask on and off since last six months, sometimes twice a week and sometimes weekly.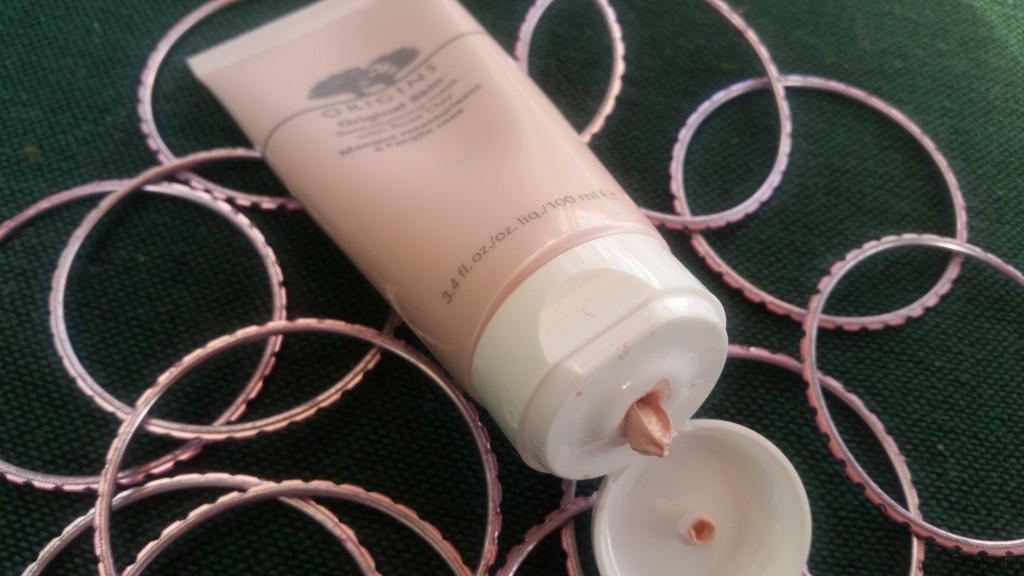 How i use it?
I cleanse my face before using this mask. Then, I use a nice thick layer of this mask, avoiding eye and lip area, on the whole face and upper part of my neck where i get congestion. It dries out completely in about 10-15 minutes. I remove this mask in two ways, First way is to spray my face with some face mist like rose water, thermal spring water to re-moisten and gently massage the mask to exfoliate, wiping it off when I'm done. Second way is to just wash it off with plain water. Then, i follow with my serum and moisturizer.
Final words
This mask has never caused any dryness or irritation to my skin. The active ingredient in this mask, Canadian Willow herb helps to soothe any redness I have and my skin is left radiant and soft. I noticed that it smoothes out my textured skin, and helps with congestion too. It has decent amount for the price, CAD $31 excluding taxes for 100ml, especially when compared to other clay masks from good brands.
Buy here:
Beauty Boutique by Shoppers Drug Mart
---
---