---
I was pretty new to Clinique products before getting pregnant, i tried few samples and i loved them. My skin has always been a problem skin, sometimes pimples, and then their spots. So after trying the samples, i went to the store to buy the products and looking at the prices, the bigger sizes were the better ones. I bought Clinique even better lotion SPF 20 and Clinique even better clinical dark spot corrector.
I stopped using all the products when i came to know of my pregnancy, but after doing a lot of research on my own, then emailed the clinique people, and then finally asked my family physician. She said its fine to use them as they have controlled quantities of chemicals which are far from harming the baby.
After a break of around a month, i finally started using the products again.I will be reviewing these products in my coming posts.
---
I know it is really important to moisturize your body and that too during pregnancy, it becomes a must to-do. Due to the hormonal changes as well as due to the growing body, the skin becomes dry and fragile. To cope up with the changes, i know it is difficult but whatever we can do, we should do in order to avoid stretch marks and uneasiness. And the first step is to keep the skin moisturized as much as you can. Dryness can be anywhere on the body, its variance is different on different people. I had dry skin before getting pregnant and i know its going to be more dryness on my skin in the coming weeks. That makes me more eager to find and start using the pregnancy safe moisturizer as soon as i can.
So I did some research and thought of trying the shortlisted products that are safe to use during pregnancy. I mainly searched for products that are free of Retinoids, Salicylic acid, Soy. I will be using and reviewing each product for moisturizing the skin, particularly the body in the next few days.
---
What is claimed: As per the Kerastase website, It is a complete nutrition shampoo for normal to slightly dry hair. It contains the Irisome Complex combined with a conditioning formula to enhance the nutritional benefits for fragile areas of the hair and a special agent to boost nutrient performance. Infinitely light, a brilliant finish that sparkles with reflected light for a beautiful shine.
Package: Packaging was nice and my online order arrived in 3 days. The shampoo and conditioner bottle looked nice and sturdy.
Ingredients: Please see the pictures below.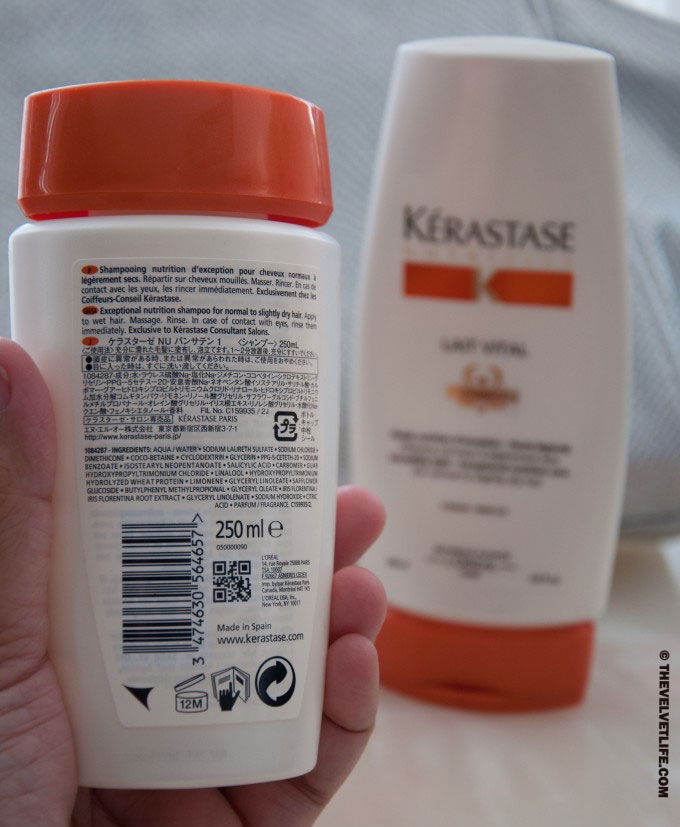 Kerastase Bain Satin 1 Irisome Shampoo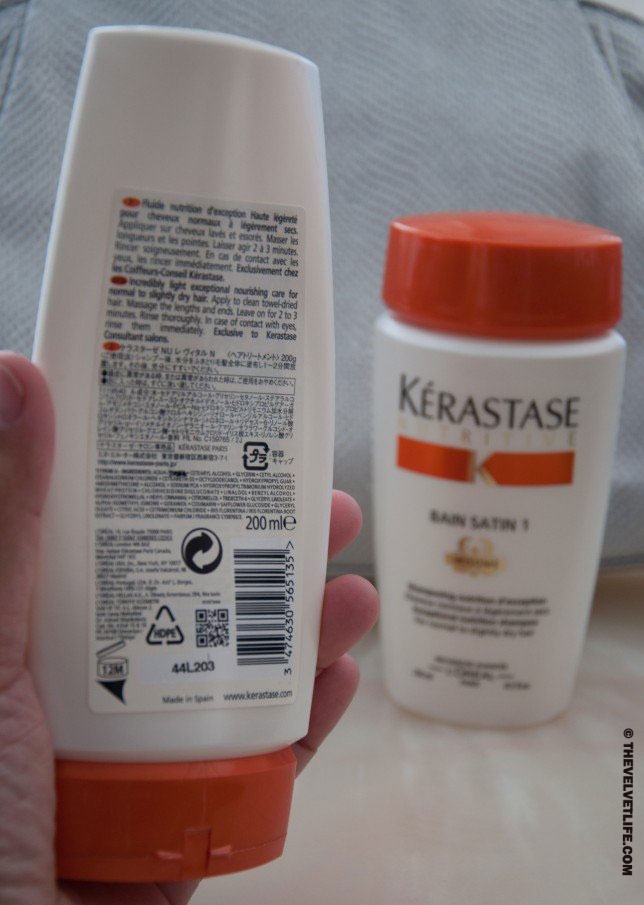 Kerastase Bain Satin 1 Irisome Conditioner
How it feels: This creamy, rich-textured, pearlescent gel creates a fast, velvety lather.
Time i have been using it: 6 months regular and alternating with other shampoo now.
My hair: I have naturally wavy/curly hair , chemically treated 5 years back.
My reviews: After searching for the high-end hair products for a long time, i finally came to know of the kerastase line and this is their first shampoo and conditioner duo that i ordered online. Kerastase is owned by cosmetic giant L'Oreal. I had really high hopes from this shampoo and conditioner. This shampoo and conditioner performed okay for my dry hair. Most "moisture" shampoos leave my hair really oily and greasy next day after use, but this shampoo leaves it soft and clean for a whole two days plus it smells good.
I know i haven't been using it for a long time, just more than 7 months but i think i am going to keep alternating with my other kerastase products which i will be reviewing shortly. Also, i am still in search of the right product that will suit my hair and scalp.
I recommend this Kerastase Product, worth trying!
Product links:
http://www.kerastase.ca/en/category/shampoo/BAIN-SATIN-1.html
http://www.kerastase.ca/en/collection/nutritive/LAIT-VITAL.html
---
---