---
Okay ladies, if you have brown or hazel eyes, you need to stay on this page and have a read and look at the swatches. I am not saying this will not suit other eye colors but it is a must for brown and hazel eyes. This is a limited edition eye pencil, I will tell you where you can still find it at the end of this post.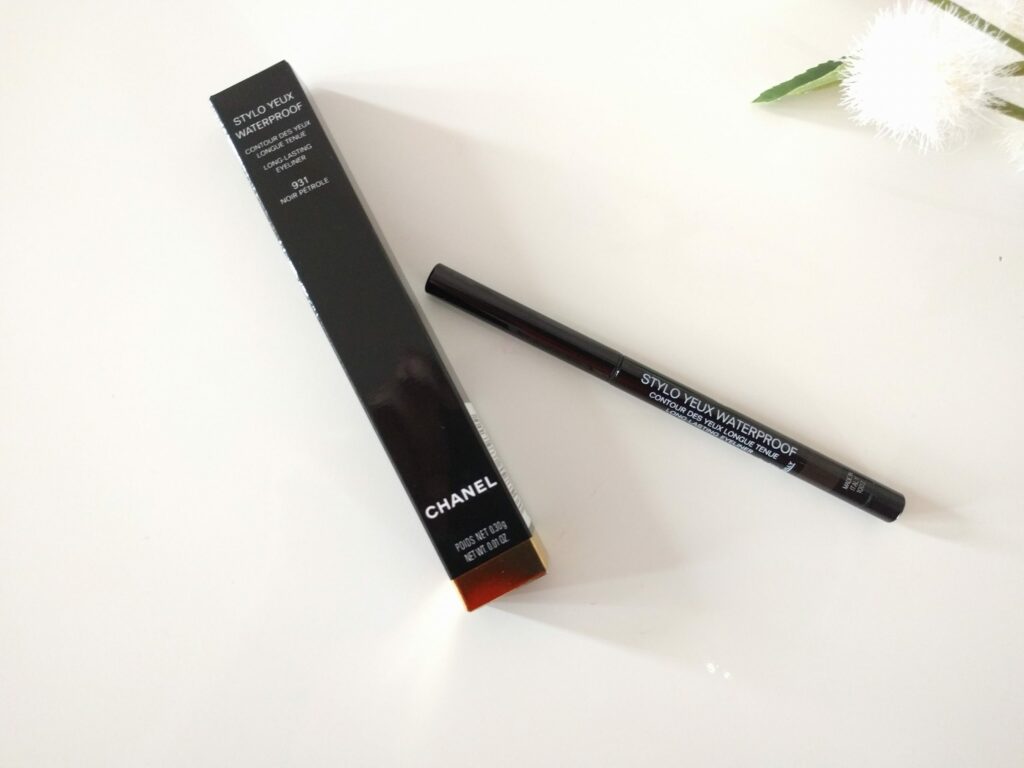 I usually stick with my Marc Jacobs Blacquer 42, MAC Teddy and few other staples in black and brown shades when it comes to eyeliner. I have dark brown eyes and I don't experiment much with the eyeliner on day to day basis but I do like greens ( khaki green and dark green shades to be precise). When I saw this blackish green eyeliner, I knew I need to buy this. I have been really using this eyeliner on regular basis and totally in love with it, I may buy a backup as it is still available at few places.
From the Hudson's Bay, "A waterproof eye pencil that traces intense eyes. It's very long-lasting line resists water, humidity, and sebum. Its retractable tip and integrated pencil sharpener facilitate application.
• A blend of film-forming agents and waxes for a gentle and comfortable formula.
• Silicone resin for a waterproof texture that resists humidity and doesn't run."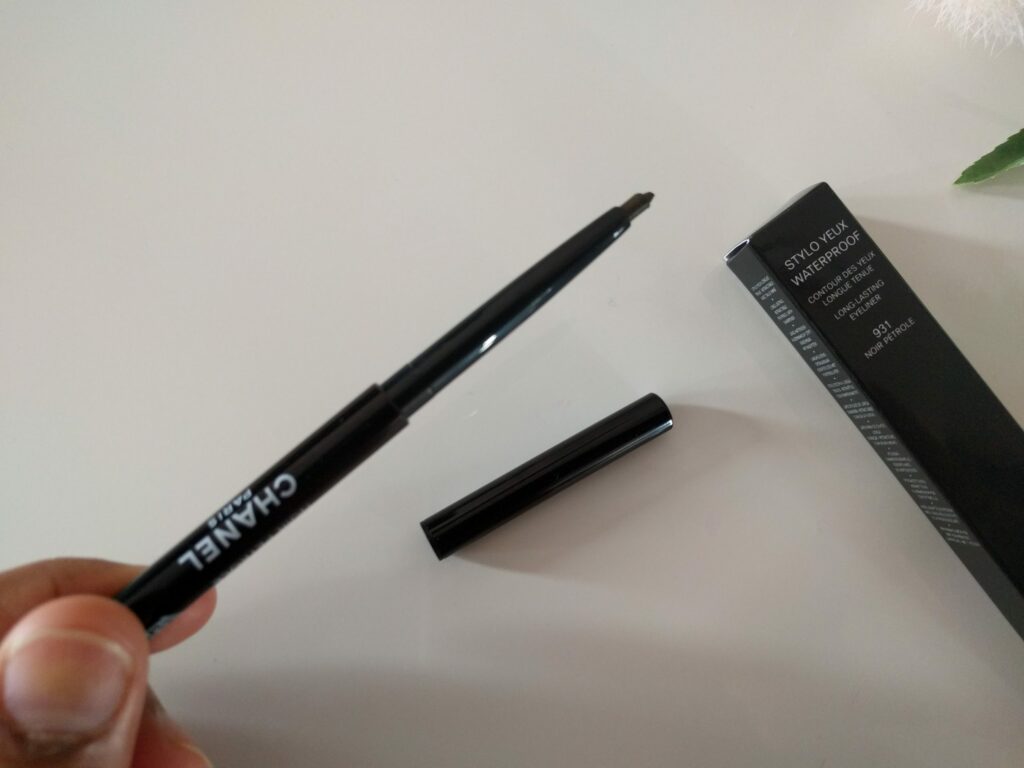 The packaging of this Chanel Stylo Yeux Waterproof Long-Lasting Eyeliner – 931 Noir Petrole is the classic twist up. The color is a complex amalgamation of deep black, olive green with a subtle golden sheen to it, isn't it a lot in this single little bullet of eyeliner. The shade is complex as well as beautiful and it is so worth it. The formula is creamier making the application a breeze and does not transfer easily. I have experienced no smudging and it stays well on my waterline for almost 8-9 hours, which for me is such a good point as most of the eyeliners start to fade off or smudge after few hours of application.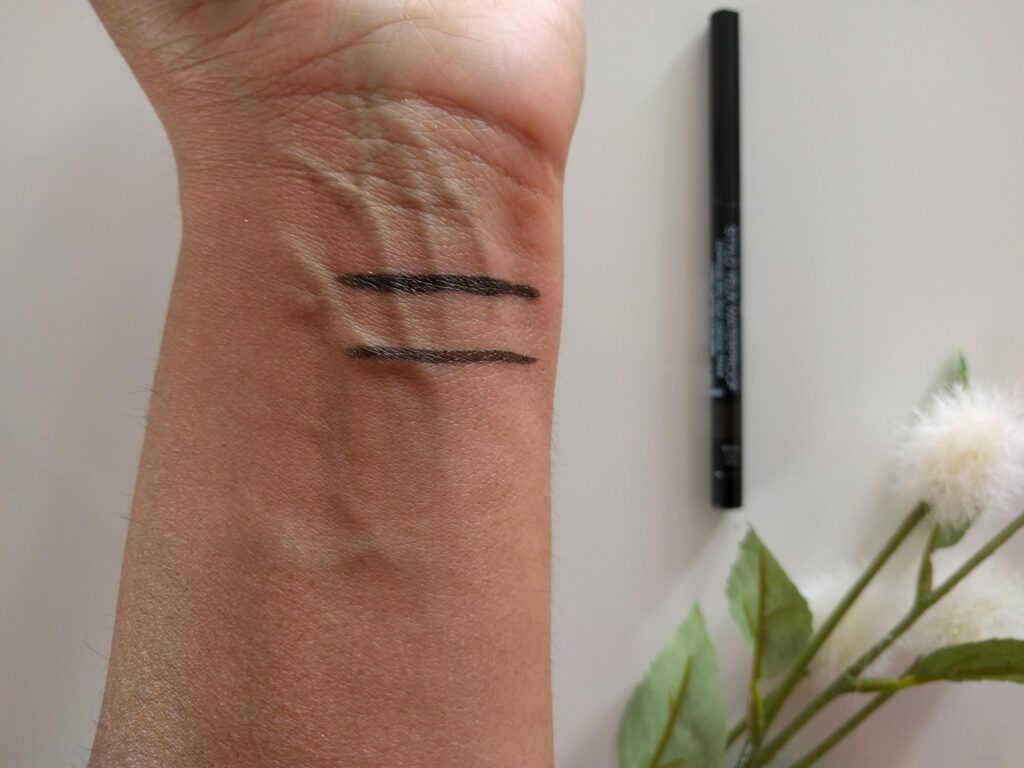 The color is buildable to make an intense look, 2 swipes work well to give some definition to the eyes and 4-5 swipes work great for me to have the intense look. I agree with the claim of it being waterproof, it stays on well all day and while removing my makeup in the night, I have to be extra careful ( and gentle too) while removing my eye makeup. It still lives a little blackish green tint on the outer lashline outside my waterline, if that makes sense, which does make my eyes look beautiful even in my pajamas. This is the great thing about luxury brands and the formulas which are ophthalmologist tested that I don't have to worry much that they may sting or have some adverse effect on my eyes if left for a long time. I am in love with this Stylo Yeux formula. And these are suitable for contact-lens wearers too.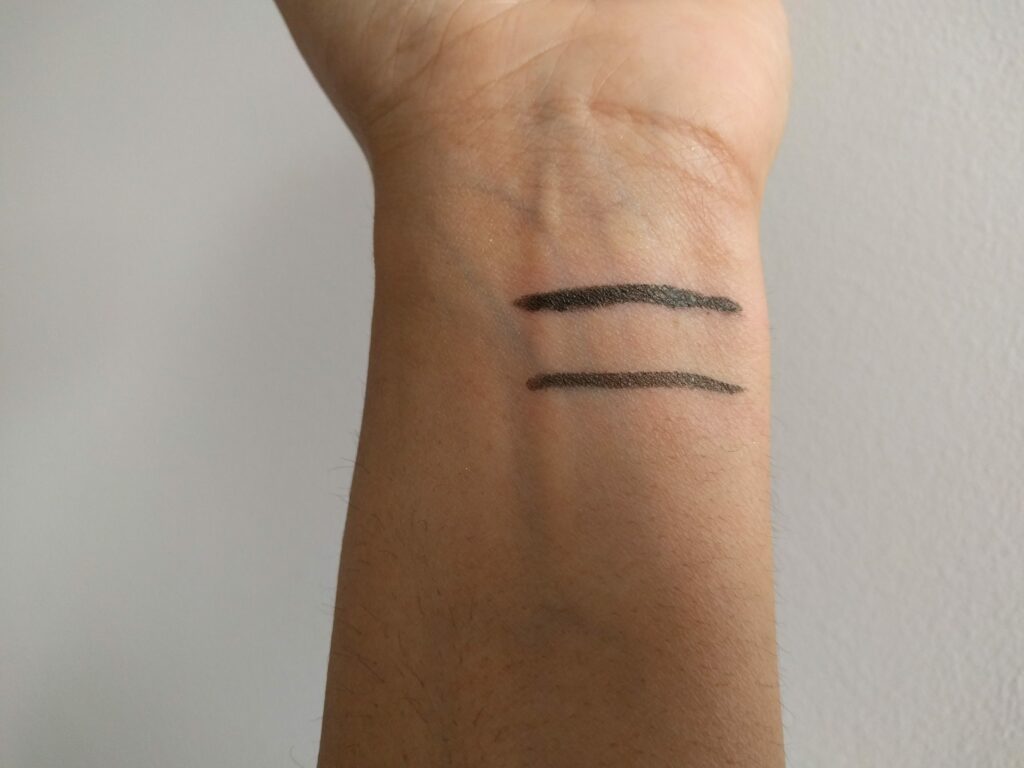 This retails for CAD $35 excluding taxes and is still available in Canada at The Hudson's Bay.
Which is your favorite eyeliner with a creamy formula and great staying power?
Buy here:
---
"Flowers in the city are like lipstick on a woman — it just makes you look better to have a little color.", said Lady Bird Johnson, The First Lady and the wife of 36th President of United States. No one can deny the beauty of flowers, and, as Johnson says, few will deny the beauty of colored lips.
Lipstick has the power to transform your mood, the right lipstick can make you feel and look confident. So it is very important to have the right color and formula that enhances your natural beauty and your lips. I am not into beauty or makeup industry professionally, but a girl who loves makeup and has some knowledge about it after few hits and misses. I like keeping my makeup very natural due to my office job and I am very conscious of overdoing anything. In this post, I am sharing the very much hyped and loved YSL Rouge Volupte Shine Oil-in-Stick Lipstick which I have bought myself over the period of last 6 months by trying and loving them more and more.
If you have followed me for a little bit on the blog or Instagram , you might know that I have dry lips which peel very easily, so i have to be very careful while choosing the formula of the lipstick. I need something moisturizing for my lips which should not peel them after application. These lipsticks are not something I bought on a whim but very carefully chosen after I started loving the formula.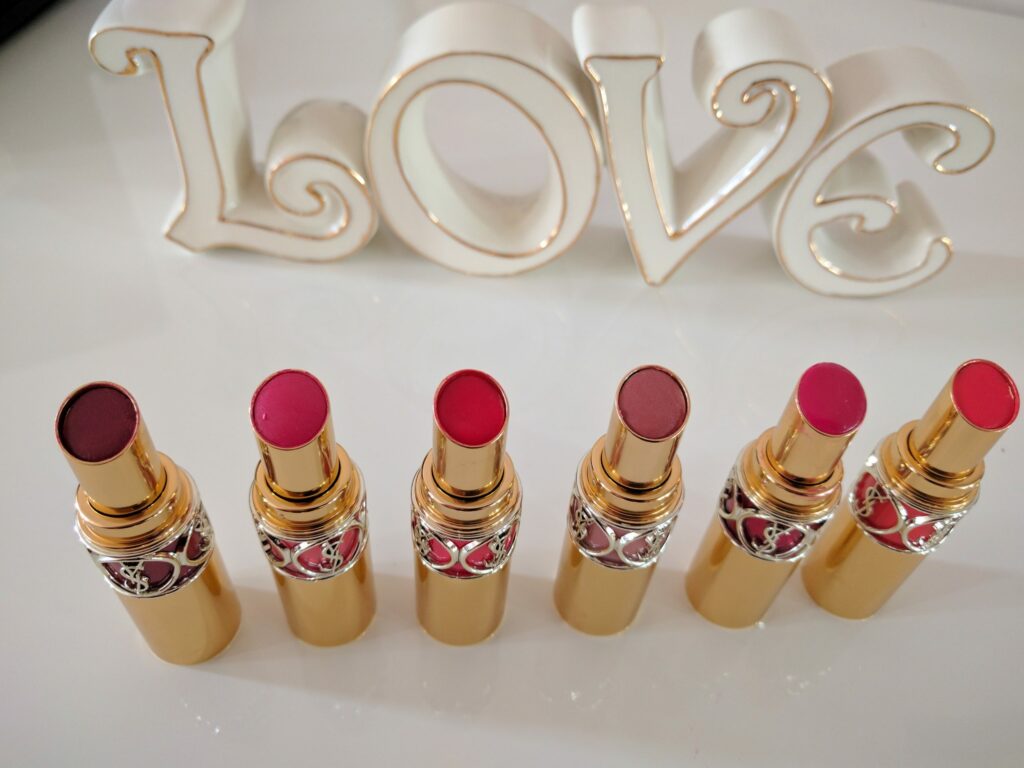 From the Sephora website, An oil-in-a-stick, medium coverage lipstick with an innovative texture that provides high-performance color and irreverent shine while it conditions the lips. Rouge Volupté Shine Oil-In-Stick Lipstick is oil-infused to impart seductive color and high shine while hydrating your lips. Formulated with 65 percent oils, the deeply hydrating texture instantly melts into lips, creating a pop of color, instant moisturization, and all-day comfort. After four weeks, lips appear healthy and more nourished. This lip formula delivers six oils for six benefits: hydration, high shine, comfort, ultra-melting, luminosity, and smoothness. Infused with Yves Saint Laurent's additive, signature mango scent, these lipsticks are good enough to eat. Antioxidants in natural extracts of pomegranate and rosemary reduce the look of fine lines, while candellila resin forms a thin, protective layer to help lock in moisture and magnify color and shine. Mineral pigments provide bright, vibrant color and a melting formula (instead of a solid stick) enabling smoother glide-on application and an ultrafine lightweight film on lips. Hyaluronic acid spheres hydrate and soften lips to help seal in moisture for up to eight hours of hydration.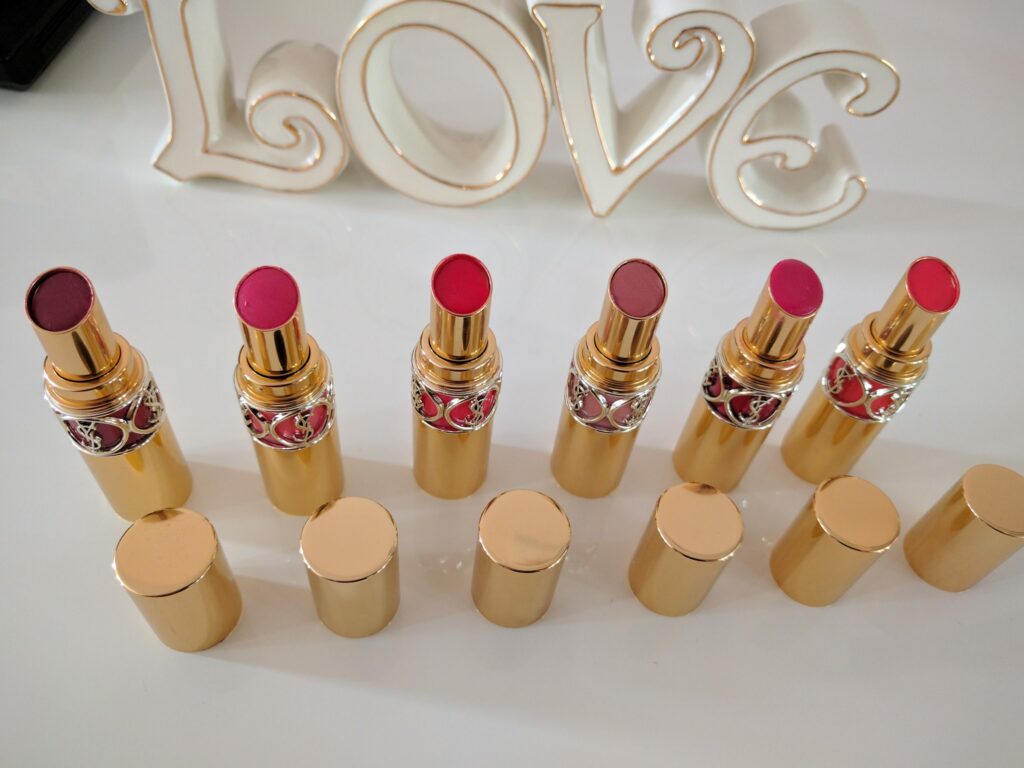 These lipsticks are very moisturizing and the color payoff is very nice. The color is buildable and the finish is shiny(not overly shining) hydrating lips with no peeling. The only issue for some might be the staying power which is around 3 hours, for which I am totally fine with re-applying. The other thing I love about this is the fragrance, which might be an issue for some. I love the mango fruity scent of this lipstick, every time I open this to apply, just the smell of it makes me so happy.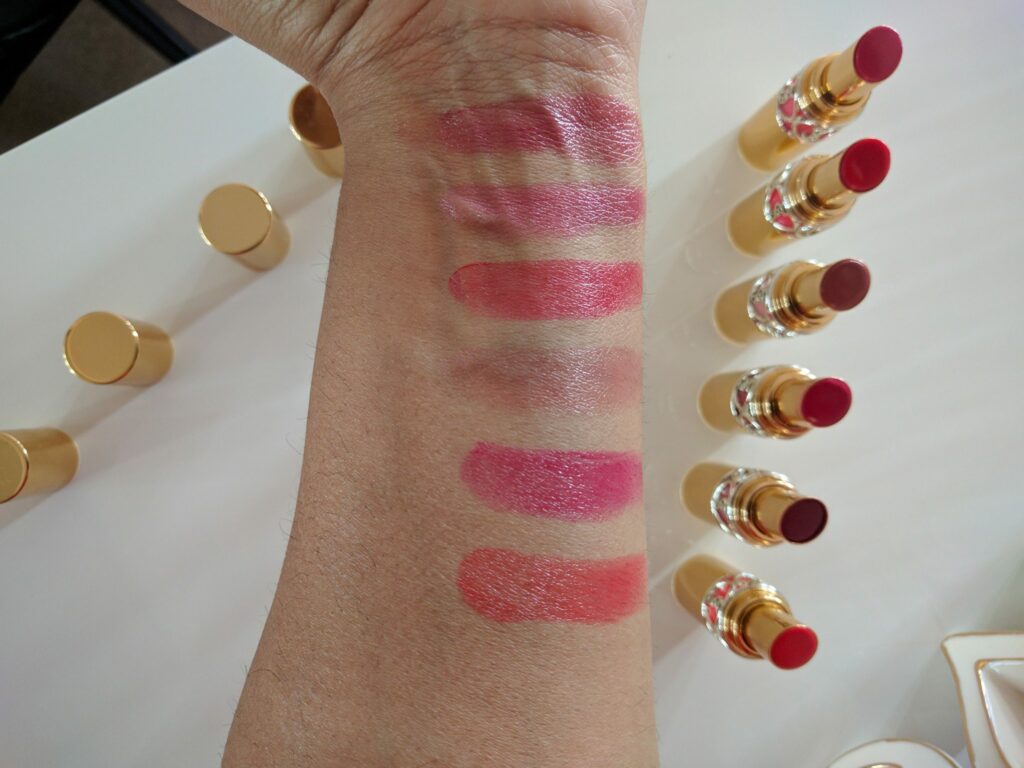 So you know now how much I love this lipstick and every now and then I have this on my wishlist/loves list so that I do not forget to check this out for a shade that I might like. Not sure if the quote is true or not "Women can never have enough lipsticks" but I just have this quote in my mind and forget everything else when I see some nice product which suits me well. Now, I am not going to have you wait for more for the swatches of all the lipstick I have on this line.
Yves Saint Laurent Rouge Volupte Shine Lipstick 6 – Pink in Devotion (bright hibiscus pink)
Yves Saint Laurent Rouge Volupte Shine Lipstick 45 – Rouge Tuxedo (cherry red)
Yves Saint Laurent Rouge Volupte Shine Lipstick 9 – Nude in Private (spicy warm beige)
Yves Saint Laurent Rouge Volupte Shine Lipstick 5 – Fuchsia in Excess (Bright pink)
Yves Saint Laurent Rouge Volupte Shine Lipstick 48 – Smoking Plum ( juicy plum)
Yves Saint Laurent Rouge Volupte Shine Lipstick 46 – Orange Perfecto (poppy coral)
I use them as a lip balm as well as a lip color. This lipstick retails for CAD $42 excluding taxes.
Which is your favorite lipstick that is moisturizing?
---
I have never been a gloss person, I like the lip products that are hydrating to my most-of-the-times dry peeling lips ( I know I should drink more water but…) and also which do not look overly shiny or glittery at my work. I bought this gloss from YSL Canada site on a whim and it has changed my mindset about glosses. I am reaching for this one a lot and love the look of this on my lips. The color I bought is No 4 called Fuchsia Vermeil Golden which is a medium rosy shade with gold specks.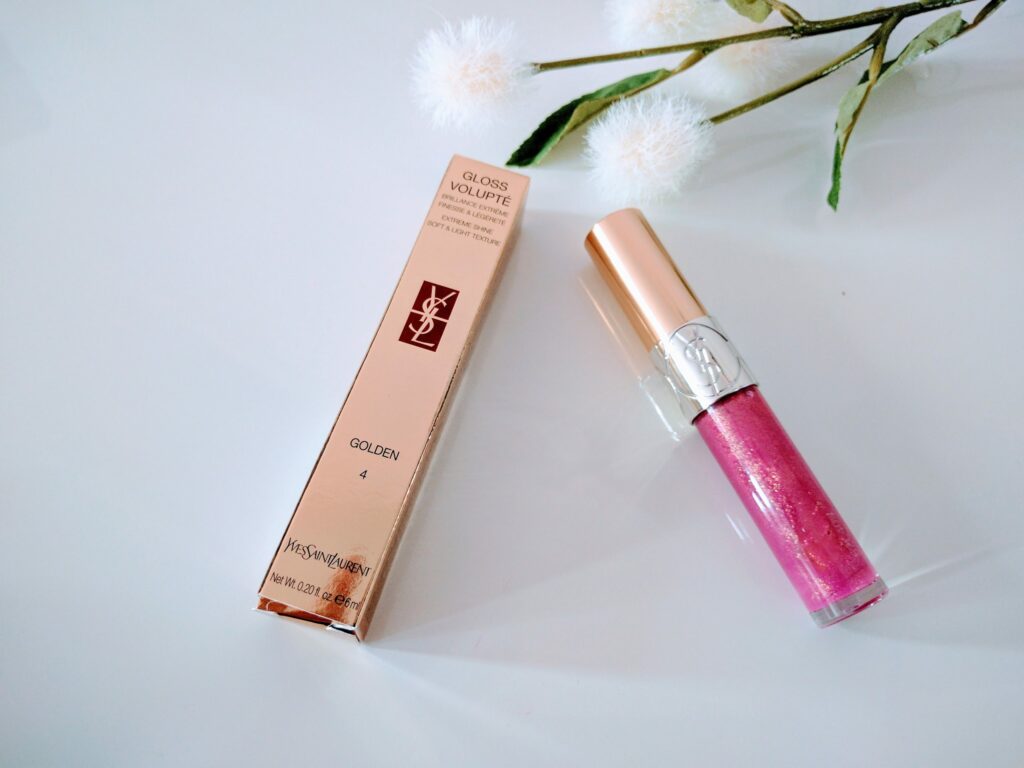 'Yves Saint Laurent premieres its first lightweight non-sticky lip gloss. A light liquid, yet glossy, its ethereal texture is a celebration of pleasure that invites indulgence. "Bouche a Bouche", the applicator envelops the lips with this elixir of seduction. In a breath of life, lips are filled with a reflective and radiant color. Golden, Iridescent or Pure…Beautiful. Encapsulated in a divine jewel, this lip gloss attracts like an irresistible magnet. Apply the Golden top coat to add a dazzle of glitter, Pure top coat for intense shine, or the Smoking top coat for a day to night look. The unique patented applicator envelops the lips in full color and allows for a precise application. ' from YSL Beauty Canada website.
This gloss has a beautiful golden metallic cylindrical tube which has a beautiful YSL engraving on it and feels very luxurious. The applicator wand is in the famous YSL shape and size which is very practical and makes the application very smooth. The product inside is very creamy and hydrating.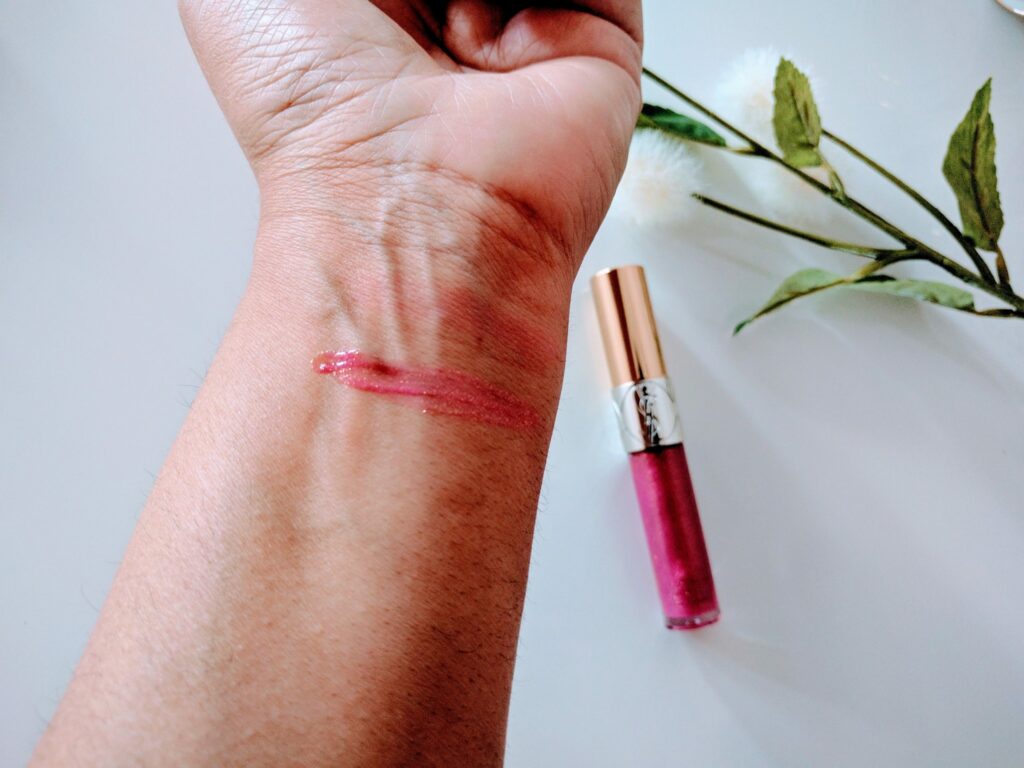 The shade of this gloss looks very rosy on my lips and makes them look plump, radiant and bright. This color works perfectly for my work, very natural with a little shine, not sticky at all, neutral enough for a day wear.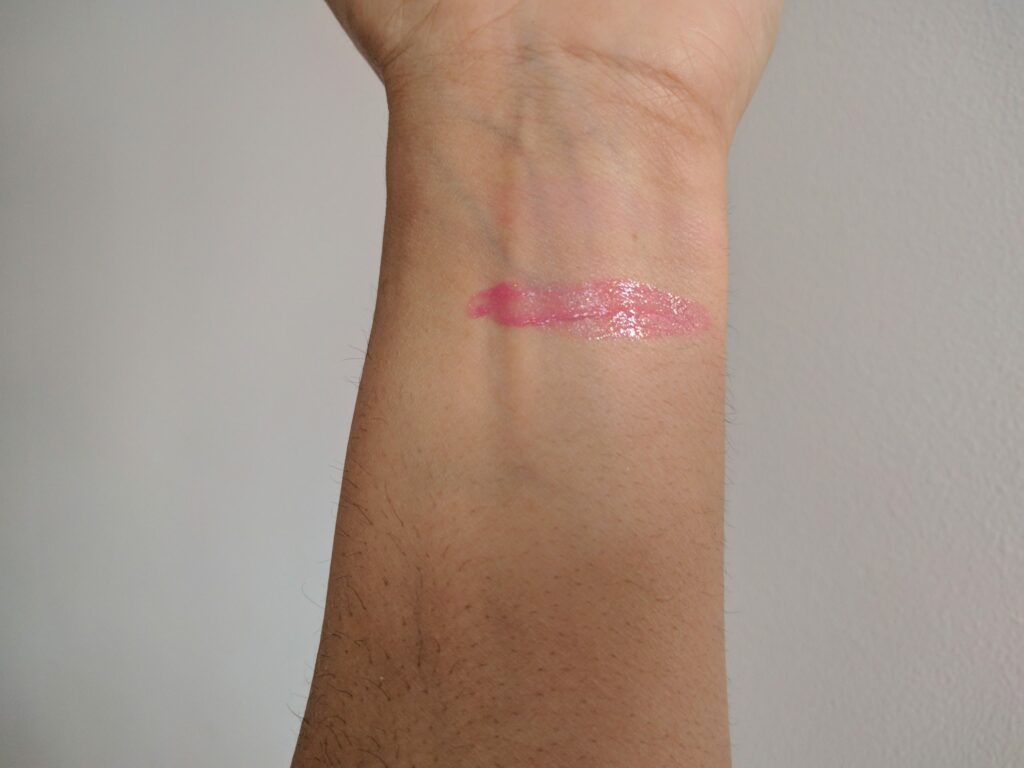 I have not noticed any drying or peeling of my lips when using this, lasts me around 3-4 hours without eating or drinking and afterward, there is a light stain left on the lips. The gloss has some light scent to it which I do not mind in a luxury product. This gloss retails for CAD $36 excluding taxes.
Do you like lip glosses? What is your favorite?
---
I know I might be late to review this and this might be sold out at all the places but I am not the only one to be blamed (if blame is the right word). The Estee Lauder Victoria Beckham Collection has been everywhere on social media and everyone wants to own at least a piece of it. Whether it is the quality or the luxe packaging, everything in the collection is so exquisite and a collectible. Being occupied with my day time job and kids, I sometimes tend to miss some important launches and this is when this collection happened.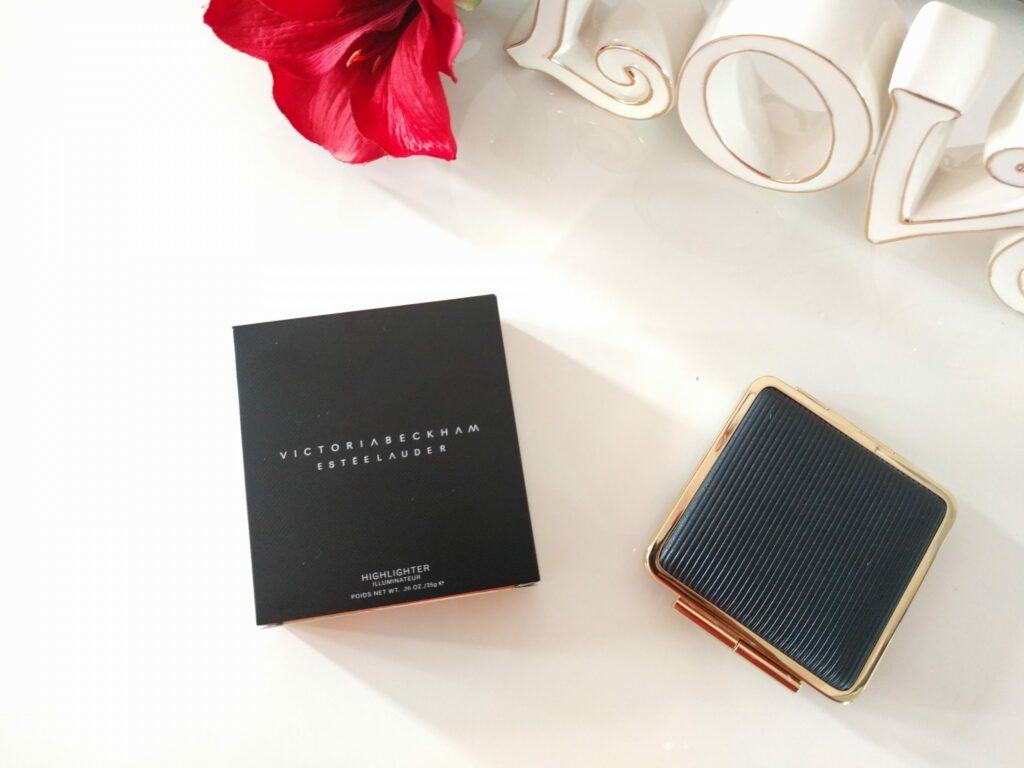 The Modern Mercury highlighter was sold out on the Hudson's Bay when I came to know that it arrived in Canada and is already gone. So after a month or so, I got the promotional email (the one we sign up for ) from Estee Lauder Canada that it has arrived on the official Estee Lauder website and that is when I ordered it without missing a moment. The shipping, as usual, is very fast from Estee Lauder website and the packaging, as always is gift-packed with beautiful Estee Lauder box and golden wrapping. Every time I order something from Estee Lauder, I am always so prepared to see the packaging and I have the same excitement every time to open the package. They do know how to present and make someone feel like they bought something beautiful.
From the Victoria Beckham website, this highlighter can be worn as a strobing accent on the cheekbones, with or without bronzer to create a fresh, dewy look. Finely milled for a light and silky texture, this illuminating powder is packed with pearl pigments – perfect for achieving a warm glow.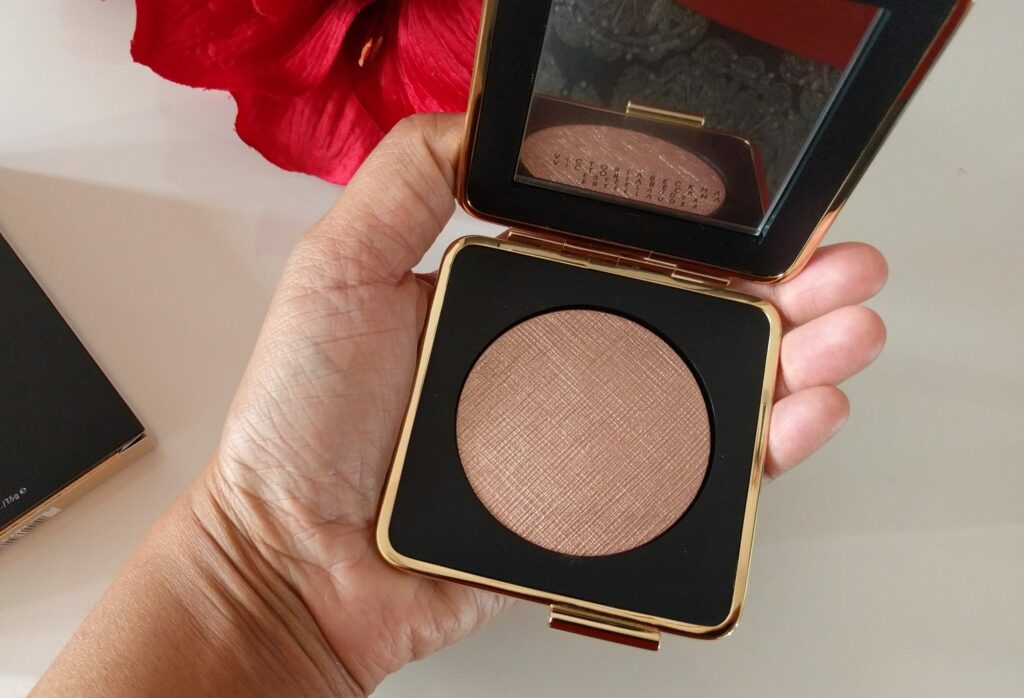 First, I will talk about the packaging of this highlighter. The product is housed in a sturdy compact which has black leather on the outer side with golden metallic sides. The leather has a soft texture to it and looks very fine. The black and golden both make the case look very classic yet modern.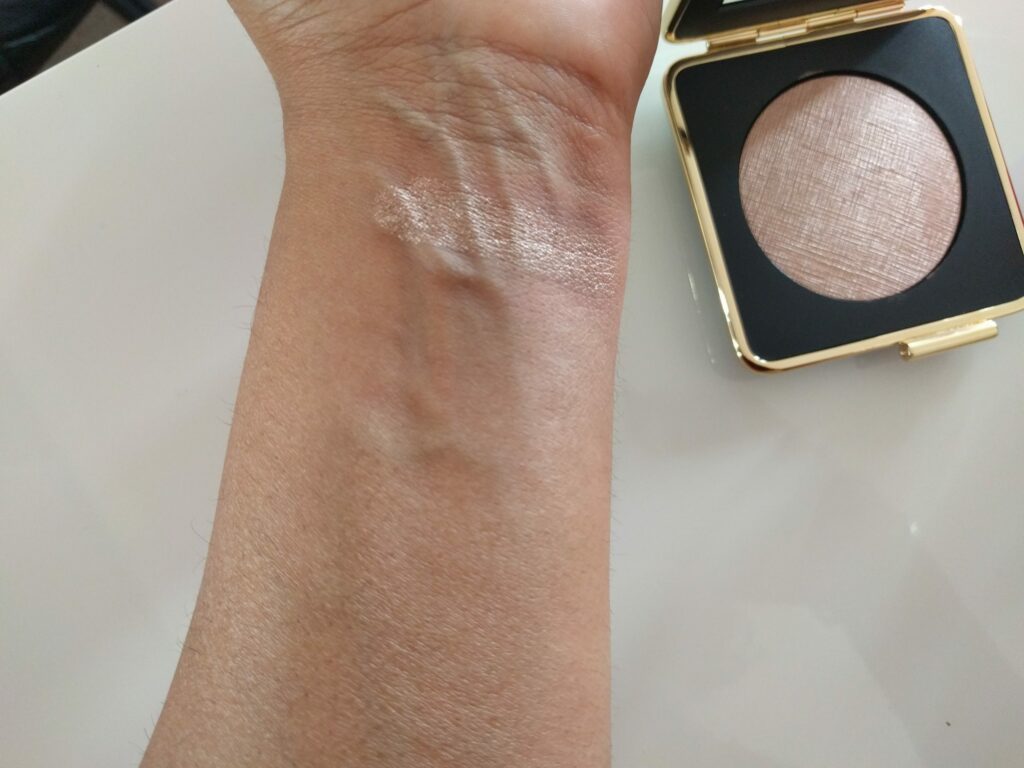 Then comes the product, I have such good experience while testing this that I am regretting now to not have bought the backup. The product inside is a medium rosy brown color with soft pink and golden shimmer which is very subtle on the skin. The powder formula is so beautiful, it feels so delicate and soft. This product uses the brand's gelee formula which was released many years back and was very popular and cult, that is why it is loved and talked about till today.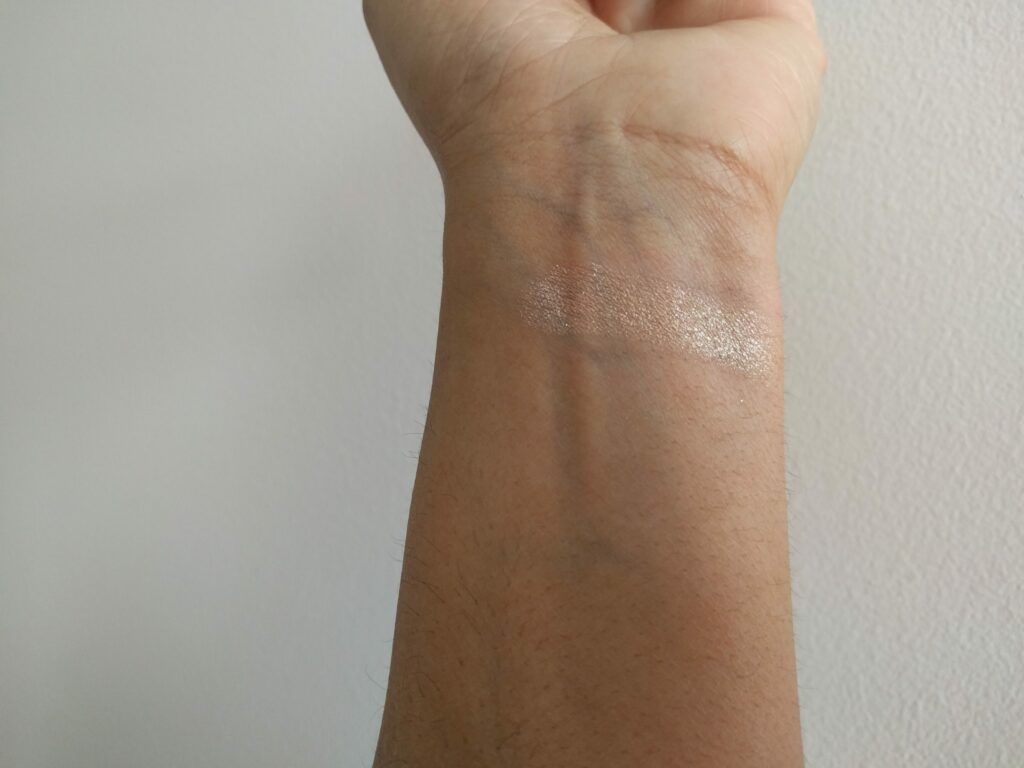 The pigmentation is incredible and it is very blendable. Based on the occasion and skin tone, it can be build up or can be worn as a soft highlighter for a normal day. It has been very forgiving if applied in excess. I have worn it to office few times and it looked very natural, the true glow from within. On lighter skin tones, this may need a light hand. This highlighter is such a classic formula that any brush I use with this, I find it perfect to apply this highlighter. I do not think I have felt the same thing for any other product. Overall, I am proud to say that this is the best in class and is one of the most beautiful highlighters I own. This retails for CAD $78 excluding taxes.
And my recommendation is that if you can still get hold of this one, GO RUN and Order it now!
Do you like the glowy look? What is your favorite highlighter for a dewy look?
---
Givenchy Very Irresistible L'Eau en Rose was launched in spring of 2014 and was dedicated to the queen of flowers – Rose. As in the name of this perfume, the main ingredient of this fragrance is the Rose and this was developed with minimalist composition. This has been called as a universal fragrance for women and suitable for all occasions year around. The nose behind this fragrance is Carlos Benaim.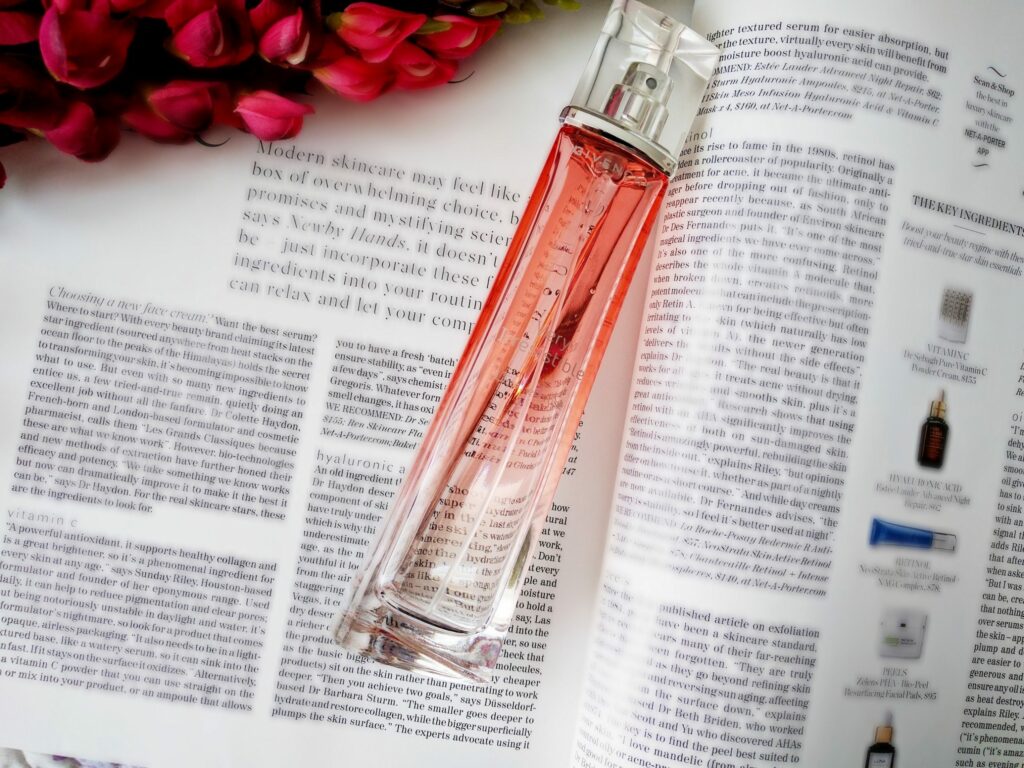 I bought this fragrance last year and as you can see from the pictures, I have used it a lot. I really like using this more in the spring and summer as opposed to year-round. The top note of this fragrance is BlackBerry, the Middle note is Rose and the base note is Musk. It is very feminine, striking, and comfortable to wear.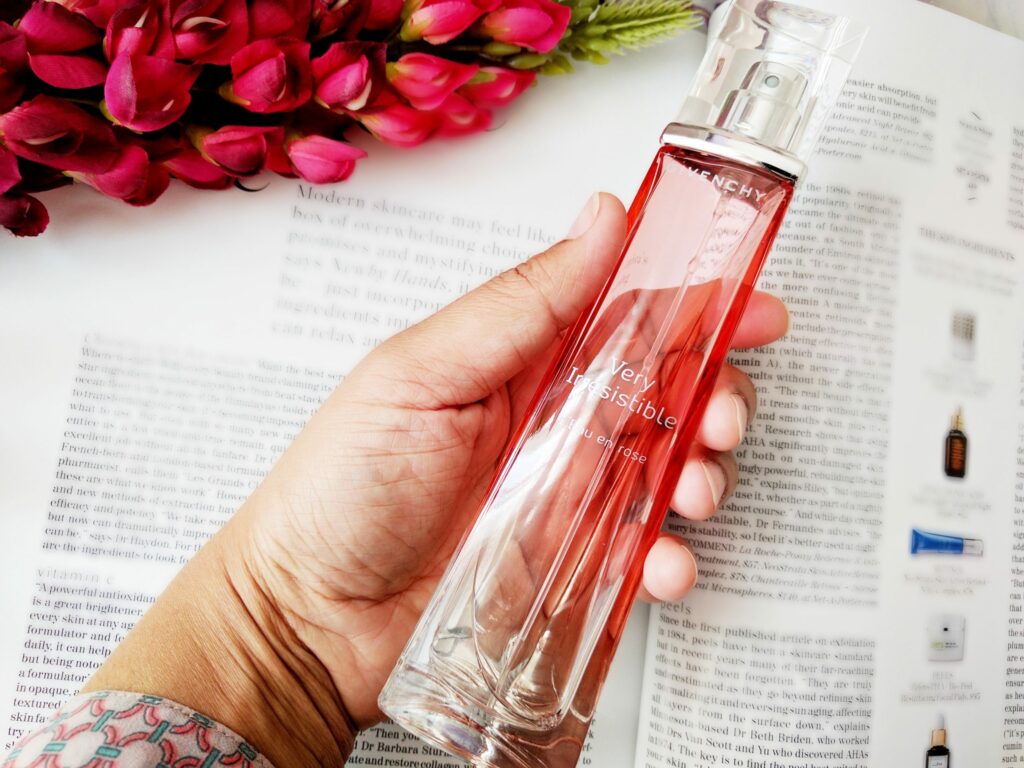 This perfume is both classic and modern all at once. It has a sweet warm rosy scent without smelling like pure roses, it has more of a fresh and innocent feel to it. Choosing a perfect rose scent can be difficult sometimes, based on the composition and how the fragrance radiates back once applied to our skin, it can smell different on different people. This fragrance has a simple composition but how it manages to reflect the scent from your skin can be different.
As described in fragrantica, "The composition is bold and bright with pronounced notes of roses in the background of musk. Juicy and fruity blackberries surround the heart of rose, giving it liveliness and sparkle, while a gentle cloud of cotton-like musk gives tenderness and sensuality in the base."
I have loved this fragrance since I first sniffed in store and bought it. This fragrance lasts on me for around 5-6 hours and that is fine for me. This is a good option for you if you like flowers, especially roses and do not want to smell like a bouquet of rose by very classic, fresh and airy feel of roses.
Do you like flowery fragrances? What is your favorite rose scent fragrance?
---
---