---
Belif is a herbal cosmetic brand which combines the traditional approach of treating the body and mind to maintain the skin's ideal condition using natural herbs with the brand's safe and innovative extracting method. This is a brand which combines the nature with science, getting the benefits of the herbs through innovative extracting methods which does retain and enhance the original benefits of the herbs used. It leverages the knowledge of traditional herbal processing method which was discovered by British Herbalist since 1860 to create a cosmetic line to create products that are near to nature and are efficient.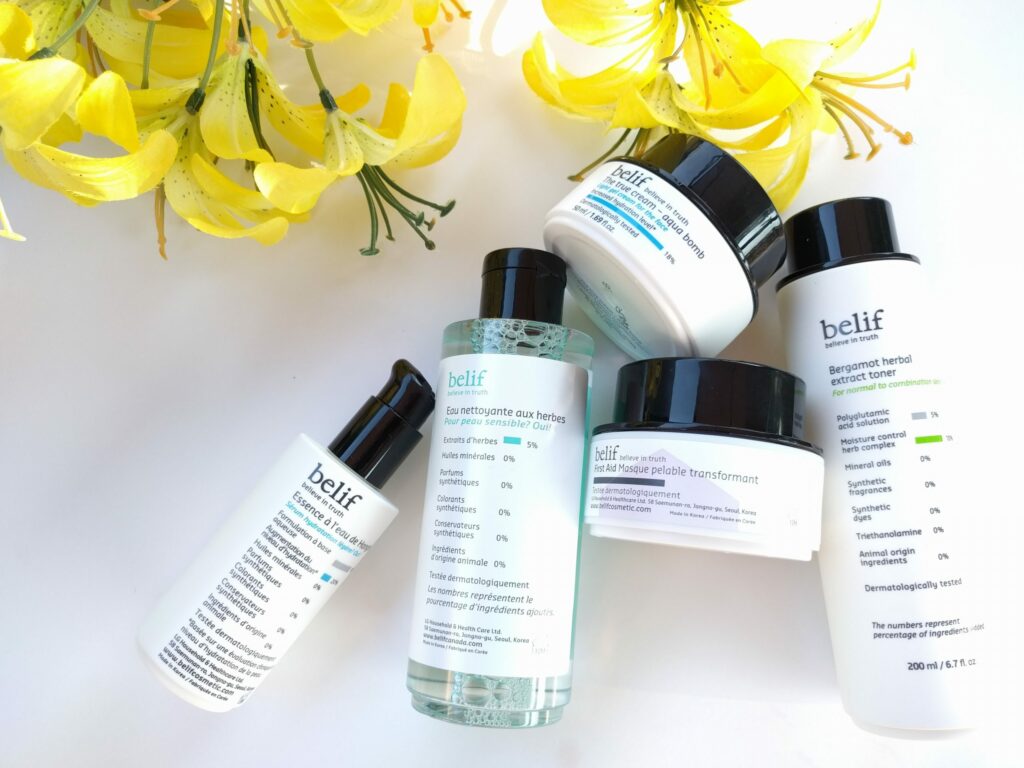 I was sent these products for review purposes and I have used them on and off since last month.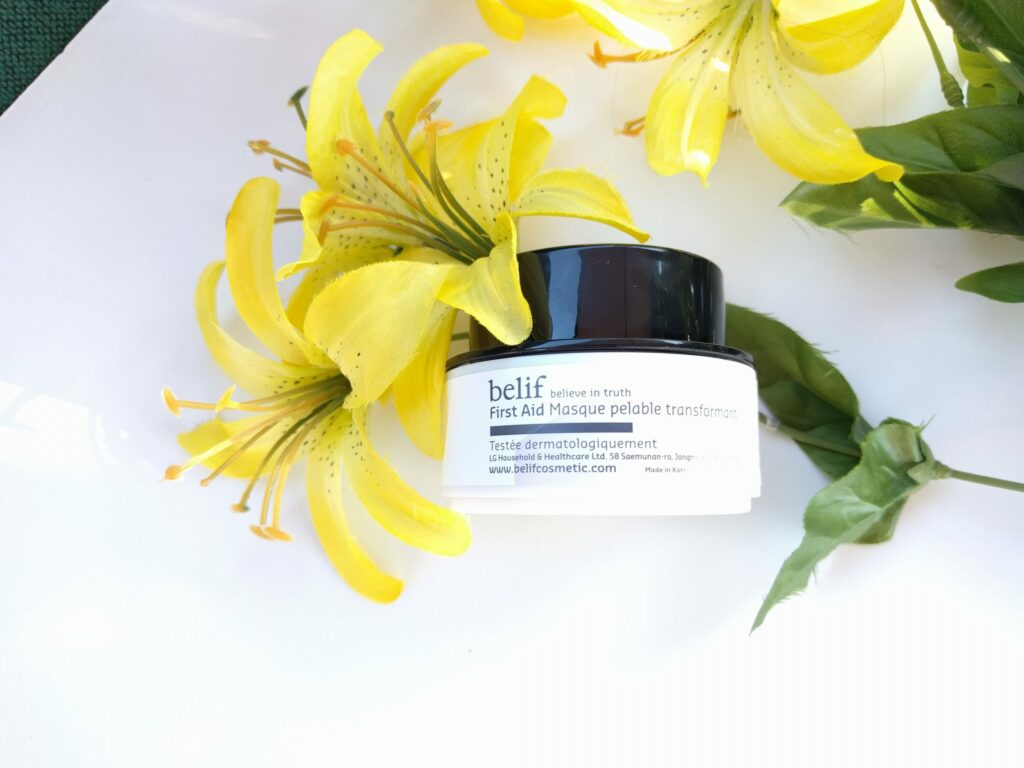 I will start first with the Belif Transforming peel off mask which is a gentle exfoliating peel mask. This peel off mask works very gently to exfoliate and remove the dead skin cells from skin, making the other treatments or products work better. The main ingredients of this mask are a lemon balm and white willow bark. White willow bark is a natural salicylic acid which helps soothe and clarify skin. It is advised to be suitable for all skin type and for my combination skin with hormonal breakouts, I do find it really soothing when I have breakouts. I apply a thin layer of this mask on my cleansed face in the evening and leave it for almost 15 minutes or until the mask becomes dry. Then I rinse off with lukewarm water and it is very easy to remove, no stickiness or difficult to remove. Then I use my treatment serum followed by night cream or moisturizer. This mask is formulated without Parabens, Sulfates, and Phthalates. Overall this is a nice mask and I feel my skin to be clear and my pores are minimized. This mask retails for CAD $39 for 50 ml, which last a very good time.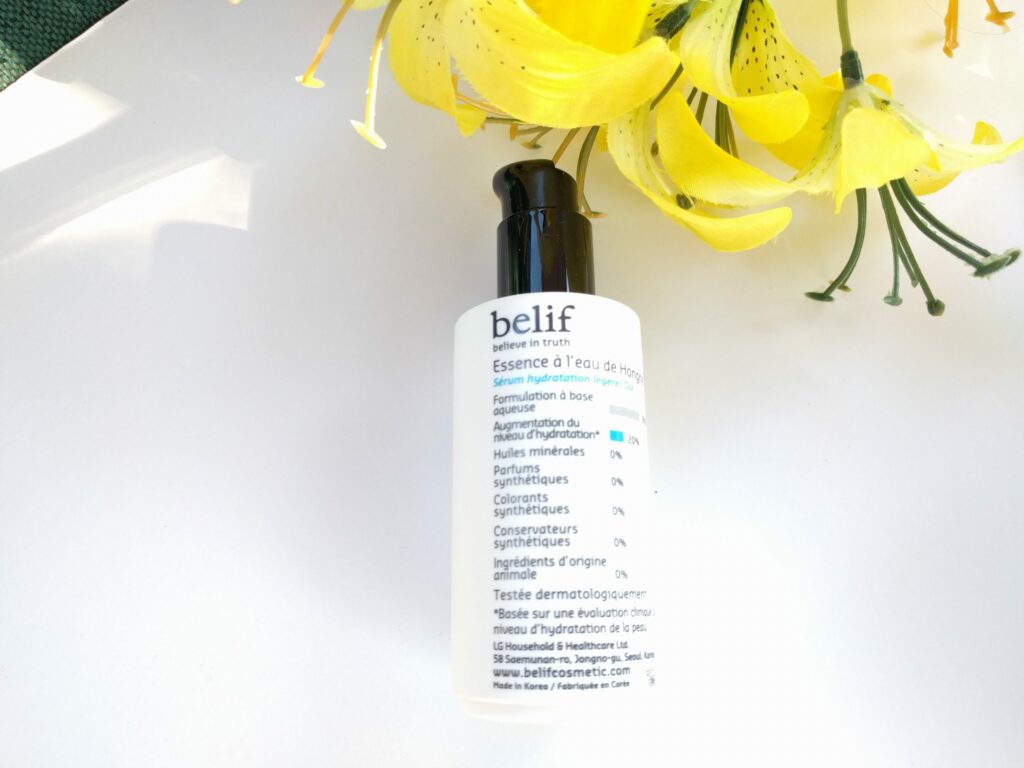 Belif Hungarian Water Essence is a very lightweight hydrating serum that may be called essence too due to the lightweight formulation. The main ingredients include a blend of apothecary herbs rosemary and lavender which have hydrating and detoxifying properties. The texture of this serum is very lightweight, almost like water. I have used it on my face after cleansing and toning and do not see much difference. As it is summer here, and it is very lightweight, it may be doing something that I do not feel. Due to the ingredients, I feel it may have long term benefits but I do not see much on the skin as of now. This serum is formulated without Parabens, Sulfates, and Phthalates. Overall, it is a very lightweight hydrating serum – an essence which may be really good for oily skin types. It retails for CAD $51 for 75ml excluding taxes.
Belif Cleansing herb water is a hypo-allergenic, moisture rich cleansing water. The main ingredient in it is Tri-herb Tea Complex which helps to keep skin fresh and clear without leaving any oily residue. It is suitable for sensitive skin types. If you are following me for sometime, you will know how much I like cleansing balms/ cleansing oils and how much I am a fan of double cleansing. I do not use cleansing waters generally but to review this, I did use this quite a lot. I use this cleansing water as a first step of my makeup removal and I take it as my first cleansing. I moisten a cotton pad with this cleansing water and sweep across the face. It does remove my makeup including the eye makeup, I usually do not use any waterproof eye makeup so can not comment on that. It did not cause any irritation and was gentle. Then I followed with my second cleansing.  This water is formulated without Parabens, Sulfates, and Phthalates. This is a nice cleansing water and does the work it is designed to do. Belif Cleansing herb water retails for CAD $29 excluding taxes.
Belif Bergamot herbal extract toner is a toner to be used after cleansing the skin. The main ingredients of this toner are bergamot and sage which help clarify and balance the skin. It is advised to be suitable for normal to combination skin types. The texture of this toner is very light gel and does feel very light when applied. I use it after cleansing my face and then use this with a cotton pad and sweep it over my face avoiding the eye area. I do feel my skin is hydrated and feels soft after using this. This toner is formulated without Parabens, Sulfates, and Phthalates. Belif Bergamot herbal extract toner retails for CAD $34 excluding taxes.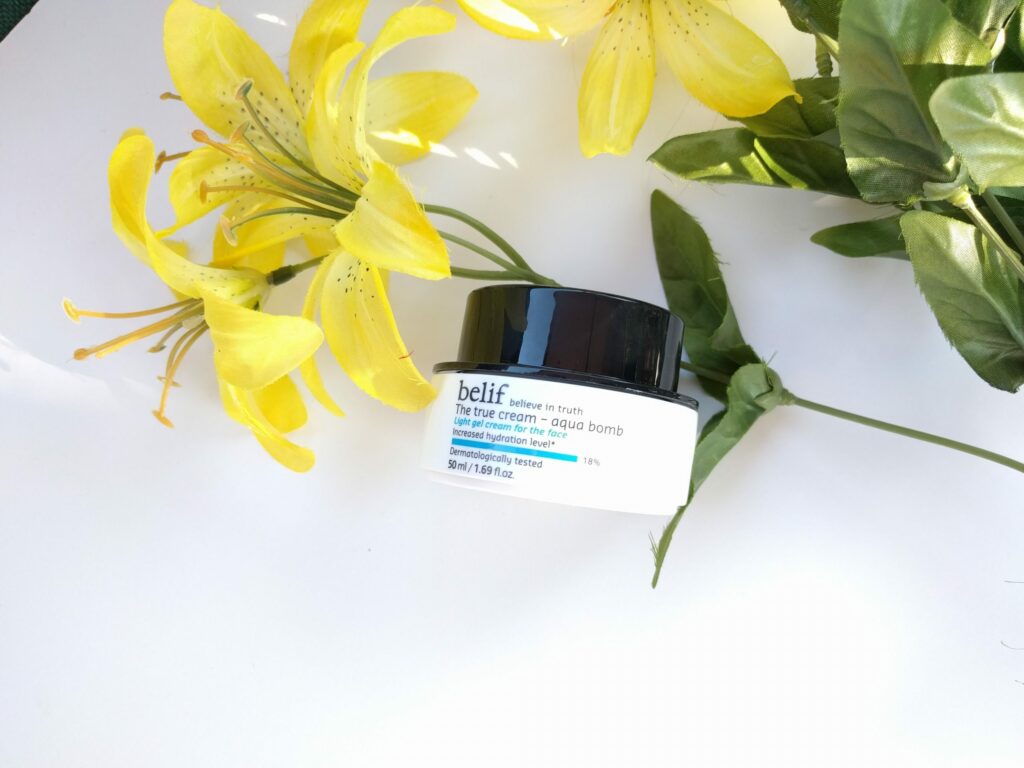 Last but not the least is my favorite, Belif The true cream – aqua bomb which I have reviewed in a separate post linked here. This is my second jar of this cream and I must say it is not the last. I use it morning and night and gives me a nice glow with or without any makeup. It does keep my skin very soft and supple without any oiliness. The gel-cream is very refreshing and is suitable for all skin types and best suited for normal to combination skin types. I do get breakouts time to time and this has been a staple. I use this cream after my serum and before my sunscreen or makeup during the day and as the last step during the night skin care routine. This cream is formulated without Parabens, Sulfates, and Phthalates. This cream retails for CAD $47 excluding taxes.
All the Belif products are available at Sephora, and on the Belif Canada website.
---
Dior Diorskin Forever Perfect Makeup Everlasting Wear Pore Refining Effect with SPF 35 is the new foundation from Dior which gives a flawless complexion and gives a luminous matte finish. This new formula of the foundation is enriched with the Poreless Effect Skincare Essence ( the same as in the Dior Diorskin Forever Compact) which refines the skin's texture when used regularly. It is always nice to have both skin care and makeup in a single product. This foundation is available in wide variety of shades, to be precise 24 shades so that everyone can have their own based on their skin tone.
The formula of this foundation is a combination of two "wear-lock" polymers that applies on the skin in a stretchy veil as a second. The first polymer, Acrylic Polymer, sets the texture and pigments and the second polymer, hydro-formulated polymer adds flexibility to the makeup firm. The foundation sets into the skin with a very comfortable wear without any tight sensation. This foundation stays on well for 16 hours as per the assessment was done on a number of women. The Poreless Effect Skincare Essence in this foundation provides skin care benefits and helps rebalance the skin by refining its texture and softens the imperfections. There is Activ-MatTM Complex in this foundation which gets activated upon application to the skin and helps control the shine. There are mattifying and soft-focus powders in the formula which give a perfect complexion correction with no mask effect.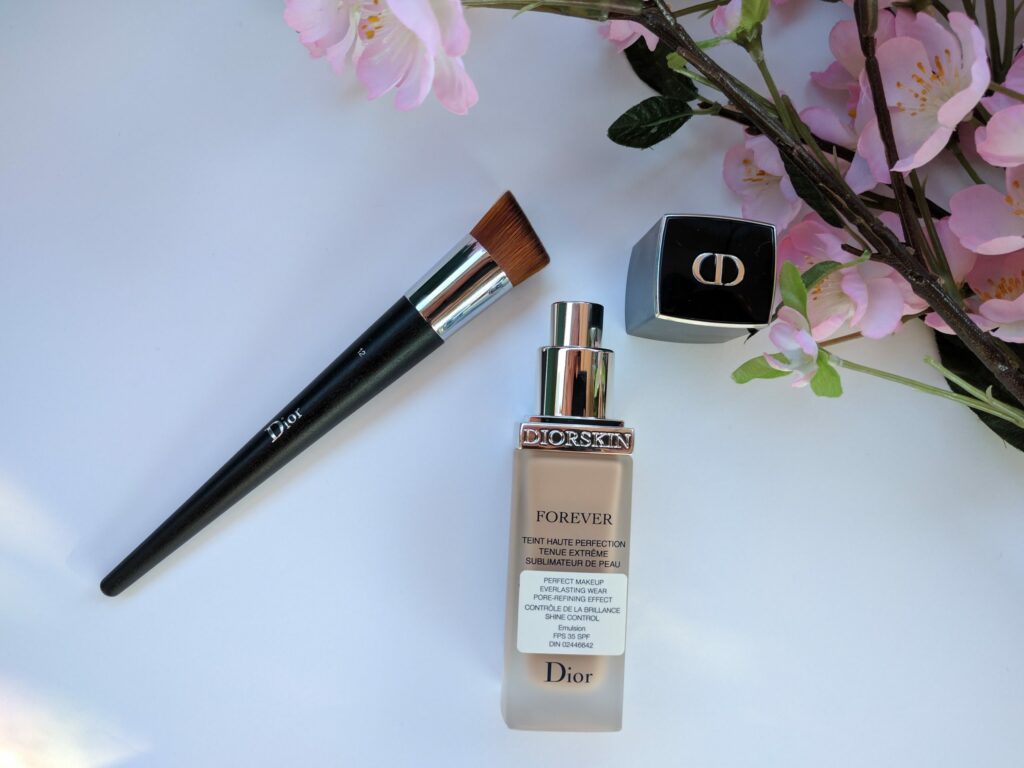 It is advised to be used with finger tips on a well-moisturized face with a light hand or It can be used with the Dior fluid foundation sponge applicator.
I was sent this foundation for review purpose and I have used it every day since last week. I was sent shades Beige Almond – 034 and Beige Desert – 035. I have a medium tan complexion with yellow undertones for your reference and the shade Beige Desert – 035 matches very closely to my skin tone. For me, the shade Beige Almond – 034 can be either mixed with Beige Desert – 035 or may be worn alone in winters, I have to see that when winter comes and my skin is back to its original tone.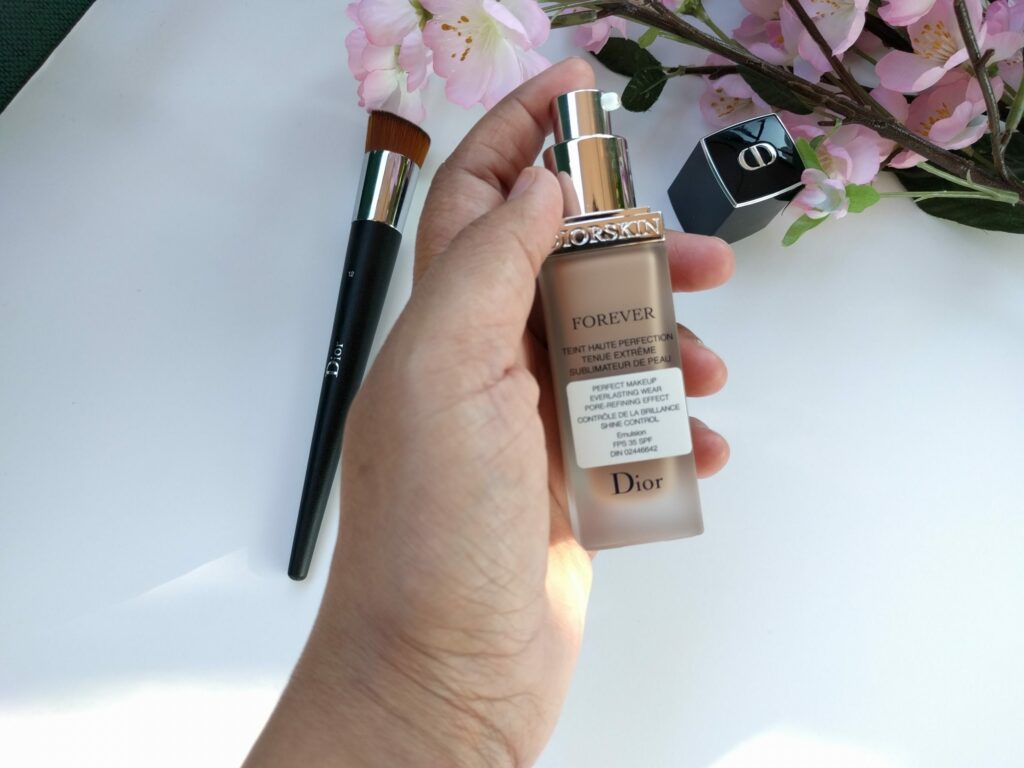 First of all, the packaging of this bottle is really classic, love the glass bottle, the pump and the cover of the foundation with CD symbol. The glass bottle is heavy and feels very luxurious. As you know, I prefer luminous dewy finish and so I tried this foundation both with and without a brush. I want to mention here that it dries very fast when applied on the skin. I applied this foundation on my well-moisturized face with my fingertips and loved the results, luminous matte flawless finish and no accentuation of lines or dryness. Also, I used this with my liquid foundation brush, I pumped out a little foundation at a time straight onto the brush and applied on my face, it did work well this way too. Just to remind you again, I applied very little at a time as I mentioned earlier that it dries very fast, don't forget.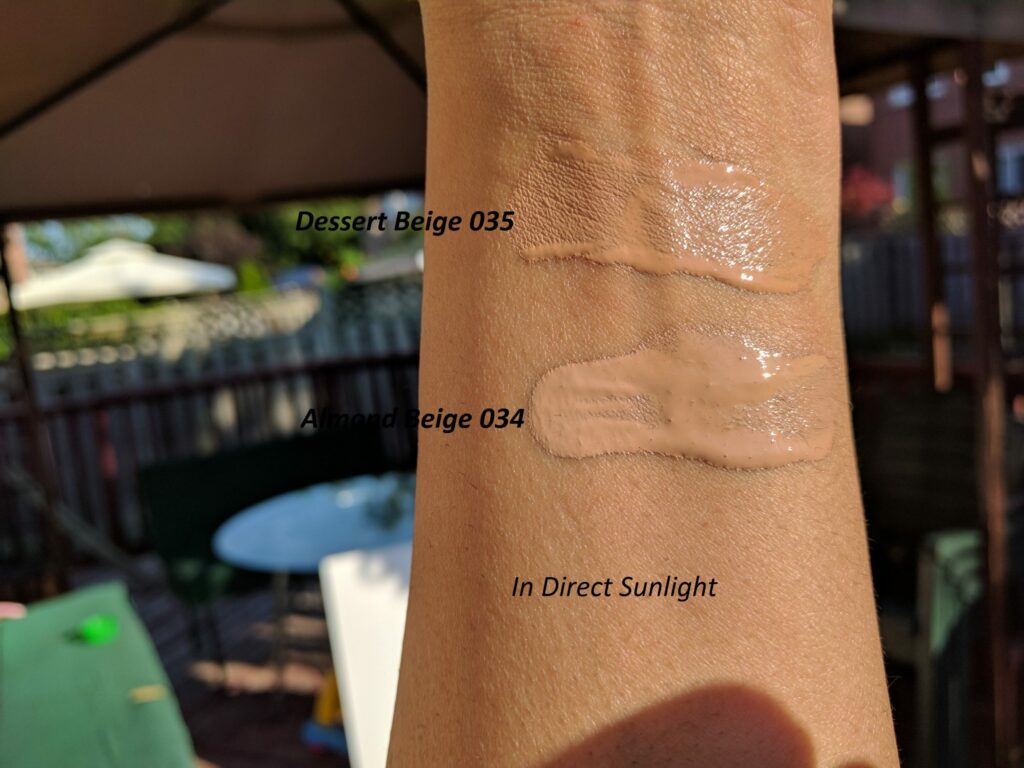 It does have a very faint scent in it which I like. The coverage of this foundation is light to medium and is quite buildable to full. The finish did look very natural luminous and not very matte, 'velvet matte' is the right word to describe. For me, it lasted very well for over 14 hours and more than that if I would not have washed my face before bed. I did use Diorskin Forever Concealer under this and they both paired very well. I used the Diorskin Forever compact as the finishing powder. I must say these three products do work very well together.
Dior Diorskin Forever Perfect Makeup Everlasting Wear Pore Refining Effect with SPF 35 retails for CAD $64 excluding taxes is available at all Dior retailers and their sites including Sephora.
What finish do you prefer for the foundation? What is your favorite foundation?
---
The 5 Couleurs High Fidelity Colors and Effects Eyeshadow Palette is a symbol of Dior look which always reminds of the expertise that we can give an example of in terms of color and the visual effects. The 5 Couleurs palette is reinvented in 12 color harmonies this season. It is said to be more creative, with stronger pigments and richer effects. Each color harmony is precisely worked on so that the effects and colors of one palette are easily blended with each other to create a perfectly balanced makeup.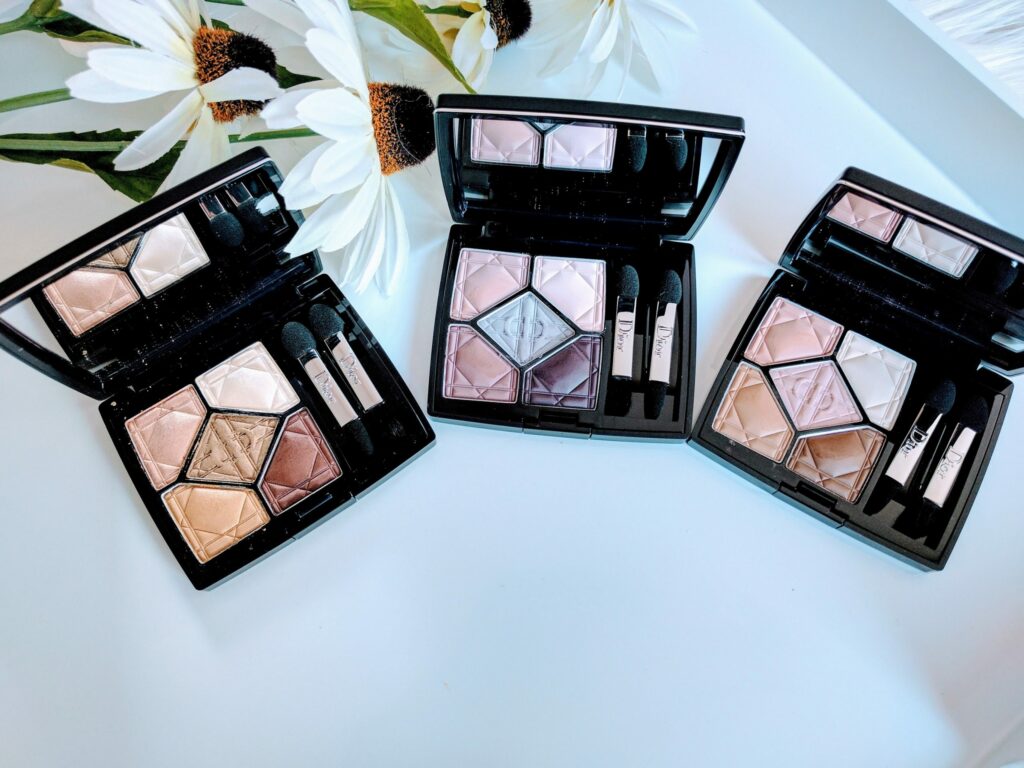 I was sent these 5 Couleurs High Fidelity Colors and Effects Eyeshadow Palette in shades 537 Touch Matte, 657 Expose, and 757 Dream Matte. The packaging of this eyeshadow palette is slimmer than the earlier versions, making it look more stylish. The reinvented color harmonies offer new finishes like Matte, Velvet, Satin, Lame, Iridescent, Glitter and Shiny. These harmonies are inspired by the catwalk fabrics which make the colors vibrate with multiple highlights. The formula of the new 5 Couleurs palette has same results on the eyelid as seen in the case. The pigments, in these high impact colors, are formulated into powders using binders that create a creamy application with the fingertips. The staying power of these 5 Couleurs palette is spectacular. The applicators provided with this palette are foam applicators, liner applicator and long eyeshadow brush.
'For a natural look,  apply the medium shade on the entire eyelid with the round foam tip to open up the eyes, and then the darker shade along the lashline with the liner tip for definition. Using the brush, highlight with the lighter shade beneath the brow arch and at the inner corner of the eye to widen the eyes.
For a sophisticated look, apply the medium shade on the entire eyelid with the round foam tip to open up the eyes, and then the darker shade along the lashline with the liner tip for definition. Blend over the entire eyelid and outward using the brush. Use the round foam tip to highlight with the lighter shade beneath the brow arch and at the inner corner of the eye to create even greater contrast and structure.', from Dior official website.
5 Couleurs Eyeshadow 537 Touch Matte is a neutral matte palette with shades that are wearable for most skin tones.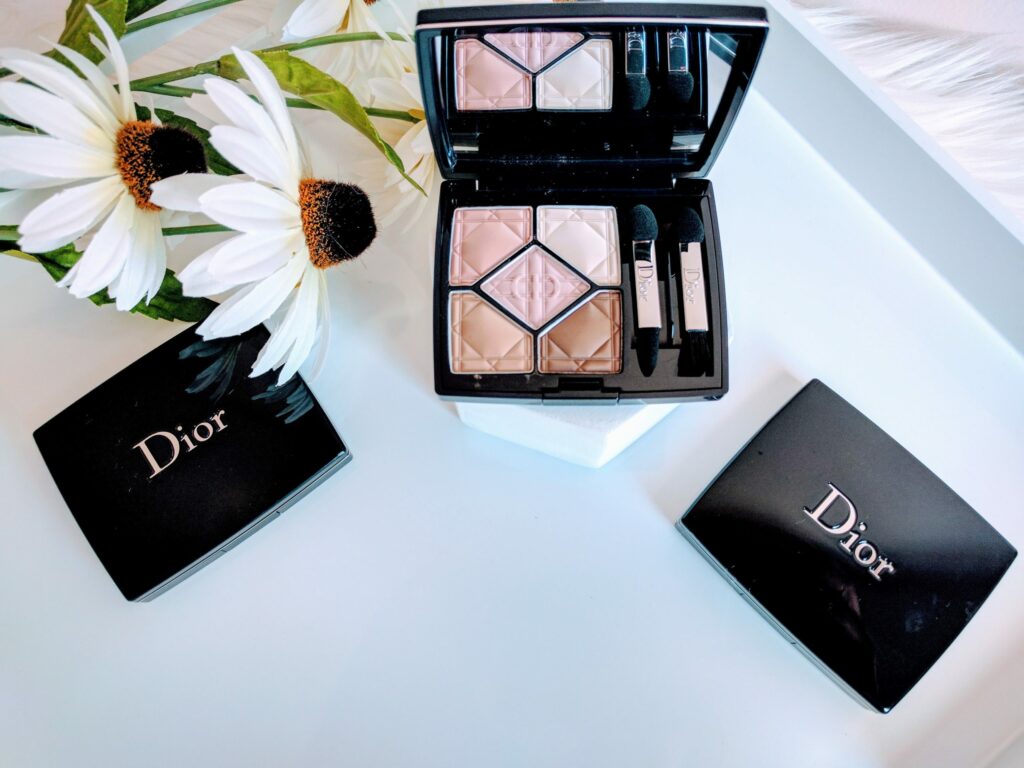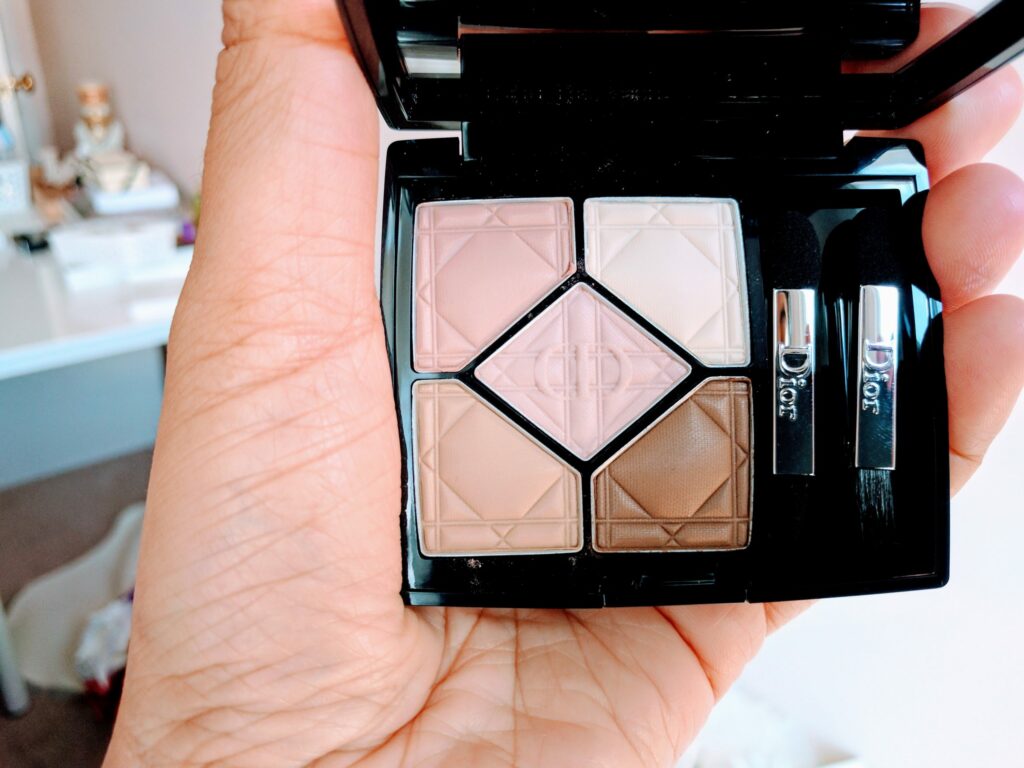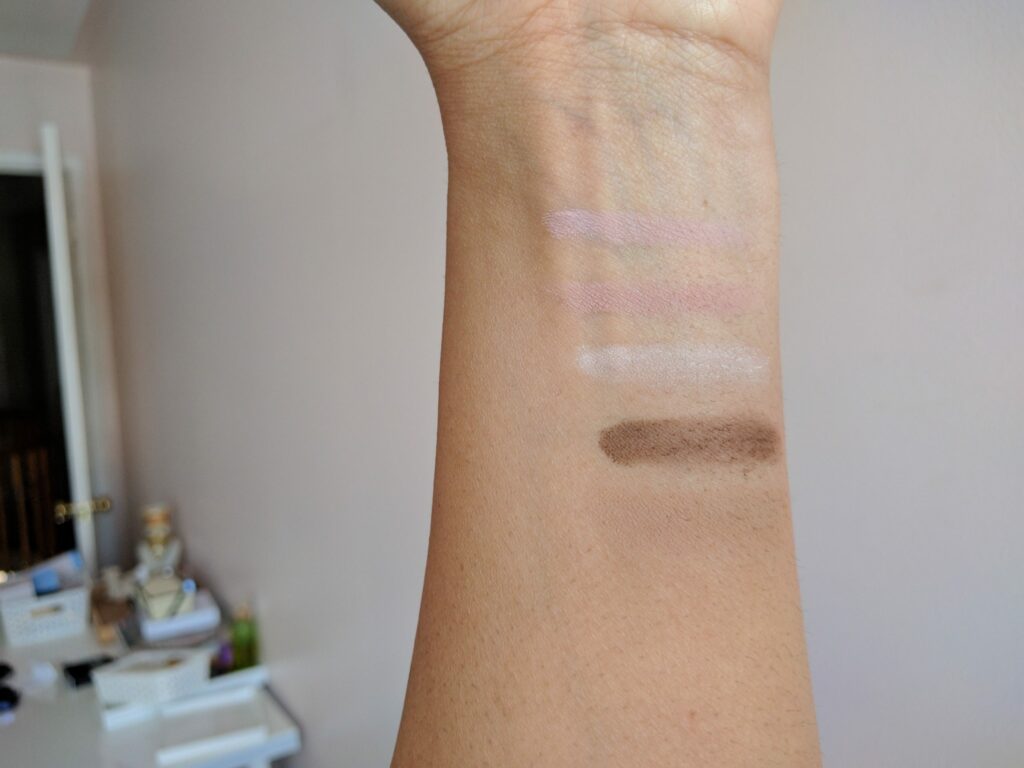 The formula is light weight and they are easily blendable. The pigment can be easily build up based on the requirement.I usually am not a fan of matte eyeshadows but this looks quite wearable for me. The shades are very soft and neutral and can work for both day and night looks.
5 Couleurs Eyeshadow 657 Expose is a gorgeous collection of khaki green, burgundy, and a pale champagne. This is the one I liked the most amongst the three I am reviewing today.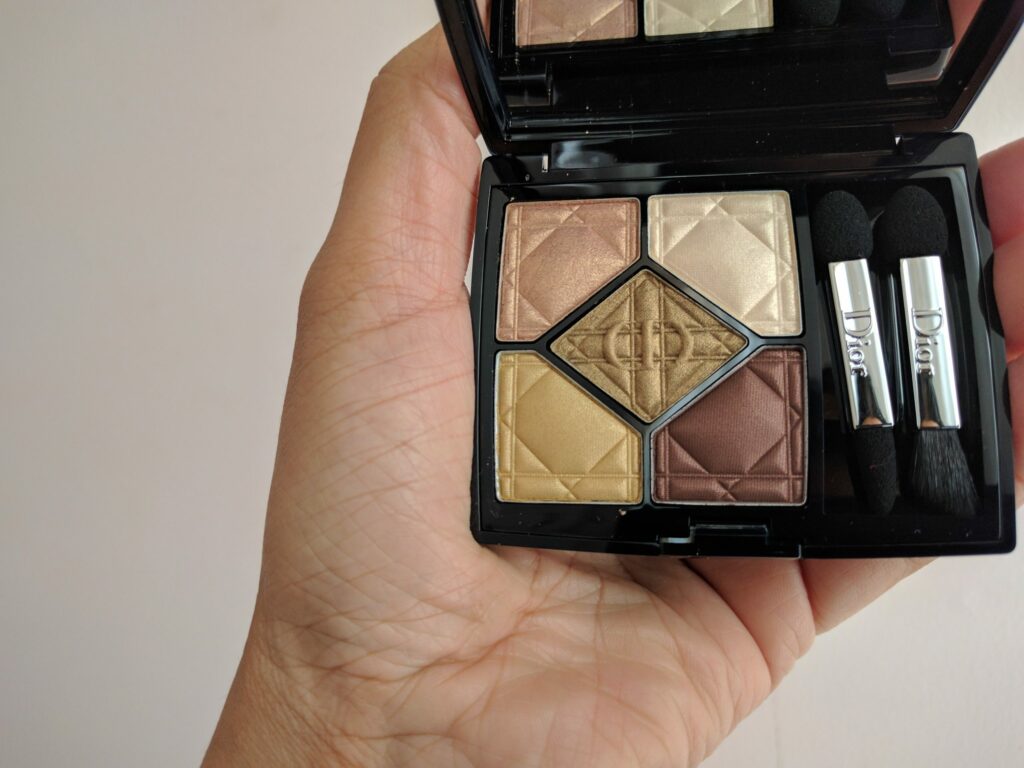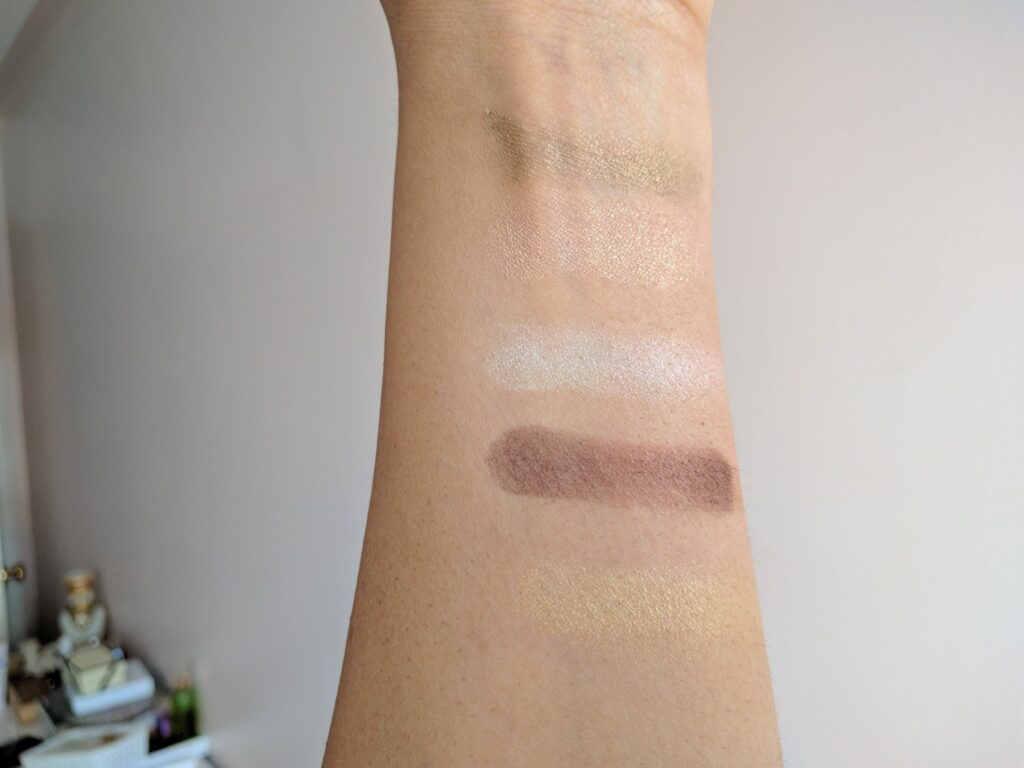 It is a really gorgeous selection of shades which are very close to each and blend into each other very nicely. They are warm and very glowy. I am thinking of using this palette in different ways as they shades are something I think suit so much on my complexion and my brown eyes. This shades in this palette are highly pigmented and they do blend very easily.
5 Couleurs Eyeshadow 757 Dream Matte is a matte palette with a mix of cool and warm shades.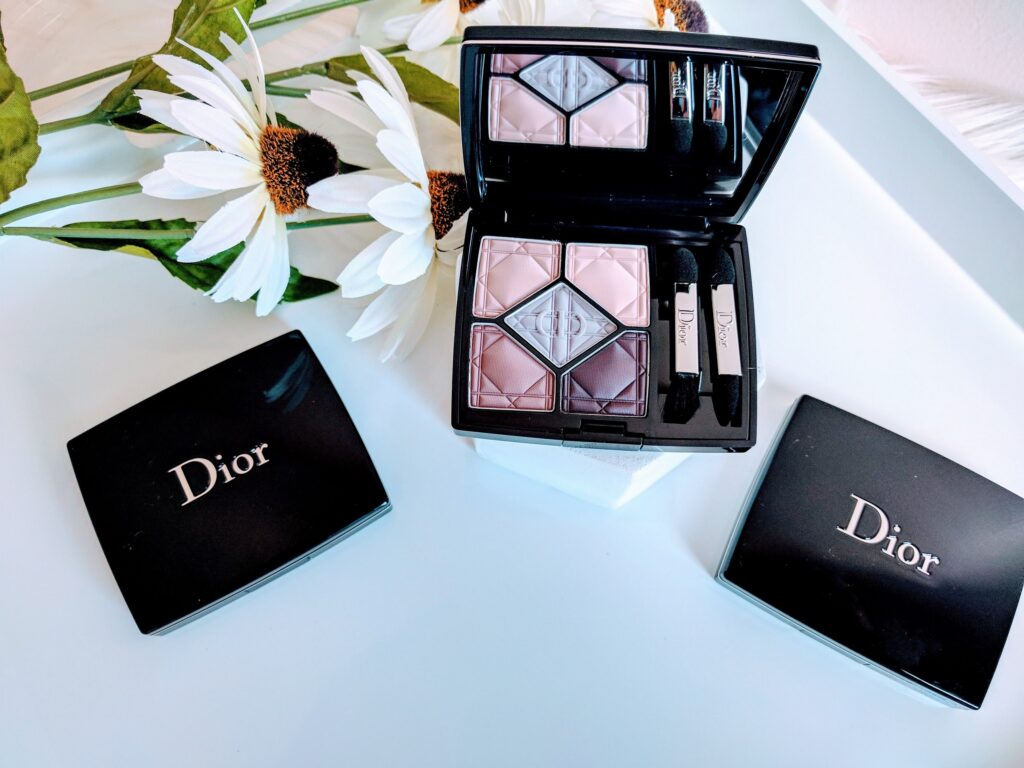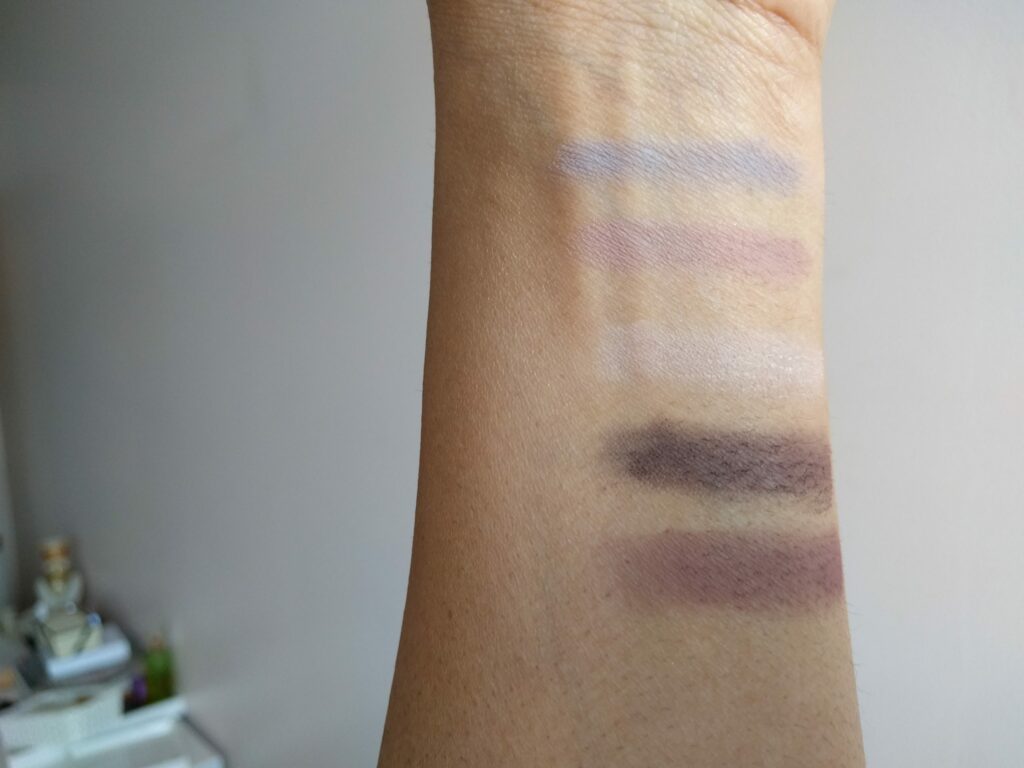 They are quite pigmented and blend so easily. The texture of this eyeshadow is very soft, they are no grainy or dry. For a matte eye shadow, it is important to be not soft and not stiff, which helps them blend easily and does not accentuate any fine lines.
These eyeshadows are quite a good combination of quality and combination of shades. All the harmonies are created so well and they are close to each other making them blend so well with each other. I am a fan.
The 5 Couleurs High Fidelity Colors and Effects Eyeshadow Palette retails for CAD $72 excluding taxes and is available at all Dior retailers and sites including Sephora.
Which finish do you prefer for an eyeshadow? Which shade do you like the most amongst the three I reviewed and swatched?
---
When you hear 'All Natural', either you think about something which does not have any chemicals or something which may or may not work for you as it may be not much strong. And when you hear 'Peel' it comes to mind as something that causes skin peeling and might be strong. Combining these two words, 'All Natural Peel' something natural and peeling, does that makes sense. Yes, it does. You skin peel with natural ingredients means it is naturally strong enough that it works.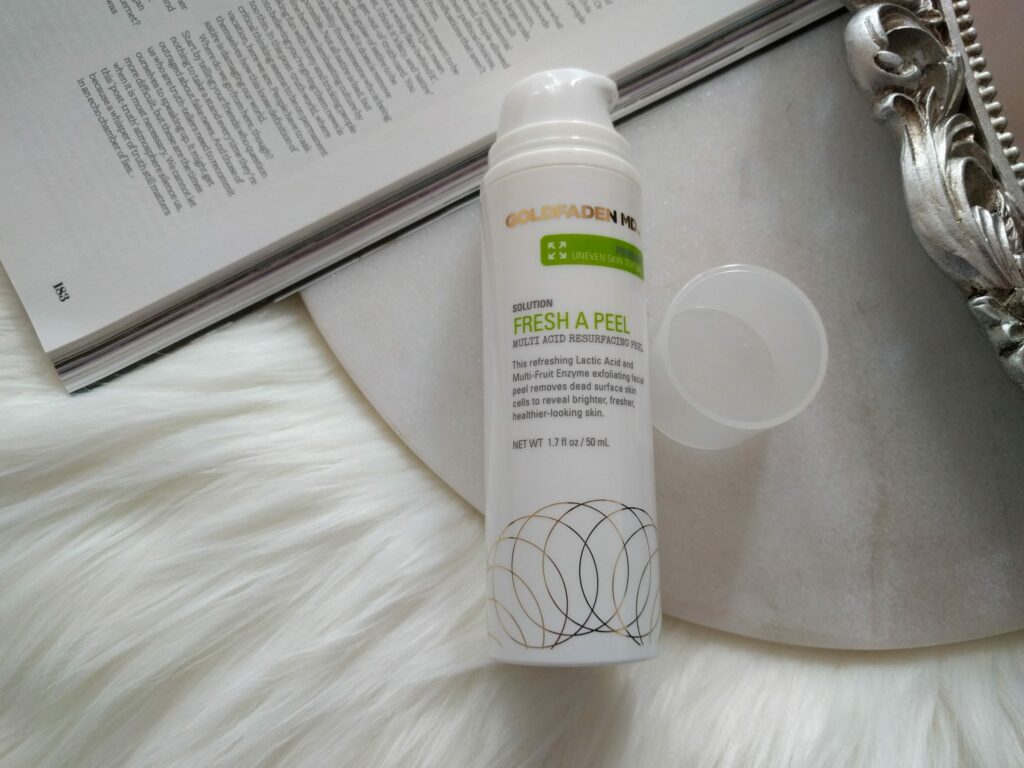 I bought this peel a few months back, almost in the end of winter, and have been using this every other weekend or sometimes twice in a week, depending on what products I see in the front of my skin care shelf, I do miss some favorite products because of so many options to choose from. That is why i have been very regular and consistent with the use of this peel so that I can write a proper review with my thoughts.
Peels are a form of exfoliation, which may be done on any part of the body based on the requirement and need. They help remove dead skin cells which may or may not be visible in the form of dullness, dryness. Peel's contain acids which loosen the bonds between cells and dissolve dead skin away. Unlike the regular facial scrubs which have physical exfoliating ingredients, peel ingredients are not grainy or hard in texture but they are like a cream or gel texture which sinks into the skin, targeting deeper layers of skin cells.
'This non-irritating peel reveals fresh, youthful skin. The unique combination of Lactic acid and Multi-Fruit Enzymes provide a superior rate of exfoliation while reducing the appearance of fine lines, pores, and skin imperfections. With continued use skin may become softer, smoother and look more radiant and youthful with a brighter and more even skin tone.', from Goldfaden MD's official website. This is advised to be suitable for all skin types.
I have loved the results of this peel. This peel has a gel like texture and is housed in a beautiful white and green bottle with a pump to dispense the product. I take one and a half pump of the product on my finger tips and apply it over my face including neck and excluding the eye area. It is advised to keep it on for 2-3 minutes but as per my experience with peels, and the toleration of my skin, I keep this for 5-6 minutes. As my skin is tolerant, I do feel the tingly effect of this peel on my face. I wash it with cold water and TA DA, my skin feels fresh and glowy. I use my moisturizer after patting my face dry to lock in hydration. This gives a smooth and fresh appearance to the skin. It's mild but effective. With regular use, I do see my skin look bright and the texture is evened. With regular use, I do notice fewer breakouts. I make sure to use a sunscreen in the morning whether I am staying home or going out, sunscreen is a must.
I have loved both the products I have used from Goldfaden MD and looking forward to having some more. If you are interested, I  also reviewed Goldfaden MD Fleuressence Native Botanical Cell Oil few weeks back.
It is available in Canada online on Gee Beauty website and is available for international shipping from Cult Beauty and SpaceNk websites. It retails for CAD $85 excluding taxes.
What is your favorite form of exfoliation, Physical or Chemical? Which is your favorite exfoliation product these days?
Buy here:
---
Dior has composed a new dimension for Diorskin Forever Foundation for this season which goes even further in achieving long wear complexion perfection for women in terms of texture and skin finish, depending upon your taste from the most luminous to the extreme matte.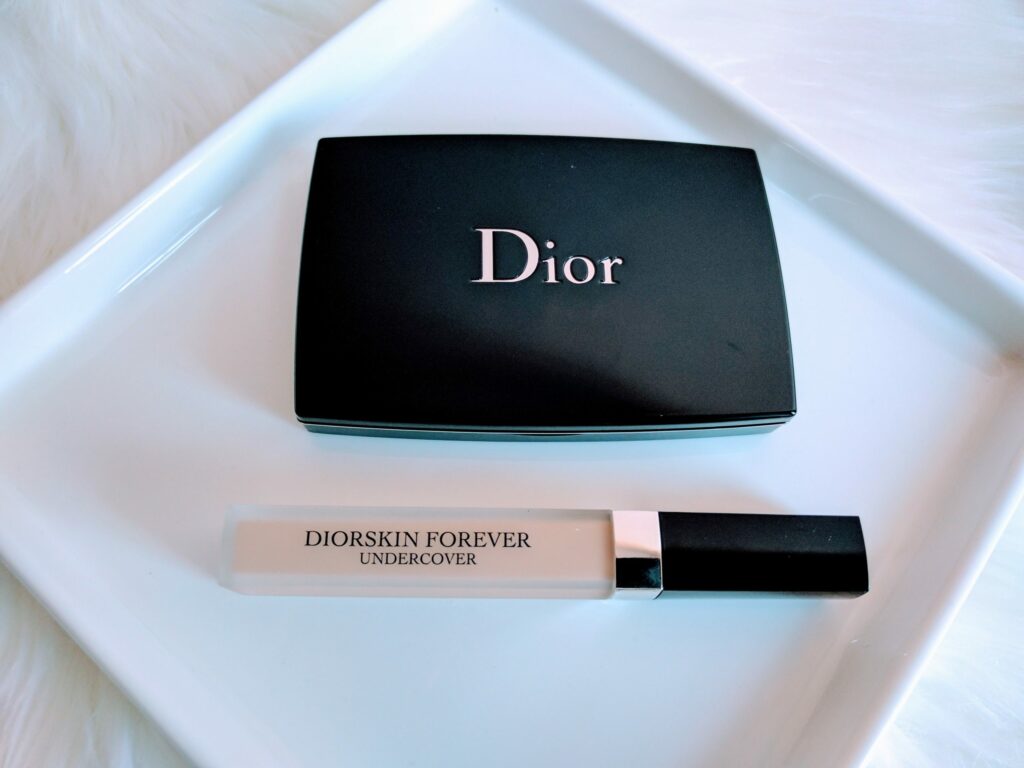 We hear the terms matte or luminous on daily basis and with that, we have a pre notion in our minds that a complexion can either be matte or it can be luminous. Based on the reminder from Peter Philips, Creative and Image Director for Dior Makeup, "There is a range of matte's just like there is a range of colors. Today, the matte look is totally refined, as we have mastered it, we can control it, and measure it. It can be extreme, velvety or luminous – any effect is possible."
This collection called Diorskin Forever 2017 Long Lasting Perfection is created by Dior for this Summer and the two products I am going to talk about today are part of this collection.Diorskin Forever Compact and Diorskin Forever Concealer are part of the Diorskin Forever 2017 collection and they emphasize on mastering the control over the look you want to create.
Diorskin Forever Compact helps provide an extra-matte complexion, extra-matte here is not the same as the pre notion we have, but this extra matte stays vibrant and shine-free. Diorskin Forever Extreme Control powder makeup contains Smart Blotting powders which are exclusive to Dior to make the blending of the product into the skin seamless. It also contains a mesh of incredibly fine mattifying mineral powders which deliver the perfect matte corrections with lightweight and pampering comfort. This compact does have Poreless Effect Skincare essence which targets pores to help refine skin texture. So it is nice to see more makeup products have skin care benefitting ingredients.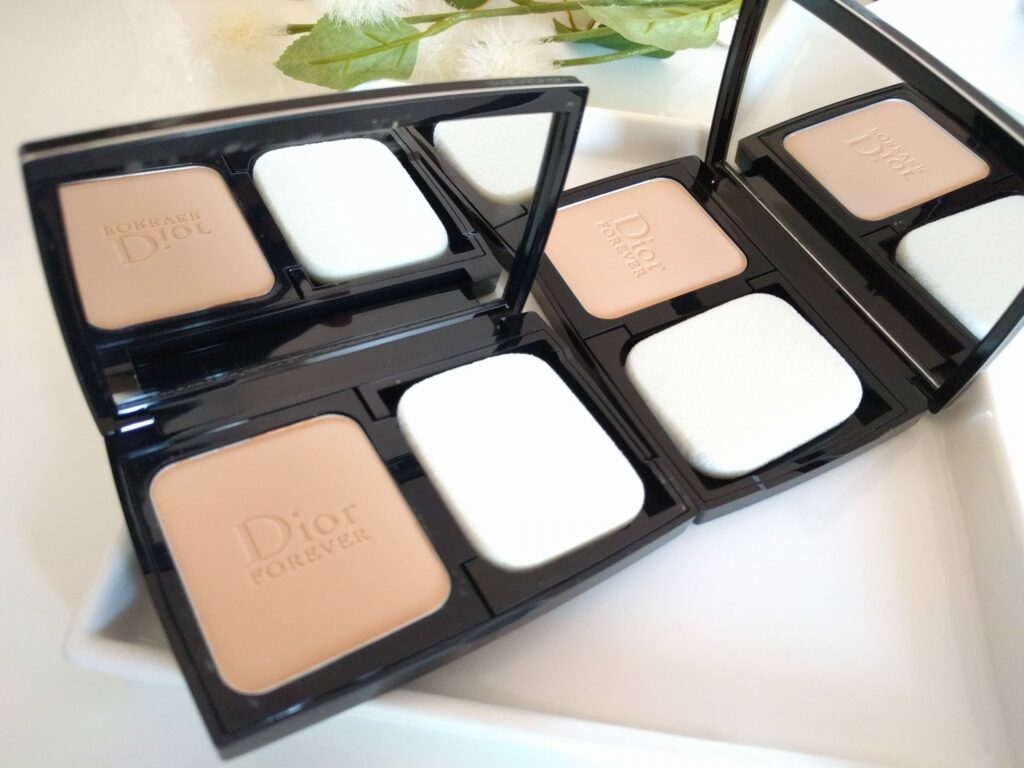 I got Diorskin Forever Compact in Shade 022 – Cameo and 030 – Medium Beige. The packaging is in a very sleek glossy Dior compact case. I have used both during the weekend with the sponge provided and also with a setting powder brush and did like them. I prefer a dewy finish and when I saw these compacts help achieve extra-matte finish, I did not have high hopes but as I referred Peter Philips statement above, I did enjoy using this compact.For my medium tan complexion, they were not a good shade match but I used this over my foundation and my Nars Radiant tinted moisturizer, I did feel it mattifies the skin but to an extent. As the shades were not my perfect match, I did use 030 with a light hand as a finishing powder. I applied it in small touches with the sponge, blending from the center of the face outwards. The powder is very light weight and just blended into the skin very well. The overall results were good, I was radiant but not that matte ( remember that matte? the pre notion one), I would say semi-matte. My makeup stayed on well for a full day, around 6-8 hours and I did not feel the need of retouching as it looks very natural.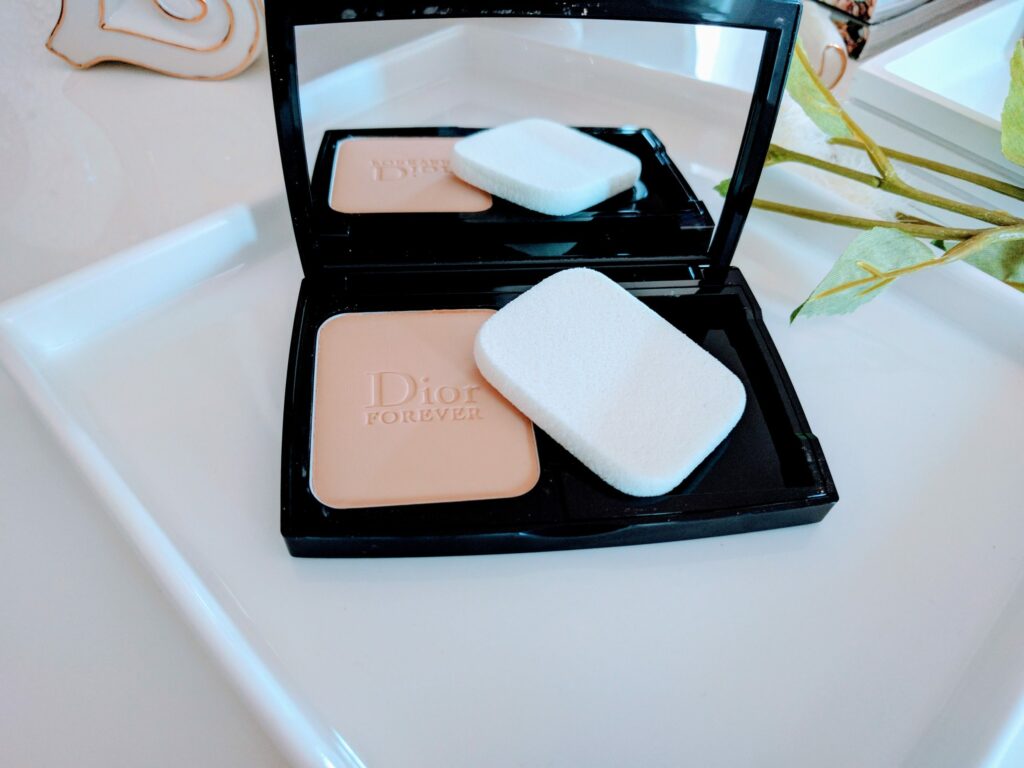 The powder did not emphasize any lines or dryness on my combination skin, my oily T-zone (during summers) looked nice and matte,  means not shiny as I usually get after 2-3 hours of makeup application. I want to mention about the sponge provided with this compact is of really good quality, I mean it feels very luxurious, soft and works very well too. I have noticed almost the same results for both under foundation and tinted moisturizer and must say that 030 – Medium Beige is going to stay in my bag along with my Chanel LES BEIGES Healthy Glow Sheer Powder. This is available in 12 shades ranging from the lightest 10 – Ivory to the Darkest 80 – Ebony.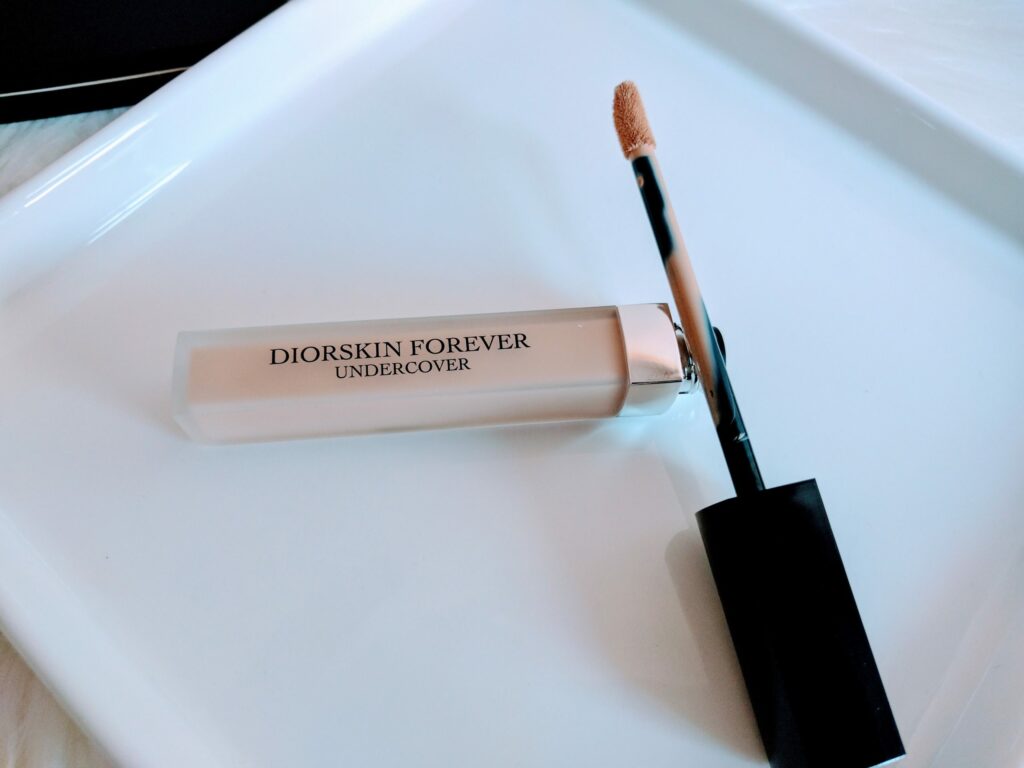 Diorskin Forever Concealer is a veritable concentrate of Dior laboratories' expertise and is an intuitive formula which provides instant camouflage for imperfections, water resistance and wear of 8+ hours with a single stroke. Perfect correction comes from a high concentration of colored pigments and with 25% higher dosage of the colored pigments than the Forever Fluid Foundation, this concealer instantly neutralizes imperfections, like dark shadows, redness, and small blood vessels and the pigment does stay in place to give a long wear.
The formula has a very nice consistency and is not very thick. The applicator is very soft and cushiony, makes the application a breeze.  This can be applied under or over the foundation based on whether you want to conceal some imperfection or you want to achieve that matte bright look. I was sent this concealer in 020 – Light Beige with a Neutral undertone. I have used it few times and it works very well to conceal my imperfections, mainly some pigmentation and acne spots at the moment. I applied the concealer with the wand and blended it with my finger and next time with my concealer brush, it worked well both ways and was easy to blend. It did give some brightening effects too.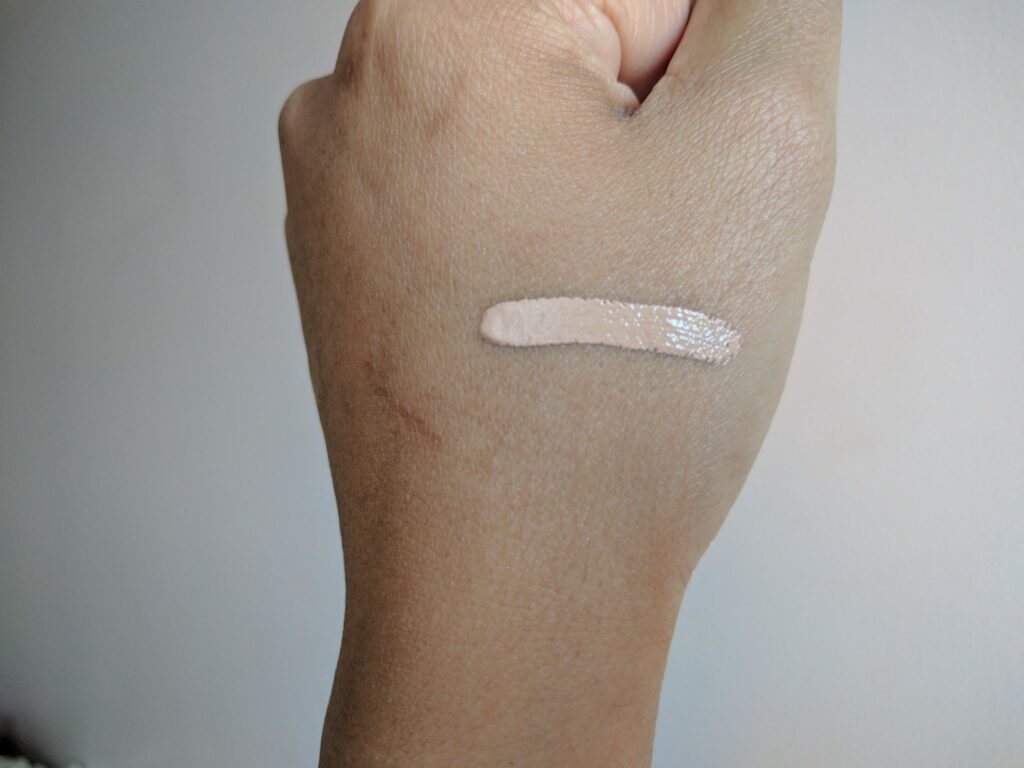 Over my foundation, used under the eyes, I felt it was too light for my skin tone and I had to use my setting powder to cover the extra light effects compared to my foundation and skin tone. It did provide almost full coverage for my spots and did not crease or crack over my dry areas. The finish is semi matte. The concealer did stay on well for over 7 hours when used under my foundation. As for this collection, extra-matte is the keyword, but it is true semi-matte. This concealer comes in 10 shades ranging from 10- Ivory to 60 – Light Mocha.
Overall, I am satisfied with the claims and like the results on my face for the time I have used these products.
Media samples kindly provided, all opinions are my own
---
---